CARIFESTA XIV got off to a festive start last Friday afternoon in Port-of-Spain, Trinidad, with participants from more than twenty countries from the region and beyond parading almost halfway around the Queen's Park Savannah, deemed the largest roundabout in the world.
The Saint Lucia delegates, numbering around 80, joined counterparts from countries within the region in the parade, with fashion designer Christine Samuel as flag bearer. The delegation included cast members of the theatrical productions "A Little Folk Tale", "Belelesh" and "Silent Scars", poets, writers, band members, art and craft vendors, and the media.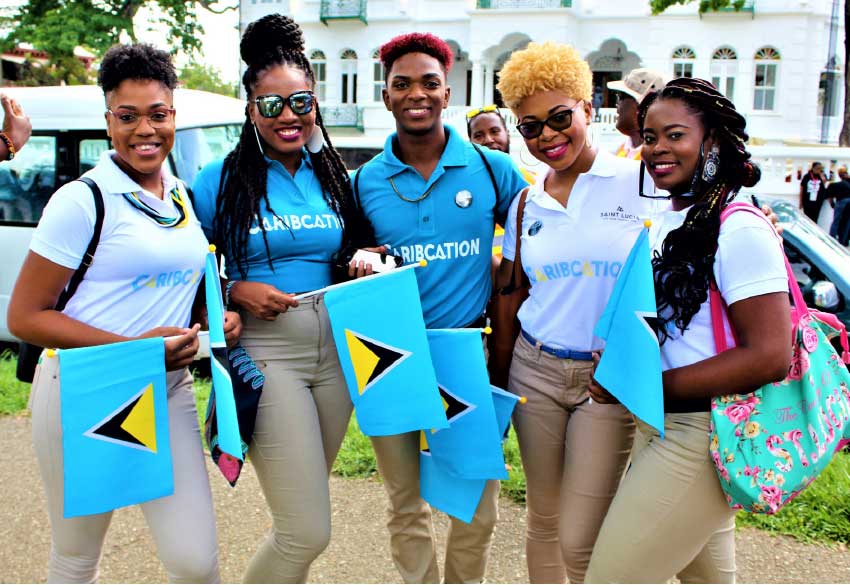 During Friday's opening ceremony, Trinidad and Tobago's Minister for Community Development, Culture and the Arts, Dr. Nyan Gadsby-Dolly, welcomed delegates and patrons who filled the Queen's Park Stadium. She told them that the twin-island republic's preparations to host this year's event were done feverishly to elevate the region's foremost cultural festival that celebrates the arts. She also noted that CARIFESTA serves as a vehicle to foster greater cohesion within the region.
Meanwhile, Trinidad and Tobago's Prime Minister, Dr. Keith Rowley, thanked the CARICOM Secretariat and all other agencies and individuals for their support towards making Trinidad and Tobago's fourth hosting of the festival a reality. He noted that the festival is essential in validating the need for one people, one space.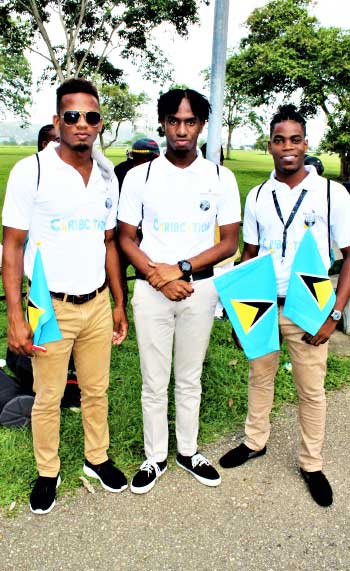 While in Trinidad, the Saint Lucian delegation will also participate in and visit the various events comprising CARIFESTA XIV. Last Saturday, for example, they attended "Decades of Dance" at Queen's Hall in Port-of-Spain which featured nearly 20 dance and theatre companies from Antigua & Barbuda, Guyana, Haiti, Jamaica, Venezuela, Canada, and Trinidad and Tobago.
Also on Saturday, Bocas Lit Fest award-winning poet Vladimir Lucien joined four other poets from the region – including Esther Phillips (Barbados) and Andre Bagoo (Trinidad and Tobago) – for a reading at the Grand Market at Queen's Park Savannah.
Rehearsals continue daily for the various productions being staged by the Saint Lucian talent at CARIFESTA, including "A Little Folk Tale" (written by Monique Auguste and Jessie Mayers and directed by Drenia Frederick), and "Silent Scars" (written and directed by Hayden Forde).
Minister with responsibility for Culture and the Creative Industries, Fortuna Belrose, who was in Trinidad and Tobago to witness some of the activities for CARIFESTA XIV, has been visiting cast members at rehearsals. Also joining the delegation is Executive Director of the Cultural Development Foundation (CDF), Ramona Henry-Wynne.
Last Sunday afternoon, Richard Ambrose's production, "Belelesh", which comprised five male cast members, received much praise when it was staged at the Southern Academy of the Performing Arts (SAPA) in San Fernando, Trinidad. They were featured alongside nearly two dozen other dance troupes from the region.
The production, which features Jamie Eldon Forde, Richard Ambrose, Christopher Duncan, Brandon Sealy and Elijah Weekes, addresses issues affecting men. Both Belrose and Henry-Wynne, along with other members of the Saint Lucian delegation, were in the audience offering support.
Later that day, spoken word poet Ethan Fletcher waxed his words poetic as he thrilled the audience at Black Box with his infectious and refreshing lyrical styles of the genre. Meanwhile, poet John Robert Lee did a reading at the Bocas Lit Fest booth on Tuesday, August 20th.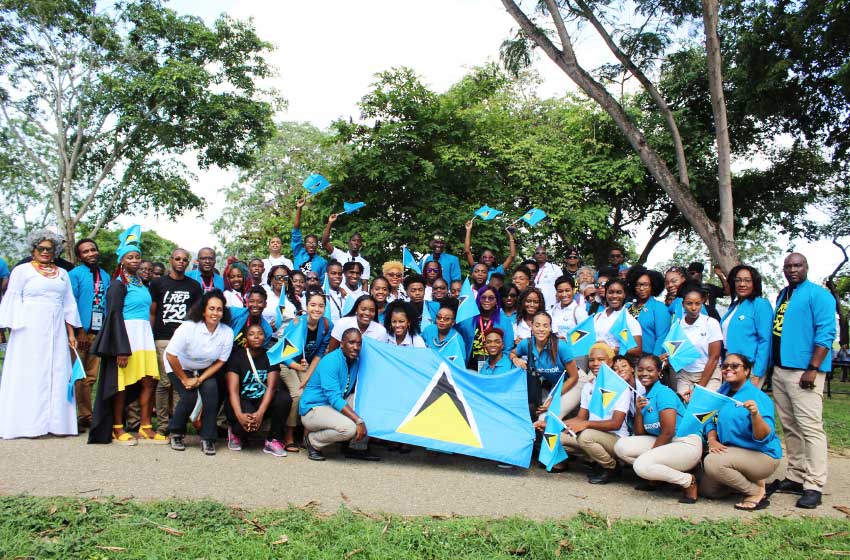 Arts and craft from Saint Lucia have been on display daily at the Grand Market at Queen's Park Savannah alongside other goods and services being offered by various producers from the other countries. Companies featuring their goods include Shirley's Creations, Meme Bete, 758 Saint Lucia Books, Illuminating Designs, Bandbox, Patricia Lee Products, De Zip Code, Poetry Kisses, Shop D'Caribbean, Sa Nou (St Lucia), and She Naturals.
On Wednesday, August 21 from 6:00 p.m. to 7:30 p.m., poet Kendel Hippolye made a presentation at the Buyer's Market Place Extension Meeting Room at Queen's Park Savannah. Former Minister for Sustainable Development, Energy, Science and Technology, Dr. James Fletcher, also made an address at that same venue entitled "Climate Talk: The Dangers of Climate Change to Small Island States — A Civil Society Response".
More on the 2019 edition of CARIFESTA in subsequent editions as the festival continues to unfold!