The 7th Annual Caribbean Youth Film Festival in collaboration with CUT TV Youth Network was launched on Wednesday July 31st at ESP Studios (Entertainment Sound Productions) in Bisee, Castries. The Youth Film Festival begins on Monday August 5th with a series of workshops which will continue until Friday August 16th. During the workshops, persons will be engaged in a number of activities including acting, film directing, marketing and sales. Financial Investment and Consultancy Services (FICS) and the Cultural Development Foundation (CDF), which have given their support to the Youth Film Festival, were both represented at the launch. The sponsors of this year's Annual Caribbean Youth Film Festival were Lucelec and Massy Stores.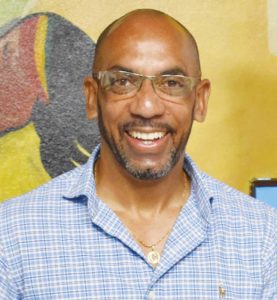 Colin Weekes, Director of the Caribbean Youth Film Festival, said that he was pleased to open up the festival. He said, "We are here as part of an artistic community to broaden the minds of young people and engage them." CUT TV, which collaborates with the Annual Caribbean Youth Film Festival, is a product of the CYFF which provides an avenue for young persons to practice the knowledge and skill which they have acquired through their participation in the Caribbean Youth film Festival. In regards to CUT TV, Colin said, "We know that there are a lot of creative minds out there and a lot of people who are interested in getting to the arts but there isn't that platform; so, CUT TV is that platform where they can foster their creativity." Colin said that a number of success stories have emerged from the Caribbean Youth Film Festival.
Colin announced that a number of new programs have been initiated into the 2019 Youth Film Festival. Massy Stores have pledged their support to the festival and will be working with the youth for the production of short film on reusable waste. Sariah Bess Joseph, Divisional Head of Marketing and Corporate Communications at Massy Stores, on behalf of Massy Stores, presented a donation cheque of EC$5000.00 to the Caribbean Youth Film Festival. Sariah said, "We are very happy to be associated with the Caribbean Youth Film Festival. We recognise that this film festival presents an avenue for young people to develop their skills, their talents and their abilities. We also like the fact that this presents a powerful opportunity for storytelling." Sariah went on to state, "We are making a donation of $5000.00 because we would like, as far as reasonably possible, that some of the stories that are told relates to plastic waste management." The monetary support from Massy Stores was provided out of the company's Environmental Fund.
Lucelec, which has supported the Caribbean Youth Film Festival since its inception, was represented by Roger Joseph, Corporate Communications Manager of Lucelec, who presented a cheque of EC$3000.00 to the Youth Film Festival. Joseph said, "There is a lot of young talent out there and we are trying to help. This workshop provides the opportunity for the youth to explore these talents and perhaps to discover skills that they never knew they had."
Earl Valmont, the Managing Director of ESP, was proud to host the launch of the 7th Annual Youth Film Festival. Valmont remarked, "Today the vision has become a reality, and this is what my vision is… to find a way to make a difference in the world we live in right now, which has so many negatives." ESP is a new and fully equipped recording studio with a live room and engineering room which has also partnered with the Caribbean Youth Film Festival. Valmont concluded, "Our studio is not formally opened but it is ready for use. So… we are hoping, in the coming weeks, to help some youth in spreading their energy in positive ways. I have a great team so hopefully we can be of some use in the future. Thank you."