The Government of Saint Lucia and the Government of the Republic of China (Taiwan) this week deepened their bond during a state visit of President Tsai Ing-Wen to Saint Lucia.
Saint Lucia was the last stop of President Tsai Ing-Wen tour of the Caribbean where she was welcomed by both the government and the opposition, which took the opportunity to speak on what it claimed was the abuse and misuse of Taiwan's generosity to Saint Lucia (see page six).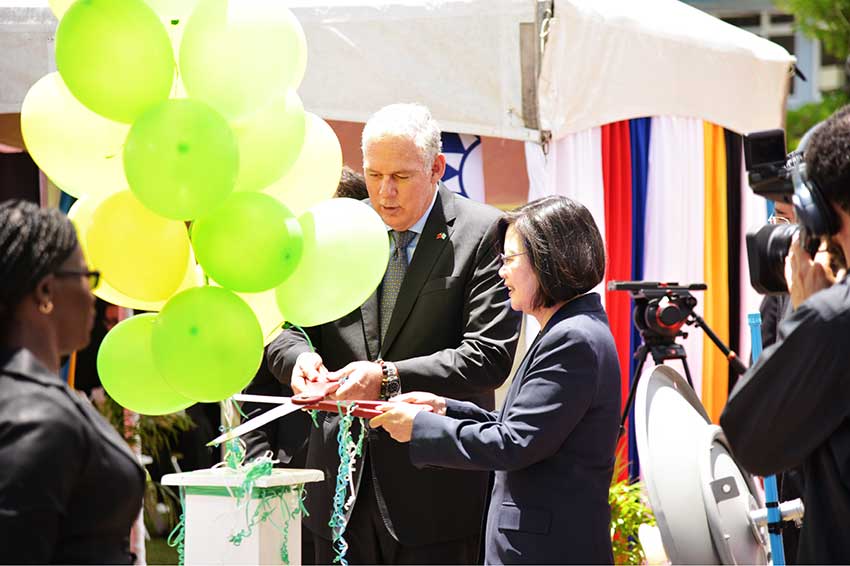 President Tsai Ing-Wen was greeted upon arrival at Hewanorra International Airport by Prime Minister Allen Chastanet and Minister responsible for External Affairs Sarah Flood Beaubrun while the Royal Saint Lucia Police Band played the national anthems of both countries.
Prime Minister Chastanet spoke of the significance of the visit and called on all Saint Lucians to welcome President Tsai Ing-Wen and her delegation.
"As a Government we have over the last three years greatly deepened our ties with your country and we have broadened areas of co-operation. Taiwan has been instrumental in the development of our country in many areas and it is our hope that this visit will give us an opportunity to show our gratitude and appreciation, and share our country's beauty and culture with you," Chastanet said at Wednesday's sod turning ceremony at the site of the St. Jude Hospital Reconstruction Project, which President Tsai Ing-Wen attended.
According to Chastanet the sod turning ceremony was for the redevelopment of a hospital that was destroyed by fire nearly 10 years ago and the initial attempt at reconstruction had not been successful.
"In fact, it has produced very disappointing results. But this town of Vieux Fort needs a modern hospital to serve the southern part of the island. And this is what we are embarking on today. This project must be completed once and for all," he said.
He spoke of the invaluable support Taiwan has given to Saint Lucia in rebuilding the hospital since its destruction in September 2009.
"Almost from day one, your country, Madame President, has been in the forefront of providing grant and loan assistance to Saint Lucia to finance the rebuilding but we have had a series of setbacks and challenges along the way that have caused frustration to both our government and our people as well as to those who had offered a hand in helping us cope with the fallout from the disastrous fire. Notwithstanding this, we are motivated to deliver to the people and it is because our resolve to rebuild this hospital is strong that we are gathered here today," Chastanet said.
The Prime Minister recognized the technical assistance given to St Jude by Taiwan over the years in providing medical personnel who carried out volunteer work while at the same time passing on their invaluable skills to Saint Lucians enabling them to better serve the wider public.
"This form of assistance can never be quantified in terms of dollars," said Chastanet, noting that the hospital, on completion will be a 90-bed facility that will cater for both inpatient and outpatient services.
"It will comprise  a new wing to incorporate all the functions and services of the existing East and Surgical Wings; inter- connected two-storey structures to be erected on the left-hand side of the entrance to the existing site; integration through retrofitting of some existing buildings to achieve a fully functioning hospital to match the services of a level 4 facility; and revision of the internal layout of buildings to be integrated for functional efficacy and compliance to minimum standards," Chastanet said, adding that the project will be completed next year.
Meanwhile at Thursday's joint sitting of parliament, President Tsai Ing-Wen spoke of Saint Lucia as being a strong ally of Taiwan in the Caribbean thanking Chastanet for speaking up for Taiwan at last year's United Nations General Assembly and Minister of Health and Wellness Mary Isaac at this year's World Health Assembly.
"On behalf of the people of Taiwan, I thank you all. Your support means much more to us than you would know, and I hope you will continue to stand by us. Taiwan has much more to contribute, and we are determined to make this known to the world," she said.
President Tsai Ing-Wen chose freedom, democracy and sustainability as her theme for her state visit to Saint Lucia saying that these values truly reflect Taiwan's efforts in the Caribbean.
"We are dedicated to steadfast diplomacy, and mutual assistance for mutual benefits. With partners like Saint Lucia by our side, we can help advance regional peace and achieve the UN Sustainable Development Goals (SDGs). Over the past decade, our countries have undertaken many projects that embody the spirit of the SDGs," she said.
According to President Tsai Ing-Wen Taiwan has always been more than willing to share its medical and public health expertise putting this willingness into action right here in Saint Lucia by strengthening Saint Lucia's healthcare system through mutual sharing and assistance.
"Beyond health, we have also worked to pursue sustainable agriculture. In 2013, we initiated a project that successfully tackled Black Sigatoka disease in Saint Lucia. Banana farmers now enjoy increased productivity, new international markets, and high profits. Today, Saint Lucia is the only country in the Eastern Caribbean exporting bananas to the European market.
"We have made great efforts together in ICT as well. Internet infrastructure is vital for providing efficient government services and narrowing the digital divide. It makes it easier for people to get education, to find a job, and to do business. And of course, reducing inequality is at the core of the SDGs," she said.
The President spoke of several projects initiated by her country in Saint Lucia like the Hewanorra International Airport and the national road system noting that while project loans will come from Taiwanese banks, the work will be contracted to Saint Lucian companies through Taiwan's Overseas Engineering & Construction Company.
"This means we will be hiring local workers and using local materials. This model of cooperation ensures that both our peoples can participate and reap the benefits. There will be no issue of "debt traps," unlike some other cooperation models. We believe in mutually beneficial projects rooted in strong communication and collaboration," President Tsai Ing-Wen said.
"Taiwan," she said "is honoured to help young Saint Lucians develop professional skills and expertise through scholarship programs and vocational training."