Saint Lucia National Female Rugby 7s finished 3rd in the recently held Rugby Americas North (RAN) Rugby 7s Olympic qualifier in the Cayman Islands. The two-day competition took place on the 6th and 7th of July.
Saint Lucia played three games on the first day losing against Mexico 17-5 and Jamaica 20-5 but vanquishing Trinidad 17-5.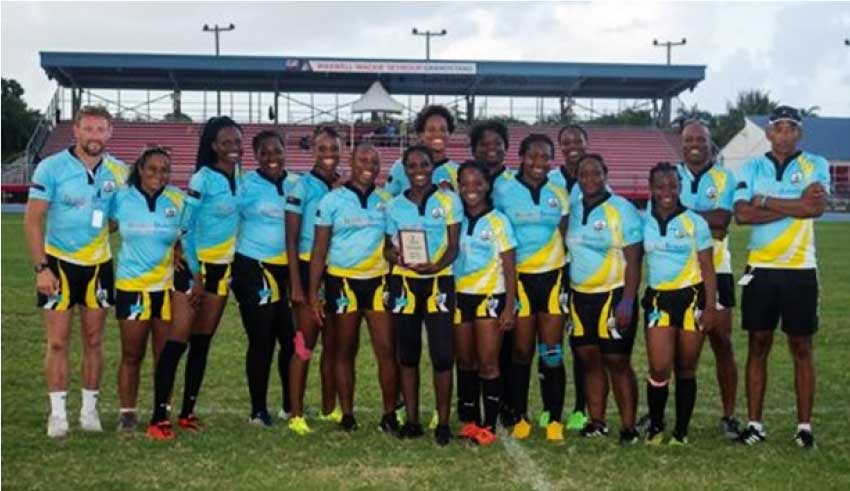 On day 2, Saint Lucia fared better beating Bermuda 27 – 0 and Bahamas 19 – 0. Team Saint Lucia impressed all viewers on the second day by beating Trinidad and Tobago in the third place final 22 – 0, proving that their Saturday win wasn't a fluke.
Saint Lucia's female team placed 4th in the competition in 2018.
Renatta Fredericks wearing jersey No.1 and speedster Mary Roberts stood out in the crowd's judgement; Fredericks was electrifying with her devastating runs, and Roberts lived up to her nickname with line break after line break slicing through the defence at will. Mary Roberts scored 11 tries (55 points) during the tournament and was Saint Lucia's highest scorer.
Speaking to the Technical Director / National Coach, Wayne Pantor, he stated that the months of intensive training and the adoption of the utilitarian style of play were key to Saint Lucia's success.
President of the Saint Lucia Rugby Football Union (SLRFU), Roger Butcher, stated that participation in the tournament was the culmination of the Union's 4-year strategic plan. He further stated that he was very pleased with the team's performance.
The team included the following players: Electra Marcelle (captain), Loianna Alexander, Marline Cherry, Renetta Frederick, Winnie Della Rene, Kameka President, Mary Roberts, Marissa Wilfred, Genesis Alfred, Kisha Edgar, Kera Dornelly and Shawnette St Juste.
Accompanying the team were Physiotherapist and Assistant Manager, Zhenya C. Allain; Coach-Wayne Pantor, Coach-Matt Jess, and President of SLRFU and Manager Roger Butcher.
LRFU took the time out to thank the National Lottery Authorities, who assisted financially for all the international tournaments; The Ministry of Sports; The Saint Lucia Olympic Committee Inc., Bouler Bowen Wealth-Care who assisted with much needed equipment (boots on two occasions for the players, a coach from the United Kingdom for a short period, and a new playing kit); and Stephanie Lambert-Montague and the Montagues for the donation of the signature balls for the female team.