JOIE's business project, Immerse, has captured a win for Saint Lucia over several other business ideas pitched at the TEECA challenge, a competition for young entrepreneurs in the OECS. The team is excited about receiving the amount of €10,000 as startup capital for conducting the business.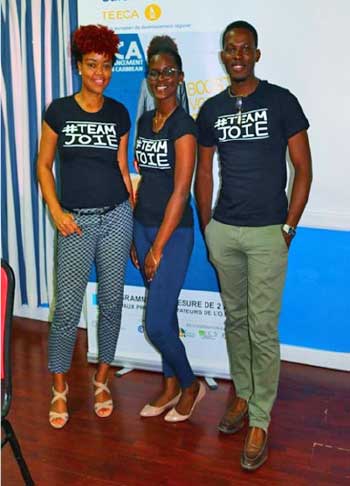 Representing the team in Martinique on June 7th, 2019 was Sophie Klein, a recent graduate of the Sir Arthur Lewis Community College Division of Technical Education and Management Studies.  Other members of the team included Hilary Mauricette, Accountant; Chaddie Faucher, Science and Mathematics teacher; and founder of JOIE, Bernice 'Joy' Lewis, who is also an educator by profession.
'Immerse' is not just a business but a drive to resolve many issues that plague the education system in Saint Lucia with the use of virtual reality platforms. This idea stemmed from the philosophy that learning should be fun and interactive and teaching ought to be relational and appropriate to cater to the needs of our diverse student population.
This undertaking has the potential to transform the process of teaching and learning in Saint Lucia. Immerse will serve as an innovative way to teach Science, Technology, Engineering and Mathematics (STEM) subjects which have come under particular focus in schools.
The JOIE team would like to thank Interreg Caraïbes, the Organisation of the Eastern Caribbean States (OECS), CCI Martinique and Caribbean Export Development Agency and Collectivité Territoriale de Martinique (CTM) for the opportunity to help change the landscape of education in St. Lucia. Certainly, it is only through such opportunities that young entrepreneurs can tap into their creativity to eradicate the ills of unemployment for themselves and the wider society. Also, the team would like to express gratitude to mentors Ian Mitchell and Pablo Rosine; the consultants: Dr. Michael Jacobson from the University of Sydney, Australia, Dr. Claudius Preville, Esther Brathwaite and Ministry of Education officials Cyrus Cepal and Curriculum Officer for Technology Integration Germain Anthony.
The journey has just began. 'Immerse' is ready to meet the demands of educators and students in the most unconventional and progressive ways.