As Saint Lucia continues to celebrate its 40th anniversary of Independence, its local sportsmen continue to bring smiles to the faces of all sports enthusiasts even under trying circumstances.  This past weekend two Saint Lucian boxers showed slate at the Creole Boxing Championship (CBC) in Saint Maarten with one returning with a championship belt.
Kareem Boyce emerged the champion in the 60 kg weight class, while Nathan Ferrari competing in the 64 kg weight class copped the silver. The two boxers were accompanied by National Boxing Coach, Conrad Frederick.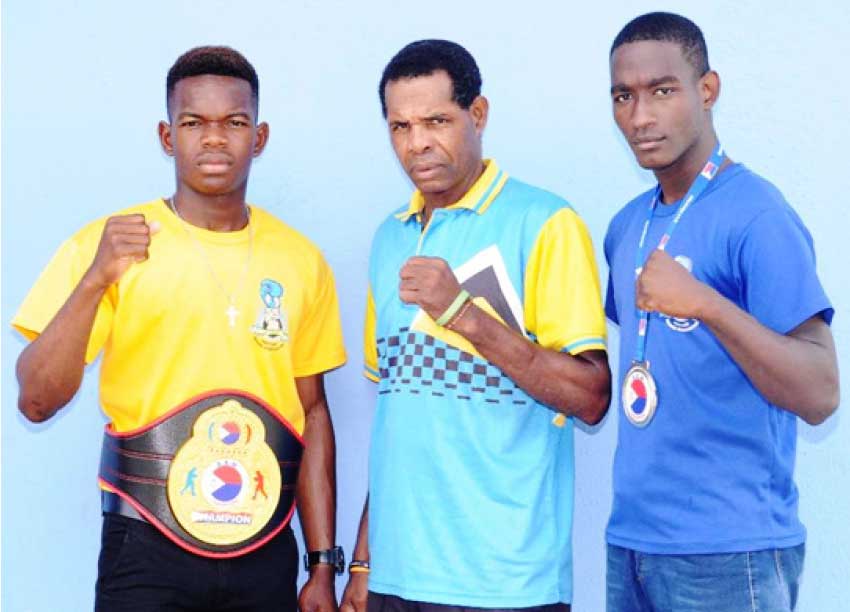 Former President of the Saint Lucia Boxing Association (SLBA) and renowned international cricket commentator, Joseph "Reds" Perreira was on hand to congratulate both boxers following their return and mentioned the significance of a boxer being awarded a belt.
Perreira said, "Traditionally a belt has always been a major achievement for any boxer; belts may not have been given as often in the past, but I think it is going to help Kareem Boyce work harder to achieve success."
He added, "In Ferrari's case, I hope his performance takes him to another level. He's had a very promising career, had one or two disappointments at the Caribbean Championships but he fought well against Trinidadian Michael Alexander, who won many medals at international games. It was a great performance by Ferrari."
Coach Frederick said: "Boyce fought an intelligent bout against his opponent from the French territory (Guadeloupe). He was smart in the ring and did not use a lot of combinations, but didn't take any punches. What he was doing was moving around in the ring to avoid punches and came away with a split decision over his opponent."
Frederick had nothing but praise for Ferrari who faced Alexander. He referred to the Trinidadian as "no ordinary boxer".  He brought into focus Alexander's "impressive" past history in the ring with three bronze medals to his name, the Pan American Championships in 2013, the Commonwealth Games in 2014 and the 2014 Central American and Caribbean Games.
He continued, "Ferrari fought a beautiful fight, he was not cut, he was not knocked down, and was never warned by the referee and in the end lost on points. Ferrari fought hard, he fought brave, but in the end the better guy won."
Nathan Ferrari said, "Without a doubt I agreed that the better man won. Going up against a fighter of that caliber I gained a lot of experience. It was a great fight. There are bigger tournaments I will take part in and this fight will serve me well in the future."
When asked what was the difference between winning and losing in the final to Alexander, he replied: "Experience was definitely a factor. The guy has countless fights under his belt and I have about 20. Experience plays a big part especially in boxing."
Commenting on the competition Boyce said: "I am really excited coming home with a belt from the tournament. I did well, could have done better because there is always room for improvement. I came there did what I had to do. I listened to the coach, worked hard and focused."
Having studied his opponent in previous fights Boyce was supremely confident. He told me: "I saw my victory before entering the ring. I knew what I had to do to win. I kept my mindset which was hit and not get hit. I took my time, moved around to avoid being hit."
Based on the outcome, his tactics and strategy worked to perfection.