Southern Flying Fish (SFF), a southern based swim club whose aim is to develop holistic individuals through swimming activities and education, has commended its members for another outstanding performance. At the recently held 5th annual Karen Beaubrun Swim Championship, Rashawn Francis from the Southern Flying Fish Swim Club was one of five swimmers taking home a Karen Beaubrun award.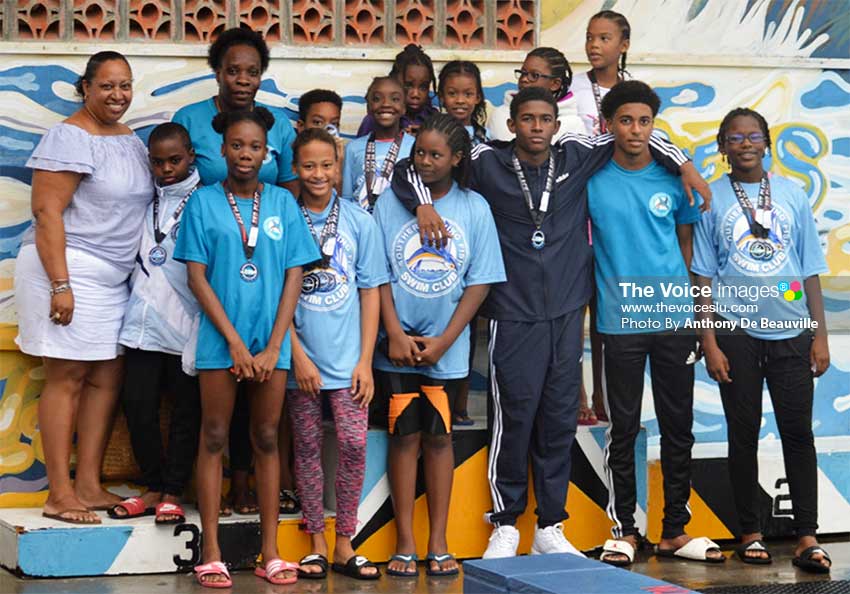 Deceased Karen Beaubrun was a founding member and coach of the Seajays Swim Club.The Club also appealed to potential sponsors in the south of the island to give SFF the desired support in their quest for participation in the 2019 Trinidad and Tobago Invitational Swim Meet in December and beyond.Club President Vicky Henry described last weekend's performance at the Rodney Heights Aquatic Centre (RHAC) as a sign of better things to come.While commending the team for its performance, she stated that the winning mentality displayed by the SFF swimmers is at an all-time high.  She signaled out Rashawn Francis who copped the Karen Beaubrun award, describing him as an individual of "unrivalled quality".Henry who was elected Club President in November 2018, said, "It's a one year term.  I have an executive that is willing to work; some members are coming over from a previous reign so hopefully we have some continuity in terms of what some of the plans were previously with the Saint Lucia Aquatic Federation. We may do things differently, but the aim is to promote swimming in the south of the island first and foremost.
Read on for the full interview with Club President Vicky Henry:
You are faced with a major facility problem. How do you intend to remedy that situation during your tenure in office?
Vicky: In terms of facilities, it's a challenge. We don't have facilities like the northern clubs. We have been working closely with the Saint Lucia Aquatics Federation (SLAF) and there are wonderful plans ahead; things are beginning to look a little more feasible, so we are keeping our fingers crossed that by the end of this year there should be something extremely positive.
In the pool our swimmers continue to do well. Their times keep dropping after every championship, but the challenge for us in making a name for ourselves in the competitive world is our numbers, and that is an area we would like to improve.
What about parents' involvement?
Vicky: Swimming is not an inexpensive sport so it creates a hurdle for us in the south, with finances being one of the main concerns in a lot of households. Some parents cannot afford the cost of a swimsuit so as an executive we will work with those parents because we do have challenges even within the club. We try our best; there are a lot of hindrances such as attending the various championships that are hosted in the north of the island. We have children that have to be at the RHAC at 7.00 a.m. for warm ups and it's not always possible to drive up from Vieux Fort to be at the RHAC on time. A lot of the time we have to be overnighting and that is an additional cost for the parents. We need to get an apartment and we need to factor in the cost of food and transportation as well.
How does the club survive despite the challenges?
Vicky: We have been working on sponsorship which is not always forthcoming. We are very grateful for the assistance from True Value, who allow us to use their private pool for our Learn to Swim programme. We are also extremely grateful to the Coconut Bay Resort. They have been supportive with our competitive swimmers in allowing us to use their pool three days a week. We would also like to recognize SMJ Beverages; they never turn us away, if we need refreshments for fund raising, they assist. They have been very supportive. We also get some assistance from the Windward and Leeward Brewery (WLBL) Limited. Despite all of this we still have challenges in getting a financial backer; most people give things in-kind. We still have financial challenges.
How do you deal with managing overseas costs? Are swimmers able to travel for the various competitions?  
Vicky: We have issues with children going to competition overseas. The SLAF has now leaned towards training in Martinique and we have not been able to do that due to the cost and that is a setback for us. We also have issues with events such as CCCAN which was held this past weekend in Barbados. There is another event in Trinidad and Tobago in December, and we are hoping to have at least three or five swimmers representing.  One of our major projects is to have a few fundraising activities that would assist with raising partial financial assistance towards that cost so our swimmers can get the opportunity to compete at the regional level.

Certainly you have a major task on your hands. Why did you get involved in this in the first place?
Vicky: What propelled me into this role was my daughter (Maliyah Henry). She came into competitive swimming just under two years ago and she has done pretty well. In order for you to get children involved, some of it flows off onto you.  You want to drive them and if it is something they love you always want to be involved someway, somehow. I am learning. The onus is on these aspiring swimmers, and it is important that we help make a better tomorrow for them. There are opportunities within the swimming fraternity with scholarships; we are not closed off to that. We have lots of children in Grade 6 and at secondary schools, and we want them to know that if they excel these opportunities are there for them. The world is their oyster, and they can go beyond these shores.
In terms of assistance, what's your word for corporate Saint Lucia especially the business houses in the south? 
Vicky: We would like them to recognize that there is a swim club in Vieux Fort. A lot of people are not even aware of our existence, and maybe we have  to take some blame in terms of how much we have promoted the club. When we do come to them we would like some kind of assistance, not necessarily just in kind, but the financial side of it. We have issues with uniforms right now. We had someone in Castries to assist us with part of our uniforms, but we are still a long way from a complete uniform, so when we do ask for the assistance, we would like them to open up their pockets a little bit.
These children are engaged in after school programmes and we know they are up to something good. They have to learn how to manage their time with school and sports. We are developing holistic individuals, it's not about one child going quickly in a race, but just having them manage their time and being ready. They are the ones before us on a morning of a meet, they are the ones who swim event after event, they get exhausted, but they are ready to go all the time.
We just want them to realise it is not personal; sometimes they think that some parents are able to afford, we have a lot of parents that can't, but we encourage them to keep coming. There are times we don't get the fees and we say to them keep these kids coming, we don't know how we going to pay for it, but we will figure it out. We have to pay a coach, and collecting fees is our main source of revenue for the time being. We want them to realise we are not only a club we are an employer as well. In that regard, whichever way they could assist, we will be happy for that.
In terms of membership, will the SFF at some point adopt students from the Vieux Fort Infant / Primary/ Piaye Combined Schools?
Vicky: We actually started that aspect in the past. We had a swimming programme with the primary schools and it assisted with the intake especially for the school team. Things changed a few years ago, and it has not been as forthcoming in generating a new crop of swimmers, which we would like. We are having a fundraiser (Flea Market / Breakfast sale) and we are hoping that apart from the fundraiser we will be able to undertake a membership drive during that period.
Any final words?
Vicky: We would like to think of SFF as one of the competitive swim clubs and one that has a lot to offer overall. Sometimes we tend to think of the south as another part of Saint Lucia. Some people laugh about it and say we are in Saint Vincent and the Grenadines. We would like people to know we do have swimmers that have made the national team in the past, and these children, even without the facilities that are readily available in Castries, were able to excel. WEe just want people to invest in them by actually having that swimming pool, assisting us with whatever fundraising events we are having, and giving whatever they can.