Saint Lucia is set to compete in the 2019 edition of the Canadian Bank Note (CBN)/WINLOTT Windward Islands School Games in the Commonwealth of Dominica from Sunday 28th July to Thursday 4th August.  A team of 62 athletes will compete in athletics, basketball (boys and girls), football (boys only), netball (girls only) and volleyball (boys and girls).
Team Saint Lucia leaves the Island tomorrow. The championship gets underway with track and field on Sunday 28th at Windsor Park, in Roseau.
At a press conference Tuesday at the Ministry of Youth Development and Sports, Deputy Permanent Secretary LiotaCharlemange -Mason pointed to Saint Lucia being joint second with Saint Vincent and the Grenadines (27 points) last year. She called on the athletes to do better this year.
"Most of you have been training hard; your determination and hard work has paid off and have given you a spot to represent team Saint Lucia. You will be going out there as ambassadors to Saint Lucia and most importantly to yourselves.  I don't think I need to express or tell you how to behave, but we expect you to compete in the true spirit of sportsmanship," she said.
Charlemange – Mason, warned the team to be in control of their emotions, telling them that "things happen on the field of play that will cause your emotions to rise, but how you deal with it will ultimately determine who and what you are".
Charlemange – Mason at the time was referring to an ugly, but unfortunate incident which took place at the Phillip Marcellin Ground last year during a football encounter in which Saint Lucia was involved.
"Compete as hard as you can, as fair as you can and we need to be one winner this year, we do not want a joint first or joint second like 2018, we want to be first and it means if all of our disciplines give the best of themselves there is no doubt in my mind that we will become 2019 champions". noted Charlemange – Mason.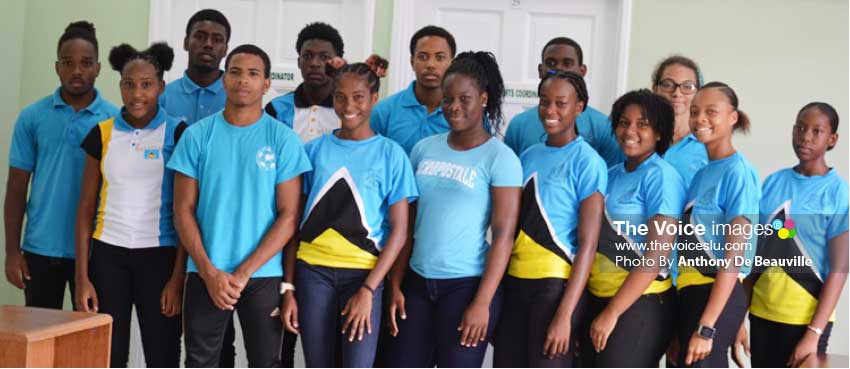 School Sports Coordinator and Team Chaperon to Dominica, Isabelle Marquis, echoed similar sentiments. She said, "We will be going to Dominica with one purpose in mind to do our utmost best and not to repeat a joint second place or anything. We have been training hard; all we need to do now is to replicate what we put into practice on the field of play.
Marquis continue, "Since the passage of Hurricane Maria that ravaged the Island of Dominica last year; Dominica has made remarkable progress and organizers have gone out of their way to welcome us and to make us comfortable in a Villa setting. Also for the first time, the team will be travelling with a Physiotherapist in the person of Makeba Alcide; this is a plus for us. The games are gruesome so we try to attend to our own injuries as much as the games will have its own medical team on standby," she said.
Team Manager, Wayne Benti took a time out to congratulate the 62 athletes and eight officials for making the team.
Benti said, "When we go out there, the captains are the leaders with their respective coaches; In Vieux Fort we worked on five areas, (1) Discipline, (2) Respect, (3) Responsibility, (4) Empathy and (5) Safety. Safety for yourself, while in your room and in general the environment around you. These are the five attributes we will be travelling with. We have to understand and work with each other throughout the 10 days of competition in Dominica".
He continued, "I ask you for your support and whatever it is we are going to do and continue to do, we have to fully participate. I am expecting disciplined individuals and also respect for the management team as well".
The following athletes: Youth Olympic Games (Buenos Aires, Argentina) Shelton St. Rose, Commonwealth Youth Games 200 meters finalist and Carifta Games 2019 (Cayman Islands) Kimani Alphonse, Carifta Games (Cayman Islands) athletes; Miguel Charlery and Tariq Xavier are expected to lead Saint Lucia charge at Windsor Park. Other members of the athletics squad are  – Kereser Augustin, Kelly Charles, Melika Destang, Joy Edward, Aaliyah Estephor, Asa Francis, Kesner Henry, Mya Hippolyte, Deandre Jules, Nebia Montrope, Jayeed Norbal (male/captain) and Zadie Louis (female/captain).
Saint Lucia finished 3rd in Athletics last year.
Basketball Teams: (male/female) – Garrick George (male/captain), Mia George (captain/female)  Keon  Allen, CheicBocoum Alphonse, Petal Brown, Kivani Emile, Cleo Jn Baptiste, Romia Joseph, Wezlee Joseph, Cletuson Leon, Nicholas Toussaint and Renair Yarde.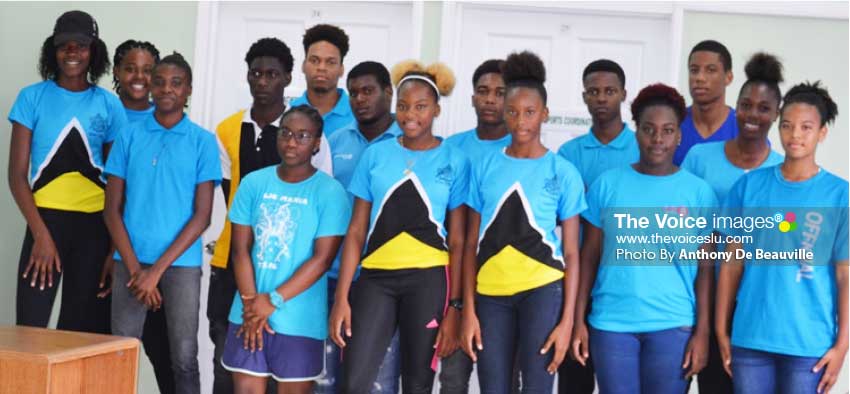 Saint Lucia finished 2nd in female and 4th in male Basketball last year.
Football Team: Daniel Biscette, Darren Donaie, Jade Troy Edward, Dillon Fannis, Molice Lubrin, Shakim Hunte, Billy Jn Phillip, Jurell Mathurin, Bryant Polius, Riquelme Sylvester, Benerrero Wellington.
Saint Lucia finished 4th in Football last year.
Netball Team: Dasha Eugene, Racquel John, Bernet Joseph, Jermia Martial, Janell Mathurin, Kiana Nelson, Megan Nestor, Tanny William.
Saint Lucia won Netball last year.
Volleyball Teams: (male/female)  – Kernel Remy (captain/male)Matilda Angeloni (captain/female), Zarianne Anthony, Zid Daniel, Chenoa Evans, Joshua Florent, Kaitlyn Gaillard, Kait Gaillard, Noah Gaspard, Linus James, Merkijay Jean, Fabio Lamontagne, Clio Phillip, Anaiah Polius, Fredel Sonny.
Saint Lucia finished 2nd in male/female Volleyball last year.
Team officials are manager Wayne Benti, Chaperon – Isabelle Marquis, athletics coach – Cuthbert Modeste, netball coach – Shem Maxwell, volleyball coach Denis St Claire, football coach -Solomon Alexander,  basketball coach – Ron Du Murville, and Germain Thomas, Physiotherapist – Makeba Alcide.