Based on observations, it would appear that many Saint Lucians who use sections of our highways have no interest in using the overhead walkovers built at various points to facilitate them crossing the roads despite warnings by the Royal Saint Lucia Police Force (Traffic Department), that pedestrians make that extra effort to climb the walkovers, for their own safety.
The dangers of the road were not for the first time brought into focus when a pedestrian lost his life after being struck by a vehicle in the Vide Bouteille area earlier this month while attempting to cross the road in that area.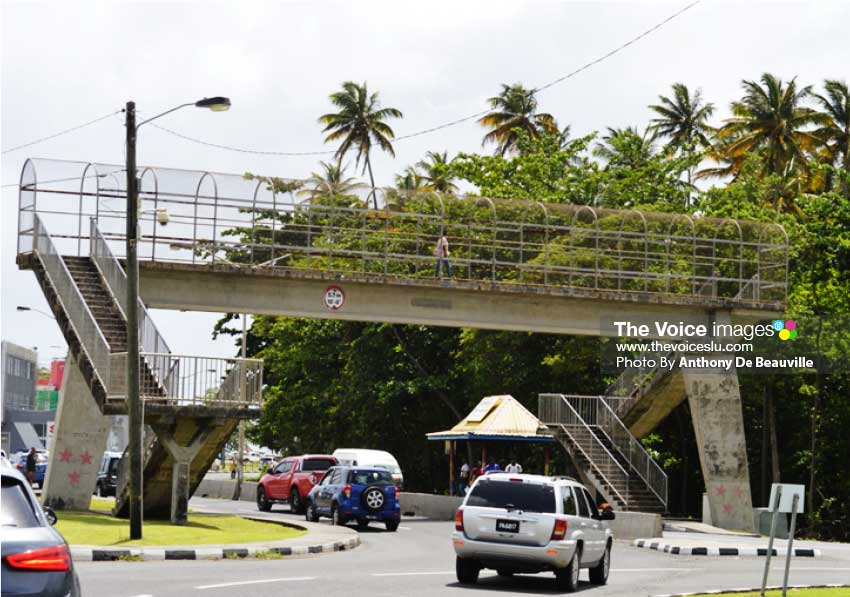 Still, many people continue to dash across island roadways, and others, simply strolling with no apparent care in the world. It would seem that their oblivion to the dangers, and the frustration and impatience of some drivers, continue to be a deadly formula, and perhaps even an indication of how much life is valued in this part of the world.
On Tuesday 25th June 2019, the VOICE spoke to Acting Inspector Callixtus Charlemange of the Royal Saint Lucia Police Force (Traffic Department) on a number of issues ranging from Jaywalking to loud music, texting while driving, motorcyclists engaged in dangerous stunts on the highways, and more.
A member of the RSLPF for 29 years, Charlemangne said, "We have recognised the danger with persons crossing the highways from the time that stretch of road has been operational; we have identified some problem areas and certain legislations need enacting because of the way the road network is."
Focusing on the driving aspect, he stated: "There are offences which arise because of the way the dual carriages are constructed; there are offences which were not legislated before and now there is need for some form of legislation to put in place. There is legislation which is vague and it does not amount to the required level. For example, (Dangerous Driving) – most of the accidents we have on the Castries – Gros Islet Highway are due to persons failing to signal when they are changing lanes. Before then, we never had that offence."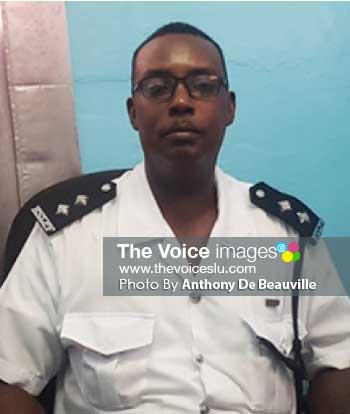 In terms of pedestrians, Charlemagne noted that the Traffic Department did not have any problem with the schools. The RSLPF has had quite a few educational programmes targeting schools, which he says has curtailed the number of accidents within school areas.
As for everybody else, "The Ministry of Infrastructure recognized that persons were crossing between the medians, hence some cladding was placed by Renwick and Company and Sandals Halycon, but they did not continue all the way. I have no idea why they did not continue with that project."
"We also have a challenge where persons vandalize the collapsing barriers (red/yellow) in the Bisee inter section," he added. "Persons literally remove them on weekends. We are hoping the Ministry of Infrastructure will use another method so persons cannot vandalize it anymore. We have received reports where vehicles going north bound will suddenly swing into Bisee and that is a dangerous practice which needs to stop immediately."
The full interview with Officer Charlemagne is recorded below:
VOICE: What advice do you have for persons crossing our highways by jumping the medians?
Charlemagne: We have advocated that the two seconds you believe you are going to save by jumping the median is not worth it. There is infrastructure in place (walk-overs) use them. If you going to work; leave the house earlier to make for that extra time to use the walk-overs. If there is a physical challenge, in terms of a knee injury, make alternative arrangements. Don't take the chance of crossing, because you are putting yourself at risk. You cannot judge the speed of an oncoming vehicle accurately, especially where there is a turn in the road.
VOICE: Can one be charged for Jaywalking?
Charlemangne: Presently we do not have any anti Jaywalking laws in Saint Lucia. The only charge arising therefore is if told by a Police Officer "Don't Do It" and you decide as a pedestrian to do it, the officer can only charge you for failing to comply with his lawful direction.
If there are sidewalks and you are walking on the road, that's jaywalking. If you are doing something on the sidewalk to endanger someone else's life and having them to walk on the street, you can also be charged for Jaywalking. Walk-overs are there for you to use. If you decide to cross the road that's Jaywalking.  That is one piece of legislation the Traffic Department in collaboration with the various stakeholders (The Ministry of Infrastructure, the NGOs/ Schools) is hoping to have enacted in the soonest possible time.
VOICE: Can you speak to the law related to texting while driving?
Charlemagne: It's an offence. We have a law which refers to electronic devices, and an electronic device can be a wide range of things. We need to narrow it down; your radio, cell phone, tablet, hands free, undistracted driving.
VOICE: What about charges related to failure to wear a helmet, as a motor cyclist?
Charlemangne: We do charge, but it appears as if we don't. It's a challenge. Persons normally evade us.  One thing you don't want to do when it comes to enforcing the law, you don't want to create danger, by chasing that person. Yes they evade you today, but the following day you might get them in a circumstance. Of late, there is an increase in persons wearing helmets; even the pillion riders have helmets.
VOICE: It's been a repeated decimal at weekends, with motorists speeding on our highways; will the police soon introduce Radar Guns to curb some of these unlawful driving practices?
Charlemagne: There was a move to purchase some Radar Guns for the Police; the legislation is there, it's just a matter of saying what type of equipment is needed along with the training. In the past, a number of persons have been charged for exceeding the speed limit. In 2018, the Minister did make mention of sourcing Radar Guns. A lot of the crashes we have are because of the increase in speed, and with that you have an increase in personal injuries.
VOICE: What is your take on loud music coming from vehicles?
Charlemagne: We have a traffic offence; if any loud noise is coming from your vehicle you can be charged. It's a ticketable offence and carries a fine of EC$250.00. Of late there is a decrease, but certain times during the year there is an increase, and most times it's during the night and it's intentional to disturb persons. It is delinquent and unreasonable. In the criminal code, they can be charged, but there are a lot of things that have to be done technically.
VOICE: What about motor cyclists doing daring stunts on the highways?
Charlemangne: That is dangerous. Putting your vehicle on one wheel can be considered dangerous driving. This is an offence we want to curb, and that is Dangerous Exhibition – wheeling, burning of tires, drags. There is quite a bit that needs to be enacted so the RSLPF can curtail some of these traffic offences.
VOICE: There has always been an issue with the lack of transportation on the part of the Police. How does the Traffic Department cope with all of these accidents? 
Charlemagne: I am not an economist, but there are certain things we would love to have. As a result of financial constraints, we cannot have all. In the past we had 15 motorcycles in the north of the Island. Most recently we had five new ones, and there is a move to have another five. We also have four of the old ones but they are not very reliable; they are over 11 years old.
VOICE: We are now entering the peak of the Carnival season. What is your advice to motorists and pedestrians alike?   
Charlemagne: Your personal safety is first. You have to make sure that you are safe and then you make others safe. When you are going out to party, plan your trip. Have a designated and sober driver, don't have a shift system where the first driver drinks early and the second driver drinks afterwards, make sure the person you are going out with will not consume alcohol to a level to put the entire group in danger. If you have a friend who has been drinking excessively and is not fit to drive, be concerned about that, and find someone to drive him/her home safely.
It must be noted that in 2016 Saint Lucia recorded 10 motor vehicle and 4 motor cycle deaths; 2017 – 5 motor vehicle, 9 motor cycle, 1 pedestrian, 1 bicycle death; 2018, 14 motor vehicle, 4 motor cycle, 2 pedestrian, 1 bicycle, 1 ATV death; 2019 to date 6 motor vehicle, 4 motor cycle, 1 pedestrian death.