Eleven-year-old Antoine Destang, a Grade 6 student at the Montessori Centre in Rodney Bay, is eying the 2024 Summer Olympic Games in Paris, France. Antoine returned home earlier this week after he made a splash at the Barbados Amateur Swimming Association (BASA) Invitational, winning all seven of the events in which he competed. 
Antoine has always had a love for the water, and even more so when he started swimming with Coach David Peterkin.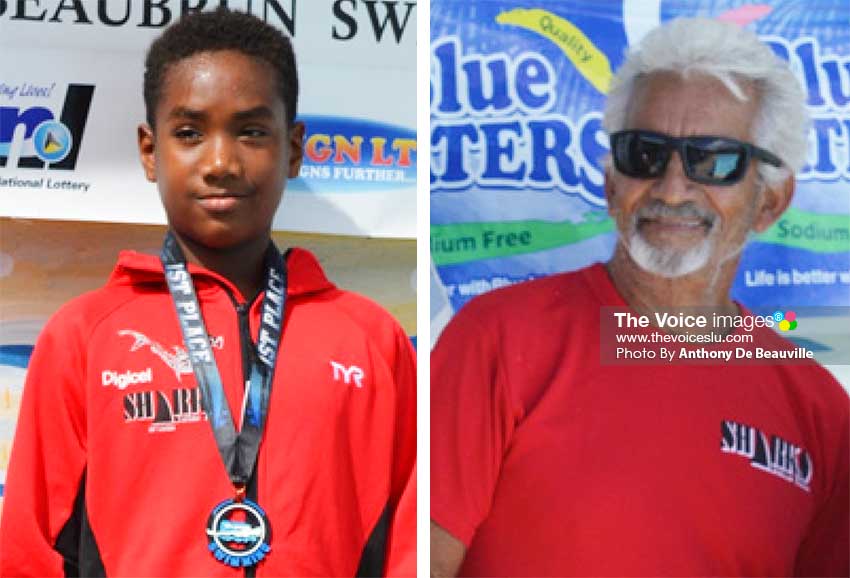 A member of the Sharks Swim Club from the age of six years, he is no stranger to swimming championship wins. Antoine has won high points awards in more than 30 meets and close to 400 medals.
The records and what he has achieved speak volumes, as he has not only won locally, but regionally including the Organization of Eastern Caribbean States (OECS) championship; Goodwill Championship, BASA/Aquatic Centre Invitational; ASATT Invitational/Trinidad and Tobago; as well as the NYAC Cup/ Toronto, Canada and Bolles School TYR Summer Classic Meet in Jacksonville, Florida.
To date, Antoine has been representing Saint Lucia in swimming for five years. He is extremely passionate about sports in general, and although he has chosen swimming as his main sporting discipline, he still finds the time to play tennis, basketball, soccer, you name it. He runs shorter track distances as well. Antoine has captured the Sportsman of the Year Award at his school for a few years now.
With the 2024 Olympics fast approaching, and despite his busy training schedule in the pool, Antoine continues to do well academically maintaining A's at the Montessori Centre. He loves to compete and enjoys challenging himself. He also loves racing in the pool with the older boys and girls in his club. All in all, Antoine is a team player who gives his all in whatever he does.
On June 12th he will write the regional Common Entrance Examination (CEE), but he has already been offered a substantial scholarship to attend St Andrew's College in Ontario, Canada in September of this year. St Andrew's College is a university-preparatory school for boys in grades 5 to 12, with a focus on academic achievement, athletics, and leadership development.
The VOICE spoke to Antoine's coach, David Peterkin and this is what he had to say: "Being Antoine's coach is a sheer joy. We were lucky enough to have started him off just shy of his third Birthday, and I have had the pleasure of coaching him since. I can truly say he has a big future ahead of him if he continues on this path."
His coach added, "At both the Barbados Amateur Swimming Association (BASA) Invitational and the Rodney heights Aquatic Centre (RHAC) Invitational, he swam ten races, winning all ten and setting 10 meet records."
Peterkin continued, "He sets his goals high… to do well in any sport there will be a journey, a process to go through, and this includes practice. Antoine does not miss a practice session, and has been training two mornings a week with me. This was his choice. He wanted more training and all of this makes a difference."
The soft spoken Peterkin said, "I will miss him when he goes to Canada in the near future, another step in his bright future".
The VOICE Sports desk wishes young Antoine much success at the upcoming Common Entrance Examination (CEE) later this month, and the very best in his future endeavours as he continues to pursue his dreams both academically and in the sport of swimming.