It was a kaleidoscope of colours and a field invasion by Choiseul Craft Masters (CCM) supporters when the south western team defeated defending champions South Castries Lions (SCL) by 22 runs in the finals of the 2019 Saint Lucia Premier League (SLP T20) played at the Phillip Marcellin Grounds on Sunday 16th Junein front of a crowd of close to 2300 fans.
Asked to bat first under hazy conditions after losing the toss, CCM made 163 for 8 in their allotted 20 overs with Audy Alexander top scoring with 45, which included 7 fours. Other contributions with the bat came from Jason Simon 30, Bradley Tisson 27, Bronte Best 14 and Vince Smith 10. Extras 30.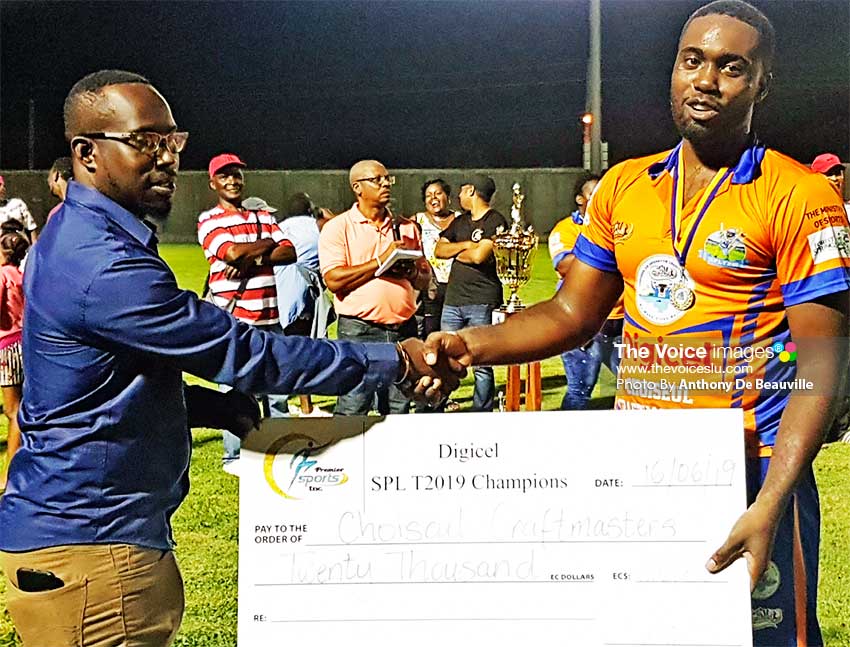 Fall of wickets: 1-16 (Junior Henry 1), 2-28 (Christian Charlery 3), 3-46 (Jason Simon 30), 4-71 (Vince Smith 10), 5-76 (Alvin Lafeuille 1), 6-85 (Alvinaus Simon 2), 7-134 (Audy Alexander 45), 8 -163 (Bradley Tisson 27).
Bowling for SCL, Johnson Charles took 2 for 22, Shervon Leo picked up 2 for 32, Conilius Calendar 2 for 36, Xavier Gabriel 1 for 12 and Keygan Arnold 1 for 24.
Chasing 164 for victory, South Castries Lions at one stage were 96 for the loss of four wickets inside the 14th over with the backs of Johnson Charles 9, Tonius Simon 7, Dwight Thomas 10 and CorlinusCalender 0; all in the pavilion, SCL were in a spot of bother.
Andre Fletcher continued his good run on form in the tournament scoring 73 from 47 deliveries which included eleven 4s and three towering 6s, when he was the next man out caught by wicketkeeper Jason Simon off the bowling of Bradley Tisson, 119 for 6 after 15.3 overs.
There was not much left for SCL as AckeemAuguste's 12 from 15 and Xavier Gabriel's 11 from 15 could not see them cross the finish line. The final score was 141 for 6 in their allotted 20 overs. Extras were 18.
Bowling for CCM, Bradley Tisson 1 for 4, Alvinaus Simon 1 for 14, Bronte Bess  1 for 18, Audy Alexander 1 for 18 and Clem St Rose 1 for 29.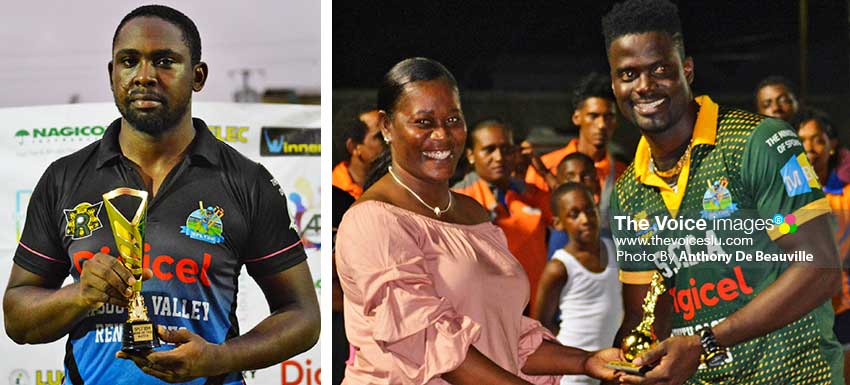 In the Third Place Play Off, Mabouya Valley Renegades (MVR) defeated Gros Islet Knights (GIK) by four wickets in an encounter reduced to 16 overs due to a late start.
Batting first GIK made 158 for the loss of 8 wickets in their 16 overs, with Tarryck Gabriel top scoring with 58 which included five 4s and four 6s from 34 deliveries.  Other contributions with the bat: Vernillius Gabriel 34 and Dane Edwards 14.
Bowling for MVR, MurgaranShoulette picked up 3 for 22, Christian Ange 1 for 25, Rick Smith 1 for 25, LenniceModeste 1 for 29 and Tyler Sookwa 1 for 32.
Leading from the front, captainMurgaranShoulette had an all-round performance scoring 76 not out off 37 balls which included five 4s and seven 6s. Zachary Edmund made 32, WayadHippolyte 13, and Tyler Sookwa 12 not out. Extras 9.
Bowling for GIK, Alvin Prospere took 2 for 26, Tarryck Gabriel 1 for 16, Dornan Edward 1 for 17 and Tyrel Chicot 1 for 32.
Awards
Man of the Match – Audy Alexander; Batsman of the Tournament, Fielder of the Tournament and Player of the Finals – Andre Fletcher; Bowler of the Tournament – Alvin Prospere.
The championship trophy, gold medals and the winner's cheque of EC$20,000.00 went to Choiseul Craft Masters. South Castries Lions received the second place trophy and silver medals, and Mabouya Valley Renegades, a trophy and bronze medals.