A whirlwind 127 from South Castries Lions (captain) Daren Sammy secured his team a spot in the final of the Saint Lucia National Cricket Association 50 Overs by defeating rivals Central Castries in the semifinal played at the Mindoo Phillip Park on Thursday 20th June 2019 (Corpus Christi).  
South Castries batting first after winning the toss, went on to score 229 for the loss of 9 wickets in 38 overs (cut off time). The match was reduced to 45 overs due to heavy overnight rain.
The main contributions with the bat came from Daren Sammy (127) which included eight 4s and ten 6s, his hundred coming off 96 deliveries, and Tonius Simon (43). Simon's delivery included two 4s, and two 6s. The two added 179 for the fifth wicket before Sammy was out caught by Stephen Naitrum off the bowling of Tyler Sookwa operating from the Marchand road end. Simon did not last too long as he was next out caught by Sanjay Hayle off Sookwa in the same over.
The remainder of the batsmen did not trouble the scorers much – Johnson Charles 12, Wendell Inglis 7, Noel Leo 0,  Malcolm Monrose 0, Kester Charlemange not out 4, Nickson Edmund 7, Xavier Gabriel 8, AvalinusCallendar 0. Extras 21.
Bowling for Central Castries, Tyler Sookwa bagged 4 for 48, Jaden Elibox picked up 2 for 37 and Sanjay Hayle 2 for 53.
Chasing 230 for victory, Central Castries was bowled out for 204 in 37.1 overs, at one point they were 141 for the loss of four wickets. Jamal James batting at No. 3 top scored with 57 runs, which included three 4s and three 6s, before he was out caught Kester Charlemange off the bowling of Johnson Charles.
Other contributors with the bat were Stephen Natrium 7, Mateo Boulogne 10, Johnnel Eugene 15, AckeemAuguste 15, Tyler Sookwa 9, Keygan Arnold 20, Dillan John 12, Sanjay Hayle 4, Jeremiah Charles not out 2. Extras 45.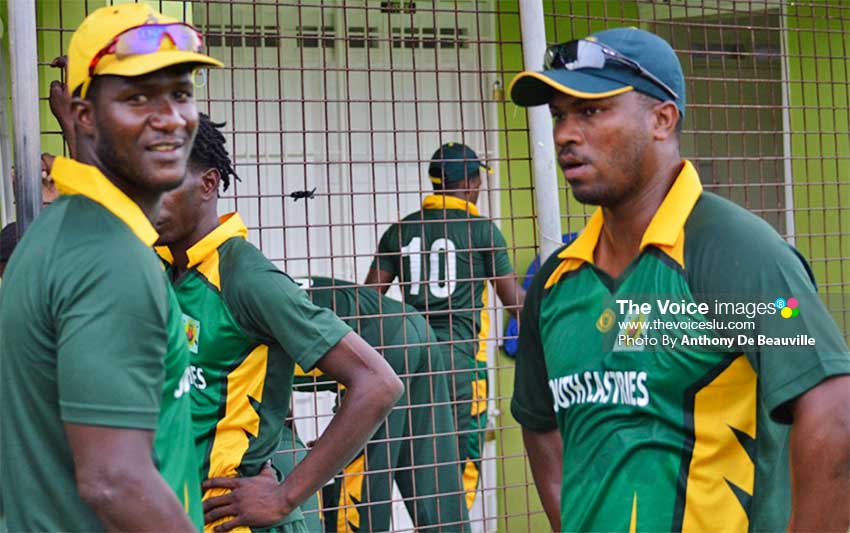 Bowling for South Castries Lions – Shervon Leon 3 for 44, Kester Charlemange 2 for 32 and Johnson Charles 2 for 41.
Following the encounter the VOICE spoke to Daren Sammy, SCL captain about his team's victory and of course scoring a century. This is what he had to say:
"Defending 229 runs in 38 overs, Central Castries was looking at more than a run per ball, but with the bowlers we have, we backed ourselves to defend it. Great cricket game, it reminded me of back in the days."
Daren Sammy scored 100 off 96 deliveries, which included seven 4s and seven 6s, "Sometimes you have to use your experience," he said. "I came in with four wickets down for 30 runs; myself and Tonius Simon put on a really good partnership. We took our time, and in the end it was good enough for the win."
Overall team performance?
"It was good," he said. "Our bowlers got wickets with the new ball during the chase which was important. The batters, we needed one partnership which myself and Tonius provided."
He added, "We are looking forward to the finals; we're not sure who we are going to play but hopefully whoever we play, we can put on another good performance."
Meanwhile, the second semifinal will take place today (Saturday 22nd June) at the Piaye Playing Field between Mon Repos and Soufriere from 10.00 a.m.