It is that time again when the Saint Lucia Athletics Association stages the National Individual track and field championships at the George Odlum Stadium (GOS) in Vieux Fort, weather permitting. 
According to the SLAA, on Day 1 (today), the Pole Vault for men/women will start from 11.30 a.m., but the actual championship will commence at 1.00 p.m. On Sunday 23rd, competition starts from 10.00 a.m.

Over 260 athletes will represent a combined 14 track and field clubs and schools.
Missing out on this weekend's championship is Saint Lucia's Senior Sportswoman for the Year and gold medallist in the women's high jump, Levern Spencer ( Spencer is currently on the European Circuit) and Junior Sportswoman of the Year and silver medallist in the 100 metres finals at the Youth Olympic Games, Julien Alfred who is studying in the USA will be out on the action, as she is currently nursing an injury.
Also out of competition is the Senior Sportsman for the Year, Albert Reynolds who is currently attending a Javelin training Camp in Grenada,
Track and field athletes taking part in the event include MaicolPopote, Alex Joseph, Zachary Edmund, Darrion Roberts, Alexander Jn Baptiste, Miguel Charlery, Adaigio Green, Tariq Xavier, Shelton St. Rose, Abdel Girard, Harvey Pierre, Kishawn James, and Amani Modeste (Men/Boys).
In the women/girls category – Kimani Alphonse, KamillaMonroque, Hazia Pelage, Joy Edward, Zoe Dorville, ZoyaJn Marie, Anya Lubin, Gibba Edward, Josanne Ishmael, Empress Moses, Jemmica Jules,  Kereser Augustin, Zadie Louis and Shervon Pascal, just to name a few.
Also on show will be a Canadian by birth of Saint Lucian parentage, Braenen Jamal who will compete in the 100 and 200 meters respectively.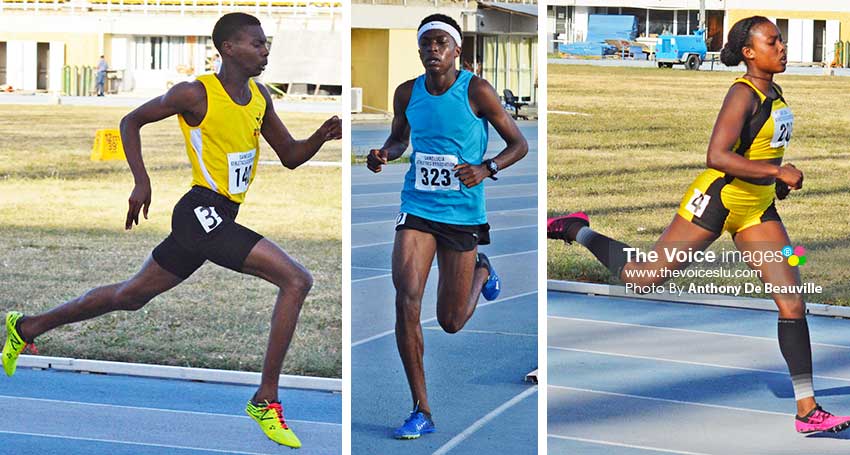 Events include the Men/Women: 100, 200, 400, 800, 1500 meters, Women 3000 metre Open, Men 5000 meter Open, 4×100 metre and 4×400 metre relay races.
Men Octathlon; Boys/Girls (11-12 years) Outdoor Pentathlon; Boys/Girls (13-14 years) Heptathlon.
Men/Women Discus Throw Open; Men/Women Shot Putt Open; Men/Women Long Jump; Men/Women Javelin Throw Open, Men/Women High Jump Open.
SLAA President Cornelius Breen speaking to the VOICE about this weekend's meet said, "These games serve as an opportunity for the technical committee to assess our ability to have representation over in El Salvador in July at the North America, Central America and the Caribbean (NACAC) Age Group Championships".
Notwithstanding the absence of some of the island's leading athletes, the SLAA Boss said, "I expect the various athletes on show will come out and give a good account of themselves representing their various clubs and schools. We also have quite a number of unattached athletes taking part, and they too are expected to be in the thick of things".
With finance still an uphill battle for the local track and field association, Breen was indeed happy that the Saint Lucia Olympic Committee (SLOC) Inc. and Mondo came onboard to sponsor this year's National Individual Track and Field Championships.