Saint Lucia is not left behind when it comes to extreme sports; freestyle motocross dominates with a daring mix of motocross and airborne acrobatics in which riders perform stunts high above the ground.
On Sunday 30th June 2019, the Cul de Sac race track will be a hive of activities when the Saint Lucia Moto X Club (SLMXC) presents Race No.5 from 1.30 p.m.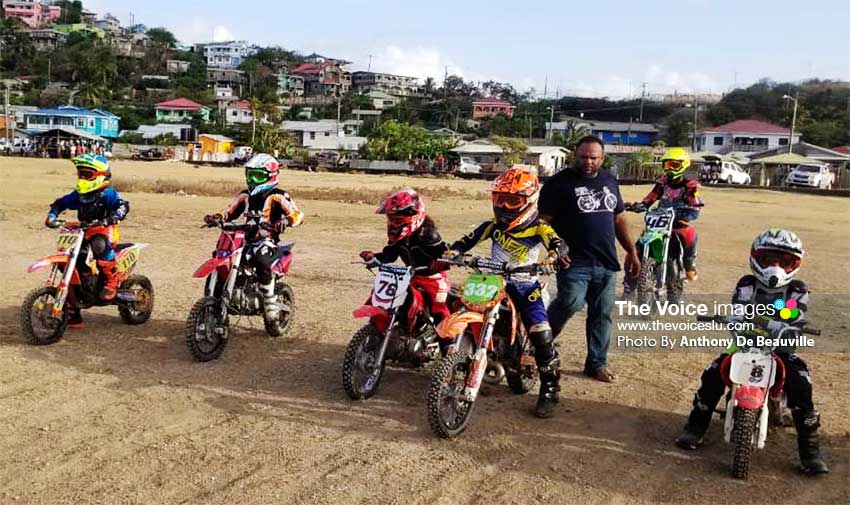 The aspiring Pee-Wee racers in category 1 and 2 will be first on the track, followed by Class B and A competitors. By all indications it is going to be intense competition from start to finish where competitors try to outdo one another with amazing twists and turns on their individual motorcycles that seem to defy gravity.
According to the organizers, like previous races, the French have again expressed their desire to be on island, this time with a larger contingent consisting of eleven riders.
Chris Jn Marie, Secretary, SLMXC said, "The competitive spirit of the French has been nothing but a positive influence on our riders. History will show that the French were the ones who introduced motocross to Saint Lucia, and now it's a situation of the student being as good and, in some cases, better than the teacher, something the French will feel the need to correct."
He added, "We have seen remarkable improvements in all classes of our riders, from Pee-Wee to "A" Class.  No doubt, the French have recognized the hunger of our riders to give of their best, a quality the French see as a plus for the sport."
Jn Marie said, "In times past it was almost a foregone conclusion as to whom the winners of the different classes would be, but this is no longer the case. The friendly but intense rivalry and competitiveness among riders has proven that everyone is a potential winner and is deserving of a first-place podium finish."
For years, the SLMXC has been echoing the invitation for Saint Lucians and visitors alike to come see motocross at its finest, and this Sunday will be no different.
According to Jn Marie, like previous races held in Saint Lucia, this time around the French contingent are determined to prove that they are the better riders while our Saint Lucia riders have the unenviable task of trying to keep them awake so that they can stop dreaming as the various competitors will be vying for much needed points.
The big question: Will the leaders keep their positions after Sunday's event?
Here now are the points tabled after event No. 4 that was held in Vieux Fort:  Pee -Wee 1 – 1st place, Bike No. 93 AgatYanis 268 points, 2nd place Bike No. 78 RajaniMaraj-Malaykhan 237 points, 3rd Bike No. 238 ShahidMaraj – Straughn 168 points, 4th place Bike No. 8 Olson Francois Jr 112 points.
Pee Wee 2: 1st place Bike No. 332 Alpha Burt 243 points, 2nd place Bike No. 110 Christian Eudoxie 236 points, 3rd place Bike No. 3 Kareem Louis 182, 4th place Bike No. 11 RollierBabinayrton 102 points, 5th place Bike No. 105 Shaan Cooper 80 points, 6th place Bike No. 2 Martial Matthieu 52 points, 7th place Bike No. 7 Veii Livio 46 points.
In the B Class, Mallen Alcindor takes charge on Bike No. 100 with 216 points, twelve points ahead of 2nd place Bike No. 99 Luka Louconi on 204 points and 21 points ahead of 3rd place Bike No. 777 Darren Auguste with 195 points. Antonio Maynard riding Bike No. 85 has 124 points, 5th place Bike No. 144 points Noel Mark 90 points, 6th place Bike No. 20  Travis Emmanuel 75 points, 7th place Bike No. 06 Frederic Labamar 54 points, and 8th place Bike No. 88 Amir Surage 20 points.
In the A Class, fifteen and sixteen points separate 1st place Bike No. 99 Julien Augustin (194 points), 2nd place Bike No. 101 Arrkim Griffith (179 points), 3rd place Bike No. 2 Bryan Leonce (178 points) respectively.
In 4th place, Bike No. 10 Olson Francois takes charge of the second half of Class A, with 155 points, 5th place Bike No. 472 Kelvin Henry 98 points, 6th place Bike No. 18 Davidson Belizaire 95 points, and 7th place Bike No. 105 Alan Labamar 75 points.