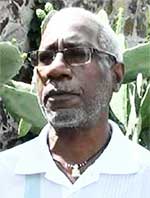 Ahead of Fathers' Day to be celebrated across the island, the Caribbean and the world tomorrow, I spent some time (as always), trying to figure-out how different fathers spend their designated 'Day' in different countries.
Really, there's nothing like 'a different father' because all fathers are the biological same – fathers to their children.
But then, we cannot all be the same, as that would defy another reality: No two people are the same, not even twins.
And then comes that other question: 'What makes a man a father?'
The easy answer: 'Having a child.'
But then, the follow-up question can very well be: 'How can a man have a child?'
A better answer: 'Being the father of a child.'
But then, another question can come: Does being a father make a man a father?
Answers: 'Yes' and 'No'.
After all, not all fathers father their children, too many leaving too many mothers to enter the Single Parent zone as both Mom and Dad, or just a father and mother.
The interconnection is so mutually dependent that no father or mother can be either without the other.
Yet, that mutual compatibility simply does not allow for anything but opposite conversion.
In other words, a man cannot make a woman a man, or vice versa – even though science now shows it's possible.
On the contrary, men can drive women to behave like men — or the other way around; and not just in stereotypical (homophobic) ways, but quite often from the standpoint of having to adapt and adopt roles and responsibilities stereotypically considered solely that of the opposite sex.
So, therefore, not all fathers are fathers because fathering is more than just being a father.
Different folks have different strokes, so different fathers and different men will always have differing views of fathering, just as they do on Fathers' Day.
Take the legendary Saint Lucian Kweyol language radio announcer, Sam 'JookBwa' Flood.
He's often quoted at this time every year as having aptly noted (many, many years ago…) that there's a gender (or genetic) bias in how Fathers' Day is celebrated here.
Sam noted that while department stores offer the most delightful of warm and affectionate gifts of cakes and chocolates, bunnies and gift baskets, clothes and jewelry for mothers on their Day, for Fathers' Day most advertise 'hard-working tools' for agriculture, gardening and other household work: forks and cutlasses, hoes and shovels, rakes and spades, hammers and pliers, water hoses and buckets, step ladders and wheelbarrows, lawn-mowers and weed-whackers, automatic hand-held tools, barbecue grills, water boots, etc.
But Sam was right, as the history of Fathers' Day itself has always been dogged by strenuous but failed efforts to prevent or avoid its excessive commercialisation.
Indeed, apart from all the philosophizing above, the history of honouring fathers also has its religious long-standing ideological aspects.
Honouring fathers had for centuries been a mainly Catholic and Coptic tradition dating back to The Middle Ages and was brought to Latin America by the Spaniards and Portuguese after Columbus opened the way.
Fathers' Day was first observed on March 19 as the Feast Day of Saint Joseph, who Catholics refer to as the fatherly 'Nourisher of the Lord' and 'The Putative Father of Jesus' in southern European tradition, from as far back as the last years of the early part of the 14th Century.
Fast-forward to the early 20th Century and an American, Grace Golden Clayton, was mourning the loss of her father when, in December 1907, a mining disaster in West Virginia killed 361 men — 250 of them fathers, leaving around a thousand fatherless children.
Clayton suggested to her pastor to honour all those fathers and chose the Sunday nearest to the birthday of her father.
A 'Father's Day' service was recorded as having been held on July 5, 1908, in Fairmont, West Virginia, in the Williams Memorial Methodist Episcopal Church South, now known as Central United Methodist Church.
But although Clayton had championed Father's Day to honour fathers, there were also other claims to parenthood of the day.
For example: Americans claim that Father's Day was inaugurated in the USA in the early 20th century 'to complement Mother's Day in celebrating fathers, fathering and fatherhood' (According to Wikipedia).
They will tell you: 'Father's Day was founded in Spokane, Washington at the YMCA, in 1910, by Sonora Smart Dodd, who was born in Arkansas'; and that 'Its first celebration was in the Spokane YMCA on June 19, 1910.'
Dodd's father, the Civil War veteran, was a single parent who raised his six children there.
After hearing a sermon about the Mother's Day Holiday at the Central Methodist Episcopal Church in 1909, Ms Dodd told her pastor that fathers should have a similar holiday honouring them.
Although she initially suggested June 5 – also her father's birthday — the pastors did not have enough time to prepare their sermons, so the celebration was deferred to the third Sunday of June (which is how the rest of the world mainly observes it today).
But by the 1930s, while Clayton had reservations about the level of commercialisation of the day she had nourished over the years, Dodd had the support of the corporate world of the time, which had already hijacked it.
Commercialisation of Fathers' Day has indeed been a bone of contention ever since it was hijacked by the Merchants of the USA.
Americans resisted the holiday during a few early decades, perceiving it as just an attempt by merchants to replicate the commercial success of Mother's Day; and newspapers of the time frequently featured cynical and sarcastic attacks and jokes.
But the trade groups did not give up: they kept promoting it and by the mid-1980s the American Father's Council joyously wrote that "Father's Day has become a Second Christmas for all the men's gift-oriented industries."
A bill to make the day a holiday was introduced in the US Congress in 1913, but was for a long time resisted – again for fear of excessive commercialization.
In 1957, Maine Senator Margaret Chase Smith wrote a proposal accusing the US Congress of ignoring fathers for 40 years while honouring mothers, thus "singling out just one of our two parents".
In 1966, President Lyndon B. Johnson issued the first presidential proclamation honouring fathers, designating the third Sunday in June as Father's Day.
Six years later, the day was made a permanent national holiday when President Richard Nixon signed it into law in 1972.
So, Fathers' Day, celebrated here and worldwide today more the American way than the Catholic way, continues to be more of a commercial affair than an affectionate expression of love for fathers.
It can be said that more sons and daughters – and mothers – may today better appreciate who their fathers are or were and the roles they play or played.
But still not enough, most would say.
In too many cases, fathers who failed in the fatherhood department will have well-earned the unenviable wrath of mothers and children alike – again underlying that while all fathers and mothers are parents, parenthood is a very different kettle of fatherhood or motherly fish.
But, be that as it may, Fathers' Day continues to be a special day for all fathers everywhere, whether they are celebrated or not, whether they care to be celebrated or not.
I do care about being five times a Caribbean father with sons, a daughter and grand-daughter.
And I do care about being celebrated every Father's Day by those I now both father and mother.
Which is why, before today is over, I will have bought a suitable Father's Day card for all my offspring to duly sign, seal and deliver.
And just in case you're thinking… Yes, I do.
And every year!