1st National Bank has shown its indigenousness once again by partnering with the Monsignor Patrick Anthony Folk Research Centre (FRC) in its major fund raising effort to re-establish and rebuild after the devastating fire of Sunday March 25th, 2019.  The FRC was established in 1973 and is a not for profit, non-governmental organization.
The FRC is the heart and soul of the nation and represents the daily lives of Saint Lucian people, documenting and protecting our history, our journey our legacy and more importantly the development of our cultural heritage particularly in the field of education and economic development.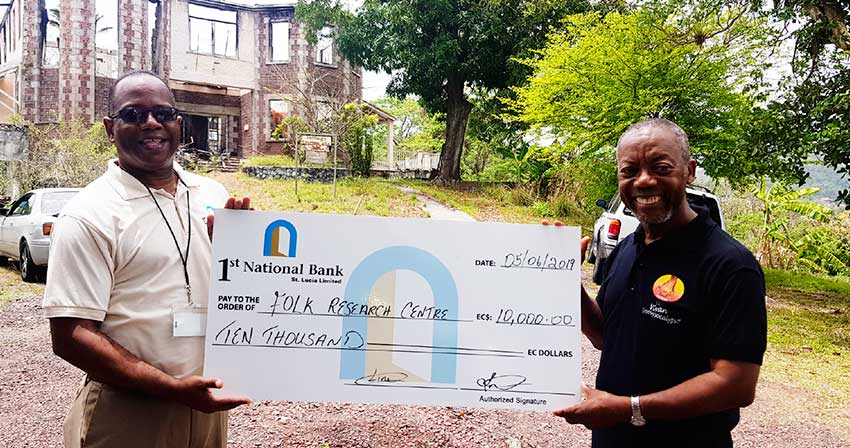 The Cheque Presentation Ceremony was held on Wednesday June 5th, 2019 at Mount Pleasant amidst the ruins due to the fire.  Articulated by the Bank's Executive Manager for Marketing and PR; "This venue was deliberately chosen as we wanted to signify the beginning of a collaborative effort between these two indigenous institutions from the ravaged site with the fervent hope of new beginnings for all of us Saint Lucians who in fact are the FRC."
In receiving the EC$10,000.00 donation from the representative of the 1st National Bank, Dr. Patrick Anthony had this to say; "The People's Bank has set an example for corporate Saint Lucia.   They continue to show that Saint Lucia and Saint Lucians matter.  FRC is the life-blood of our nation, the heart and soul of our people, their values, dreams and aspirations during their historic journey. 1st National Bank, 'The Penny Bank' understands that."
1st National Bank is proud to be a partner and wishes The Monsignor Patrick Anthony Folk Research Centre every success with its Groovy-Soca Calypso Fundraising show to be held at the Pigeon Island National Park on Sunday June 9th, 2019. The show starts at 8:00 p.m.