The Senior Men's Inter District 50 Overs has reached the quarterfinals stage. In the final preliminary round of the competition being staged by the Saint Lucia National Cricket Association, there were wins for South Castries, Gros Islet, Babonneau and Central Castries over the weekend.
Central Castries secured second position in Group A with a 111 runs win over Mabouya Valley on Sunday 19th May at the Mindoo Phillip Park.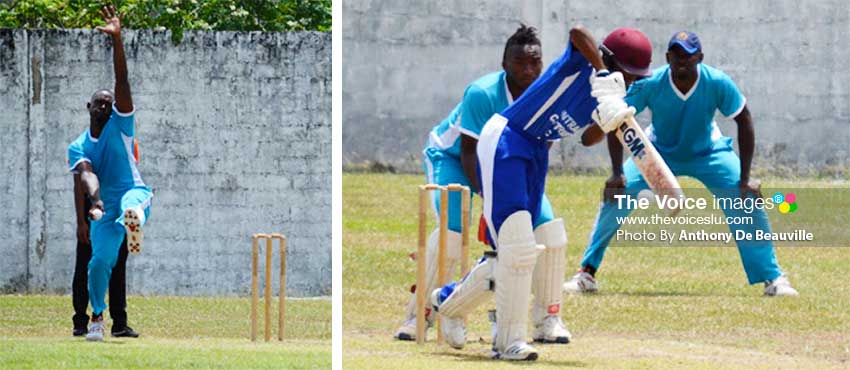 Batting first Central Castries scored 256 for the loss of 7 wickets in 38 overs. The city boys lost opening batsman Steven Naitram off the second ball in the match caught by wicketkeeper Denzel James off the blowing of Margaran Shoulette.
Opening batsman Mateo Boulogne top scored with a well-played 69, Tyler Sookwa 56 and Gaspard Prosper 33. Ackeem Auguste who came in at No.3 batted well for his 32 before he was caught by wicketkeeper Denzel James to give Shoulette his second wicket. Auguste was severe on DishonRampal hitting him for 6 exquisite boundries.
LoicProspere (not out 14) and Keegan Arnold (13) were the main contributors with the bat for Central Castries.
Fall of wickets: 1-0; 2-53; 3-91; 4-123; 5-231; 6-232; 7-241.
Extras 31.
Bowling for Mabouya Valley MargaranShoulette took 3 for 28, Zackary Edward 2 for 48 and Barry Charles 2 for 68 off 7 overs.
Chasing 257 for victory Mabouya Valley was bowled out for 106 in 25.5 overs. MeliusLinch top scored with 35, MargaranShoulette 19 and Rick Smith 16.
Fall of wickets: 1-12; 2-17; 3-55; 4-78; 5-87; 6-88; 7-91; 8-94; 9-104 all out 106.
Extras 13.
Bowling for Central Castries, Jaden Elibox picked up 4 for 10, Loic Prosper 3 for 24, Keegan Arnold 2 for 12 and Tyler Sookwa 1 for 18.
On Saturday 18th, Group 'A' leaders South Castries Lions (SCL) continued their unbeaten run with a comprehensive 8 wicket win over Gros Islet on Saturday at the Daren Sammy Cricket Ground.
The SCL victory was due largely to half centuries from hard hitting opening batsman Johnson Charles (92),Tonius Simon (73 not out) and former West Indies captain Daren Sammy (57).
Earlier in the morning session, Gros Islet recovered from 104 for the loss of 5 wickets to post 244 for 8 in 50 overs with Garvin Serieux top scoring with 73, Vidal Crandon 59 and Dominic Auguste 31.
South Castries made light work of the chase scoring 249 for the loss of two wickets in 29.5 overs.
At the La Ressource Playing Field Babonneau defeated the home team by 2 wickets in a close encounter.
Mabouya Valley: 172 in 30.1 overs; MagaranShoulette top scored with 41 and OreyChangoo chipped in with 28.
Bowling for Babonneau, Nehimiah Wilfred bagged 5 for 33
Needing 173 for victory, Babonneau scored 174 for the loss of 8 wickets in 28.3 overs.
Shervon Joseph top scored with 39 and Caleb Thomas 35.
Bowling for Mabouya Valley, LeniceModeste picked up 3 for 22.
The final two matches in the preliminary round were completed on Sunday 19th.
At the Des Barras Playing Field (Babonneau) Gros Islet defeated the home team Babonneau by 48 runs.
Batting first, Gros Islet scored 245 all out in 41 overs.
Opening batsman Vidal Crandon (following his 59 against South Castries the day before at the Daren Sammy Cricket Ground) scored his first century for the season (107). West Indies ICC World Cup opening batsman Kimani Melius scored 49 and Windward Islands player Tarrick Gabriel 36.
Bowling for Babonneau, Nehimiah Wilfred bagged 4 for 42 while Devon Eugene picked up 3 for 66.
Needing 246 for victory, Babonneau could only manage 197 in 32.5 overs. Isaiah Wilfred top scored with 46; Alvin Lafeuille 35 and Joshua Mann 32.
Bowling for Gros Islet, Tyrel Chicot took 3 for 49.