A disaster waiting to happen.
That's how residents of the south have described the bus stands on the Vieux Fort/ Laborie highway, where both pedestrians and commuters have narrowly escaped fatal injuries, due to reckless driving.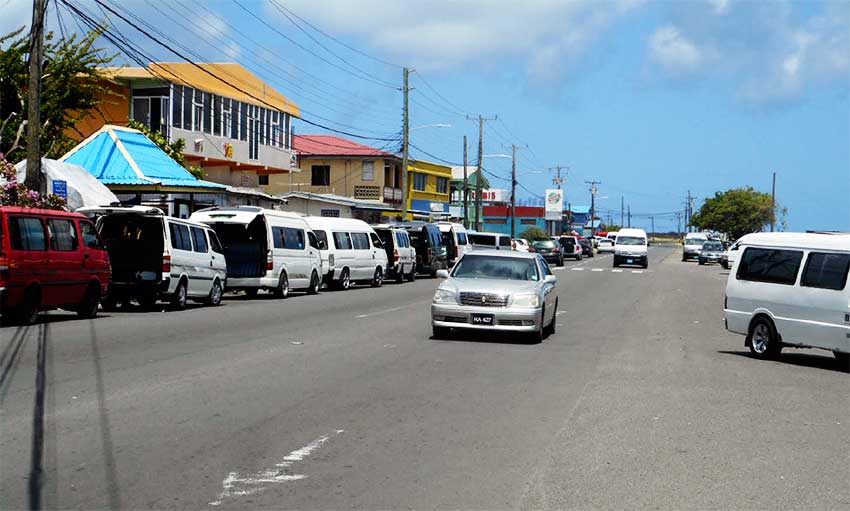 The culprits are both drivers of public and private vehicles, who sometimes drive along the busy highway next to the bus stands at breakneck speed.
Over the years, there have been a number of minor accidents along the highway, where seven bus stands are located in close proximity of each other. Next to the bus stands, where several businesses are located on one side of the road, there is a pedestrian crossing with a traffic light nearby, which seldom works.
In an interview with this reporter, concerned residents suggested several ways to force drivers who drive near the bus stand to proceed with due care and attention.
Emmanuel Charlemagne, a minibus driver of Choiseul said: "There should be three pedestrian crossings instead of just one near the bus stands…."
Alexis Louisy, another minibus driver said: "Drivers just need to use their common sense. They should realise the danger in driving fast near the bus stands. No one should have to tell them that…"
He added that there is no need to have police presence on the bus stop to solve a problem that requires mere common sense.
Mathaduse Theodore, who vends near the stands, says he expects to witness a disaster in the area any time.
"God forbid, someone will lose their life on that highway any time. It will be a disaster," he said, adding that he hoped not to be one of the casualties.
He feels the presence of the police at the stands will reduce the risk of a fatal accident there.
A resident of Vieux-Fort who spoke to The VOICE said she wanted to see a speedbump constructed along the highway near the stands.
"I will welcome       anything that will force drivers to drive carefully along the highway. I don't care if it will damage their vehicles but save a life," the frustrated resident said.