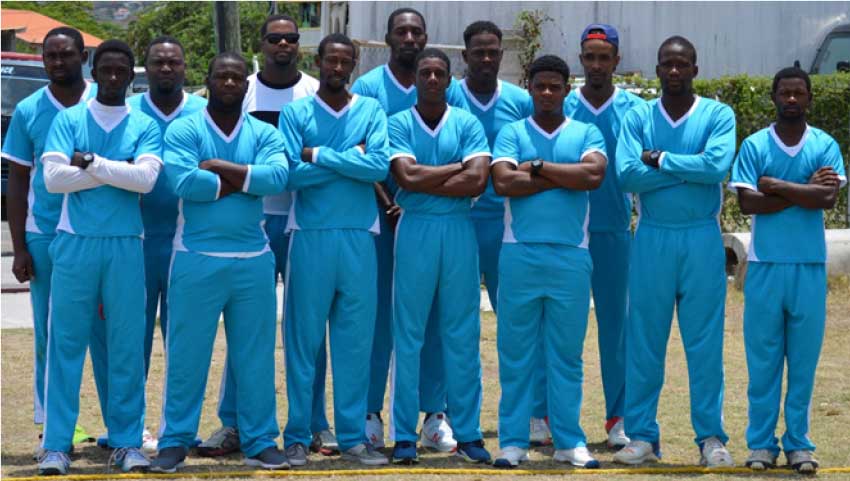 The Saint Lucia National Cricket Association (SLNCA) 50 Overs Competition got off to an exciting start with 1 century, 4 half centuries and three 5 wicket hauls. There were victories for Mabouya Valley, Soufriere, Mon Repos and South Castries respectively.
At the Mindoo Phillip Park in an all Castries derby, South Castries defeated Central Castries by 228 runs.
Batting first, South Castries made 330 for the loss of 9 wickets in 44 overs with Tonius Simon scoring the first century of the tournament. He scored 136; former West Indies players Johnson Charles and Daren Sammy, 36 and 31 respectively. Other useful contributions with the bat came from Wendel Inglis (25), Shervon Leo (22) and Avalinus Callendar (20).
Bowling for Central Castries – Jamaal James picked up 2 for 37; Keygan Arnold bagged 2 for 48 and Loic Prospere took 2 for 57.
Requiring 331 for victory, Central Castries lost wickets at regular intervals and were eventually bowled out for 102 in 15.3 overs.
Batting for Central Castries, Loic Prospere made 19.
Bowling for South Castries, Collinus Calendar took 5 for 30 and Shervon Leo picked up 5 for 46.
At the Phillip Marcellin Ground (Vieux Fort), Mon Repos defeated Vieux Fort by 155 runs.
Mon Repos batting first scored 299 for the loss of 9 wickets in 48 overs with Shervin Charles top scoring with 74. Craigg Emmanuel scored 60, Winnel Felix 52, and Keon Gaston 24.
Bowling for Vieux Fort, Travis Gifford and Hafeez Ali picked up 4 and 2 wickets respectively.
Needing 300 for victory in their allotted 50 overs, Vieux Fort was bowled out for 144 in 32 overs with Murlan Sammy top scoring with 37 and Shervin George 22, the main contributors with the bat.
Bowling for Mon Repos, Hazel Charlery bagged 5 for 42 and Dichege Henry took 2 for 20.
At the Piaye Playing Field, Soufriere defeated Choiseul by 101 runs.
Batting first, Soufriere made 247 all out in 39 overs with Dalius Monrose scoring 58, Xytus Emmanuel 49 and Ashley Hippolyte 30.
Bowling for Choiseul, Vince Smith picked up 3 for 63, Yohann William 2 for 26 and Bronte Bess 2 for 49.
Chasing 248 for victory, Choiseul was bowled out for 146 in 24.2 overs with Vince Smith top scoring with 31.
Bowling for Soufriere, Dalius Monrose bagged 4 for 32, Desmond Alfred 2 for 24 and Canis Richardson 2 for 27.
At the Gros Islet Playing Field, Mabouya Valley defeated home team Gros Islet.
It must be noted that players from the Mabouya Valley team were disappointed upon arrival at the Gros Islet Playing Field for their opening encounter against the home team as the wicket was not prepared for the matchup.
A thumbs up must be given to the Gros Islet players who took it upon themselves to prepare the wicket. In fact, some members of the team said, "We couldn't allow them to travel all the way to the north for nothing."
The match which was scheduled to bowl off at 10.00 a.m. was reduced to 40 overs a side by the two umpires.
It must be noted also that at the start of play there was no scoring book. In fact, the scoring was done on a piece of paper. Yes, in 2019!
Matches continue this coming Saturday 11th and Sunday 12th with rounds 2 and 3 at various venues.