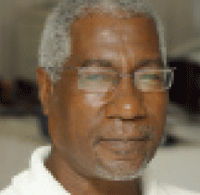 On Thursday, the Embassy of the Bolivarian Republic of Venezuela observed the 209th anniversary of 'the first step for the Independence of Venezuela' with a wreath-laying ceremony at Place Bideau in Castries, where busts of the Venezuelan Liberator Simon Bolivar and his Saint Lucian comrade-in-arms, Captain Jean Baptiste Bideau, stand astride each other.
This umpteenth such ceremony at the revered memorial space between the Parliament Building and the Government Printery took place against the background of increasing uncertainty about the very future of Venezuela, now under heavy siege from the world's most powerful nation.
This annual activity is usually attended by the Governor General, Government Ministers, Parliamentarians, City Councilors, the Mayor of Castries, members of the diplomatic corps and other specially-invited guests, in this annual public display of continuity of the historic Saint Lucia-Venezuela connections forged through the long-lasting friendship between Bideau and Bolivar.
The speeches normally reveal more about Bideau's role in the fight for Venezuela's independence, the Saint Lucian mariner having captained one of Bolivar's main ships, saved The Liberator's life, served as Governor of Venezuela's Eastern Province – and died defending Venezuela's independence on April 7, 1817.
On the 202nd anniversary of Bideau's death in battle defending Venezuela's sovereignty and with an ongoing similar battle underway two centuries later, Thursday's ceremony in Castries offered another opportunity for Saint Lucia to start charting a new course with Venezuela, in keeping with the historical connections between the two countries fortified over the last 40 years of bilateral diplomatic ties.
CARICOM has a united position on Venezuela, and while each member-state has the right to pursue its own foreign policy, each must also avoid violating joint accords by engaging in unilateral actions that breach regional agreements they are party to.
Saint Lucia has over the past year been to-and-fro in its positions on Venezuela.
But with the island about to take over the CARICOM Chairmanship at the upcoming 2019 Annual Heads of Government Summit to be hosted here in July, its responsibility to lead the implementation of regional accords on Venezuela will come under more than the normal scrutiny.
Of late, Saint Lucia has increasingly adopted positions on Venezuela closer to Washington than some other CARICOM member-states, which the administration is free to do.
But the leadership role of the next CARICOM Chairman will be as closely watched by the international community as with outgoing Saint Kitts and Nevis, especially as CARICOM is engaged with Uruguay and Mexico, along with the Office of the United Nations Secretary General, in an ongoing process of seeking dialogue between the warring parties in Venezuela toward a peaceful solution of their internal troubles, without external involvement.
The Montevideo Mechanism, as it's called, is a four-phase process of Dialogue, Negotiation, Commitment and Implementation that has the support of those countries opposing external intervention — military or otherwise – and the Maduro administration has also committed to cooperate with it.
The US-backed 'Interim President' of Venezuela initially turned down invitations to participate in Montevideo Mechanism talks with CARICOM, but was eventually persuaded by the Lima Group, through Canada's High Commissioner in Barbados, to engage with CARICOM Foreign Ministers in Bridgetown, via videotape, one day after five Caribbean leaders (including four from CARICOM) discussed Venezuela with President Trump at a private meeting in Florida.
Following the Mar-a-Lago parley, all five countries represented voted in favour of the US-backed resolution (in early April) to expel the outgoing official Venezuelan Ambassador to the OAS — who was already due to vacate his post on April 27, in keeping with Venezuela's earlier decision to formally quit.
Saint Lucia having voted for the Venezuela opposition's OAS nominee and also being a member of the Lima Group, regional leaders with apprehension about the Mar-a-Lago quintet will definitely keep close eyes on Saint Lucia's chairmanship.
Saint Lucia will expectedly demand that it be judged by its actions; and remind the region – and the world – that its primary interest is always that of Saint Lucians.
But the Montevideo Mechanism will also offer it the next best chance to demonstrate its capacity to distinguish between what's good for the Caribbean and what's better for Saint Lucia.
If CARICOM can, between now and July and under Saint Lucia's chairmanship after July 4, build-up a constantly-growing momentum behind the Montevideo Mechanism, it will be a matter of time before the contending forces in Venezuela and all interested parties and stakeholders, regionally and internationally, concede and conclude that it is the only sensible and constructive way forward.
Saint Lucia has just held the Chairmanship of the OECS, which has remarkably remained untouched by the Venezuela conundrum facing its six independent members-states, the other five of which have all refrained from supporting external intervention in Venezuela.
The OECS Director General just this week again thanked and praised Venezuela for its immediate and all-out response to appeals for support and assistance following the ravages caused by hurricanes to Antigua and Barbuda, Dominica and other member-states in 2017 and 2018.
Some CARICOM member-states have complained about various aspects of the Venezuelan political reality that reflect more of what its critics claim than independent investigation of what caused the crisis and is keeping it alive.
But the Caracas' critics should first take two steps back and consider the implications of even having to consider the regretful and unforgiving consequences of a world war in the Caribbean region in this age of nuclear weapons of mass destruction.
It makes no sense for Caribbean countries to complain about Cuban, Russian, Chinese, Iranian, Turkish, North Korean when among them are those who clearly favour intervention by a US administration that insists on 'keeping all options on the table, including military.'
What's at stake is crystal clear: with Venezuela having more oil than Saudi Arabia has sand, the US' clear objective is to create regime change in Caracas by any and all means possible, primarily to secure US control over the world's largest oil reserves.
When Saint Lucia takes the CARICOM chair, hawks and doves alike will both keep their eyes peeled on Castries from up above, close and far.
But Bideau and Bolivar's spirits could have been lifted just as high on Thursday – as well as today and tomorrow — if Saint Lucia could, under the Montevideo Mechanism, play the right part in leading CARICOM in the direction of brokering peace in Venezuela and respect for its sovereignty, in keeping with CARICOM's long-held position of non-intervention in the affairs of other nations.
Really, Saint Lucia does not have to wait until July: it can start to show interest as of now, by joining the CARICOM thrust to push the Montevideo Mechanism as the best guarantee of the peaceful solution that the rest of the world wants for Venezuela.
The Caribbean (especially the OECS) left a burdensome legacy of complicity in the US invasion of Grenada in October 1983. Thirty-five (35) years later, led by Saint Lucia, CARICOM has a chance to write a new chapter in the history of the Caribbean and Latin America.
Will it?
We'll see…