On Tuesday, April 9th, 2019, nineteen grade 6 students from the Montessori school who are preparing for the Common Entrance Exam visited the organic garden at BodyHoliday's iTal venue, as part of their Easter retreat.  The students are currently participating in a programme that is meant to keep them meaningfully occupied while still focused on exam preparations during the Easter break.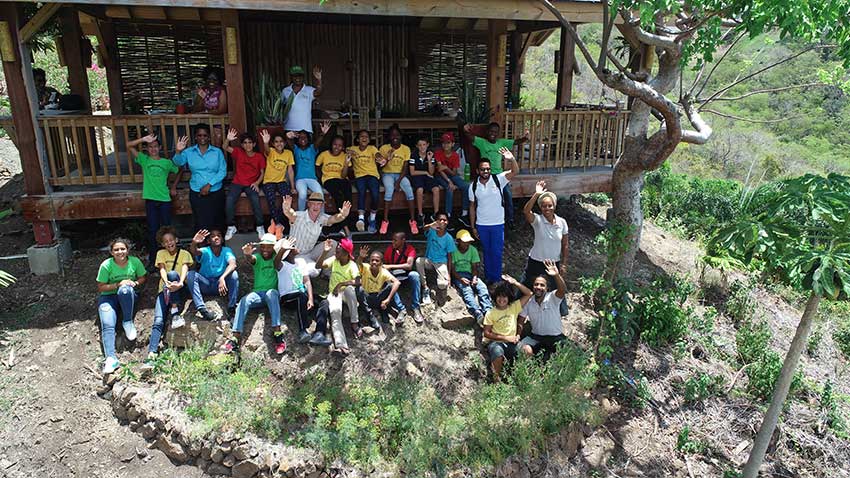 The resort's organic garden is being used as a model farm where visitors can learn more about organic agriculture, West Indian plants and modern sustainable farming.
The field trip commenced with a tour of the garden, hosted by husband and wife duo Ratoya and Damian Adjodha, eco-leaders at the BodyHoliday and Ital Restaurant managers. This venue is BodyHoliday's latest addition to its dining experiences with a unique farm-to-table concept.   The tour culminated in the enjoyment of a refreshing vegan snack with a spectacular panoramic view from Ital, over the stunning Cariblue Bay.
According to the Deputy Managing Director, Mr. Andrew Barnard, "BodyHoliday is delighted to welcome visitors of all ages to immerse themselves in the Ital farm, and it is especially rewarding to share the insights and best practices of organic farming with the younger generation. Educating on the benefits of healthy eating and sustainable living are a fundamental pillar for BodyHoliday, and we pride ourselves on the activities we undertake as part of our BodyHoliday Cares CSR initiatives, to instil this knowledge into future generations."
The BodyHoliday Cares initiative focuses on education, as well as mental and visual Wellness, and this community support is fundamental to the values of the resort.