St. Mary's College pulled off a comprehensive victory over Micoud Secondary by 71 runs as the Department of Youth Development and Sports sponsored Massy United Insurance Under -19 schools cricket tournament came to a close at the Gros Islet playing field on Friday 5th April 2019.
With a crowd of close to 150 which included representatives from the Department of Youth Development and Sports, parents, students and other supporters, Micoud Secondary won the toss and asked SMC to take first knock and they were quickly in trouble losing Amari Venner caught off the bowling of Marklin Estaphane for 0.
Serrgeo Arthur went caught off the bowling of Marklin for 4; Zidane Arthur in at No. 4 did not last too long, as he was runout for 5.
Next in for SMC was Jehan Boodha, who along with opening batsman Dense Gidharry went on to repair the early damage by the Micoud bowlers, as they both batted sensibly.
Dense Gidharry was eventually out for a well-played 32 caught off the bowling of Marklin Estaphane; Sherqwayne Prudent was next in and along with Jehan Boodha ensured SMC got past the 100 mark. The pair was eventually dismissed for 43 each. Boodha was caught off the bowling of Brent Edward and Prudent bowled by Brent Edward.
The remaining SMC batsmen did not last too long, Jervel Dupre 9; Ryan Goodman 1; Steven Abraham 4, Anslem Gittens not out 2 and Kyshaun Hippolyte the last man out, LBW to Brent Edward for 0.
Bowling for Micoud – Brent Edward bagged 4 for 42, Marklin Estaphane took 3 for 38; Keno Gaston 1 for 19.
In response to the 186 posted by SMC which Micoud needed to surpass to win their first Massy United Insurance Under -19 cricket championships, Micoud found the going an uphill battle as Amari Venner made life difficult on a wicket which helped both batsmen and bowlers.
Micoud lost wickets at crucial intervals and could only manage 115 in their allotted 40 overs with only their top three batsmen reaching double figures.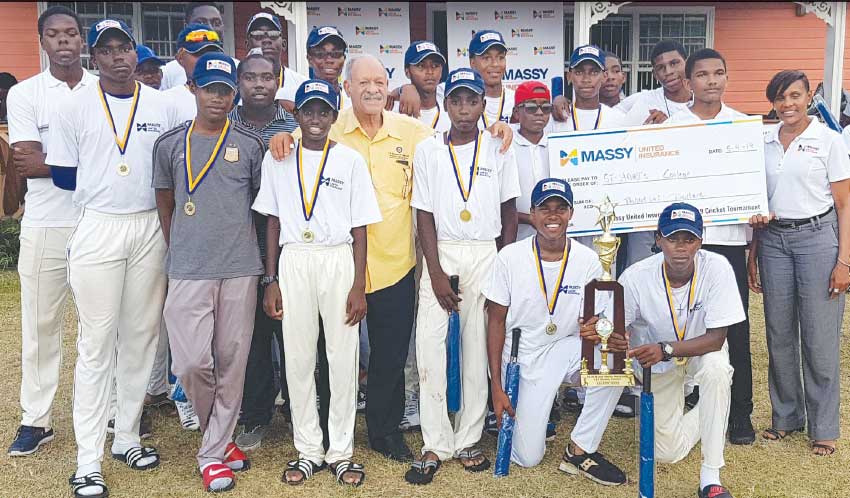 Opening batman Nean Deterville top scored with 19, lbw to Amari Venner, Keon Gaston (captain) 18, caught off the bowling of Amari Venner and Cody Lesmond bowled by Amari Venner for 14.
The remaining batsmen – Marklin Estaphane 0; Jerlan Justin 4; Dichege Henry 8; Brent Edward 0; Shawn Velinor 9; Joshua Thomas 0; while Lupe Joseph and Christiani Lewis remained on 0 not out.
Bowling for SMC, Amari Venner picked up 5 for 16; Zidane Arthur 3 for 6 and Kyshaun Hippolyte 1 for 10.
For their win, SMC took home EC$1000.00, the championship trophy and gold medals while Micoud walked away with EC$750.00, the second place trophy and silver medals. Each player from both teams received a Massy United Insurance umbrella. The MVP of the final was Amari Venner (SMC).
Hollis Bristol, Massy United Insurance/ J.E. Bergasse Director and former national cricketer in his earlier years said, "We had a very good match and a very good 2019 tournament. We at Massy United Insurance / J.E.Bergasse are committed and will continue to fight to get what we want to ensure this tournament continues."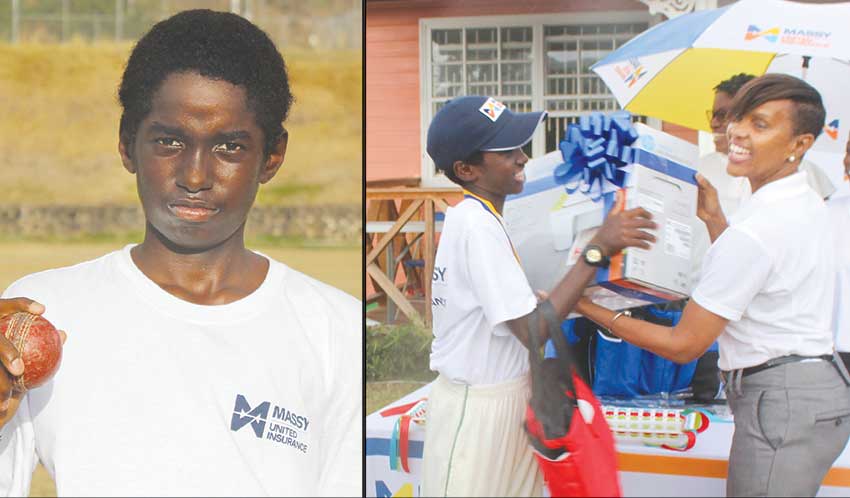 He continued, "You have to be good ambassadors. West Indies cricket needs revitalization and good ambassadors are crucial. You are the new generation. You have the opportunity we did not have; so take it, work with it and be proud of what you do for the name of Massy United Insurance, your school, Saint Lucia and eventually West Indies."
Cricket coach in the Department of Youth Development and former West Indies 'A' team top order batsman, John Eugene was given the task of selecting a Massy United Insurance All Star team to play a visiting Worstershire school team from England.
The squad reads: Ackeem Auguste, Amari Venner (St. Mary's College); Keon Gaston, Dichege Henry, Marklin Estaphane (Micoud Secondary); Keygan Arnold, Jaden Elibox (Leon Hess Comprehensive); Denzel Roberts, Ephron Charles (Entrepot Secondary); Lee Solomon (Corinth); Bolton Sayers (Babonneau Secondary); Tyron Theodore (Beanefield Comprehensive) and Craig Elisee (Sir Arthur Lewis Community College).