At approximately 1:15pm on Thursday April 18th, a man was shot  near the junction of Brazil St. and Broglie St. in Castries. The victim died face down in a pool of blood on the pavement. The shooting victim was reported to have been with a male companion at the time of the incident, who fled from the dangers of the attack. Persons near the location where the shooting occurred reported hearing three to four gunshots. Adults and children who were in the vicinity at the time of the shooting were in shock for a long time afterwards.
The crowd which quickly gathered on the scene were eventually cordoned off by caution tape fastened by police. A woman who was in a business place nearby, who heard the sound of the gunfire, said she had never been so petrified in her life when she saw the victim moments later on the ground.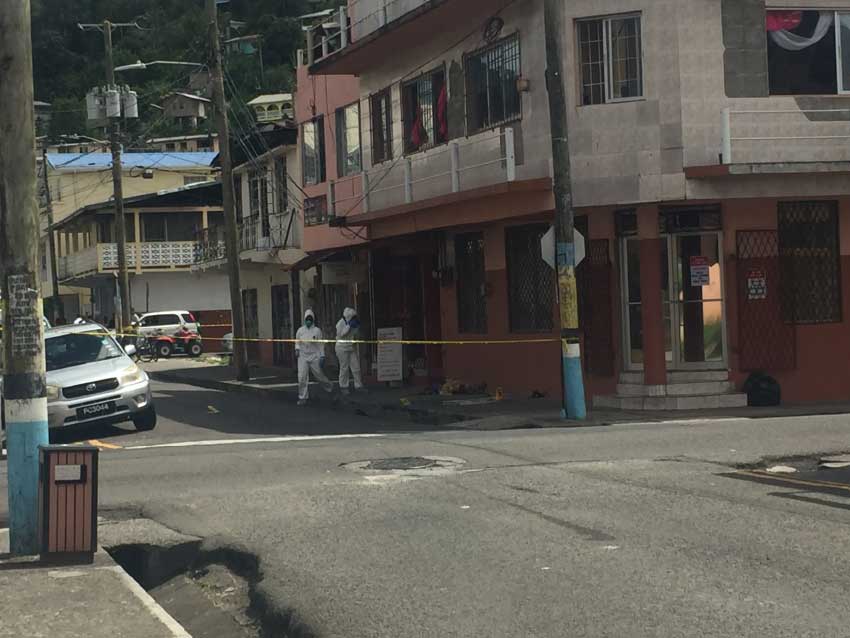 News of the shooting spread like wildfire in the city of Castries, which attracted to the scene persons claiming to know the victim. He was known by persons on the scene as "Chad Ramsey" from Marchand, a 33-year-old who recently became an employee at a hotel in the north of the island. One staff member from that same hotel who knew the shooting victim was in disbelief when she heard that he was shot. Another lady who knew the victim well was in utter shock at the news of his death. "I cannot believe is that boy that die!" she exclaimed, "I just cannot believe that. That is so hurtful! That boy was a good boy and I doh care what nobody say. He was such a nice boy," the broken-hearted lady commented.
The crowd of curious onlookers did not disperse until the body was taken away. Police investigations into the island's latest homicide are ongoing.