Standing just over three feet tall, 6-year-old Isabelle Anius, a Grade 1 student of the Laborie R.C. Girls Primary School is creating huge splashes in the pool and based on her recent achievements she certainly is one to watch in swimming, not only in Saint Lucia but the wider region.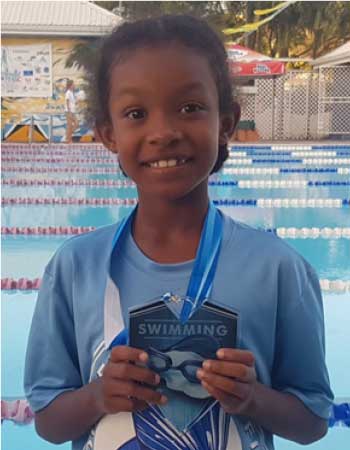 At the recently held Rodney Heights Aquatic Centre (RHAC) International Invitational Swim Meet (April 11th -15th, 2019) she represented the Southern Flying Fish Swim Club (Vieux Fort) as she went on to compete in 10 events over the four days of competition.
By all indications she's already pumped for RACC 21 in 2020 and hopefully she will get to participate in even bigger meets like the Barbados Amateur Swimming Association (BASA) Invitational as well.
Her parents Mervin and Sonia Anius are super proud that she is managing to do it all with self-initiated enthusiasm, discipline and hard work.
This 6-year-old's awesomeness leaves many swimming fans including her club mates from Southern Flying Fish beaming with pride.  Kudos to her parents for being her pillar of support and cheering her on all the time.
At RHAC's 20th International Invitational she finished in a time of 21.21 seconds in the 25 meter free; second in the 50 metre free with a time of 47.91 seconds; third in the 100 meter free in a time of 1 minute 50.98 seconds; third in the 25 meter back in 28.68 seconds; second in the 25 meter breast in 27.46 seconds; second in the 50 meter breaststroke in a time of 1 minute 02.93 seconds; first in the 100 meter breast with a time of 2 minutes 12.75 seconds; second in the 25 meter fly with a time of 23.91 seconds; first in the 50 meter fly in a time of 54.84 seconds and third in the 100 meter Individual Medley (IM) in a time of 2 minutes 07.88 seconds.
When the dust settled and the final results were announced, Isabelle captured the second place award in the 6 and Under Girls with a whopping 71 points.
It must be noted, with the limited resources in the south of the island and the absence of a pool, the Southern Flying Fish swimmers have been doing exceptionally well with continued support from  Coconut Bay and Deborah Tobierre.