A fire late into Holy Thursday night gutted through multiple houses in the community of Wilton's Yard in Castries.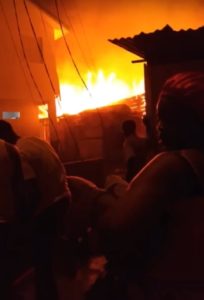 Amateur video footage that quickly spread through various social media and messaging platforms, showed several individuals attempting feverishly to extinguish the blaze that had gotten horribly out of control.
Fire Fighters were called into action in the area more commonly known as The Graveyard Thursday night,  as families were left fleeing from burning homes unable to salvage personal belongings.
Thankful for no immediate reports of injury or loss of life, one visibly distraught individual remarked, "the fire took at least four houses already".
Up until 1 am, Good Friday morning, Fire Fighters were still on scene extinguishing the blaze.