At approximately 1:15pm on Thursday, April 18th, a man was shot near the junction of Brazil St. and Broglie St. in Castries. The victim died face down in a pool of blood on the pavement. The shooting victim was reported to have been with a male companion at the time of the incident, who fled from the dangers of the attack. Persons near the location where the shooting occurred reported hearing three to four gunshots. Adults and children who were in the vicinity at the time of the shooting were in shock for a long time afterwards.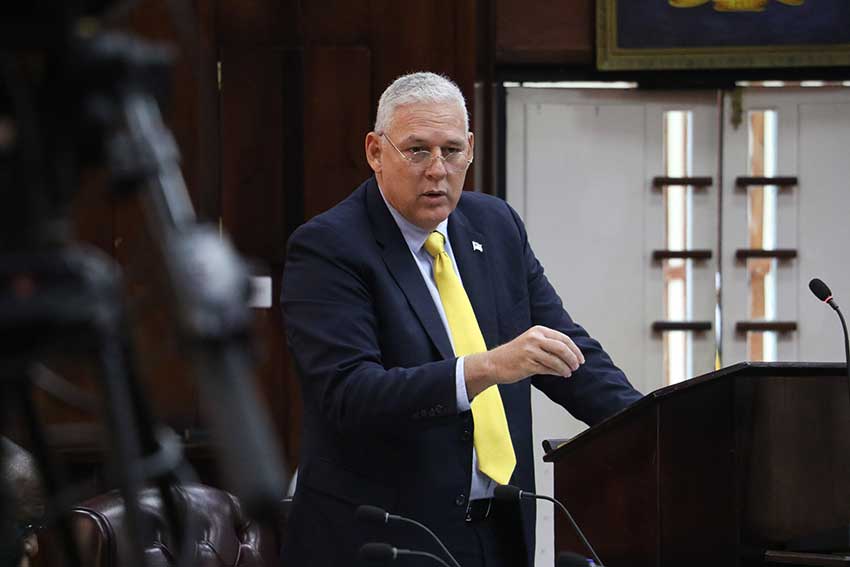 The crowd which quickly gathered on the scene were eventually cordoned off by caution tape fastened by police. A woman who was in a business place nearby, who heard the sound of the gunfire, said she had never been so petrified in her life when she saw the victim moments later on the ground.
News of the shooting spread like wildfire in the city of Castries, which attracted to the scene persons claiming to know the victim. He was known by persons on the scene as "Chad Ramsey" from Marchand, a 33-year-old who recently became an employee at a hotel in the north of the island. One staff member from that same hotel who knew the shooting victim was in disbelief when she heard that he was shot. Another lady who knew the victim well was in utter shock at the news of his death. "I cannot believe is that boy that die!" she exclaimed, "I just cannot believe that. That is so hurtful! That boy was a good boy and I doh care what nobody say. He was such a nice boy," the broken-hearted lady commented.
The crowd of curious onlookers did not disperse until the body was taken away. Police investigations into the island's latest homicide are ongoing.
"I will identify in greater detail some of the game changers in the six strategic areas outlined as I proceed, but I wanted to draw to the attention of this Honourable House and to the country that this Budget is about much more than debt management, fiscal strategy and tax reform. It is about building a culture of delivery to implement the social and economic platforms critical for robust growth that will provide a fair share for every Saint Lucian and take us to a different level," Chastanet said.
According to the Prime Minister, the Medium-Term Development Plan is designed to provide opportunities for young people to be in a better position to find jobs, own their own homes and to give them a future as productive citizens of their country.
"It will give farmers the ability to earn more to support their families. It will provide more jobs in the construction and tourism industries. It will ensure that every Saint Lucian has access to affordable, quality healthcare and make travel in and around our country safer and more comfortable," the Prime Minister said.
But to Pierre the Prime Minister is living in an alternative reality, in that the Saint Lucia he speaks of is not real.
"It is a Saint Lucia where the people were promised a reduction in VAT with a view to its elimination.  However, they have only seen VAT reduced by 2.5 percent and fuel taxes increased by 60 percent. The fisherfolk of Saint Lucia know the effect of the $1.50 increase in taxation, now they face an uncertain future with the closure of the Fish Marketing Co-operation," Pierre pointed out.
According to the opposition leader, a review of the economy commissioned by the UWP states that there was improvement in fiscal performance over the years 2012-2016 – the year the SLP was booted out of office. Pierre added that the Prime Minister refuses to accept the review, preferring instead to state that the country experienced cumulative economic growth under the UWP.
"Economic growth is measured on an average basis or for a fixed time period. It is never added and stated in total. It's the same way the Prime Minister added deficits in a previous statement.  This is never done in any serious discussion of economies," Pierre said, adding that the Prime Minister insists on undermining and marginalizing the economic management of the last Saint Lucia Labour Party.
Contrary to Pierre's perspective, Prime Minister Chastanet said his government had made all the right moves, in several areas since assuming office. Chastanet said the economy had grown significantly from the time his government took office in June 2016 to present.
"Our debt to GDP is coming down, although it is still a bit above the prudential benchmark, the debt to GDP ratio has fallen from 67.7 percent in 2015, to 64.9 percent in 2018;  Stay Over Visitors have increased from 344,000 in 2015, to 394,000 in 2018; Cruise Visitors continue to break records and have increased from 677,000 in 2015 to 760,000 in 2018; Investors continue to want to finance tourism development. There is a primary surplus; the fiscal deficit is within manageable limits and unemployment has fallen from 24.1 percent in 2015 to 20.2 percent in 2018," Chastanet said.
He added: "Despite all of these positives, Saint Lucia has been lagging behind our ECCU neighbours in what the experts call Quality of Life Indices. Unemployment, especially among young people is too high; poverty is still too widespread; education is not meeting the needs of students or businesses; healthcare is inadequate and crime continues to rise. This is the experience of the average Saint Lucian. We cannot run away from it. This Government will not run away from it. We are going to continue to meet it head on. What is required is our continued commitment and perseverance. If we don't continue on this path we will be doomed to a cycle of wash, rinse, and repeat for another twenty years if we do not act now," Chastanet said.
"This is the premise in which this year's budget is grounded – the need to break free from stagnation and focus on the things that are going to turn lives and the country around. There is urgent need to unlock the opportunities that will propel every Saint Lucian to an acceptable standard of living and offer the chance to build wealth for themselves and their families. This is our singular focus. We are all going to have to get used to doing things differently if we are going to hit our targets and make a difference in people's lives. The people of Saint Lucia demand this and they deserve no less," Chastanet said.