IT was worth the travelling on Wednesday 20th March 2019 for the 25th edition of the District 5 Sports Meet at the La Ressource playing field in Dennery. The event has been described as a huge success by the organizers and of course the participating athletes representing Dennery Infant/ Primary Schools as they celebrated their championship victory when the final scores were announced.
Weather conditions were humid as Mother Nature spared no mercy on the young ones as they showcased their talents on the running surface. Dennery Infant and Primary amassed 269 points; 18 points clear of second place Ti Rocher Combined (251 points). In third place was Richfond Combined with 231 points, fourth Micoud Primary with 223 points and to round off the top five spots, Derniere Riviere Combined trailing with 196 points.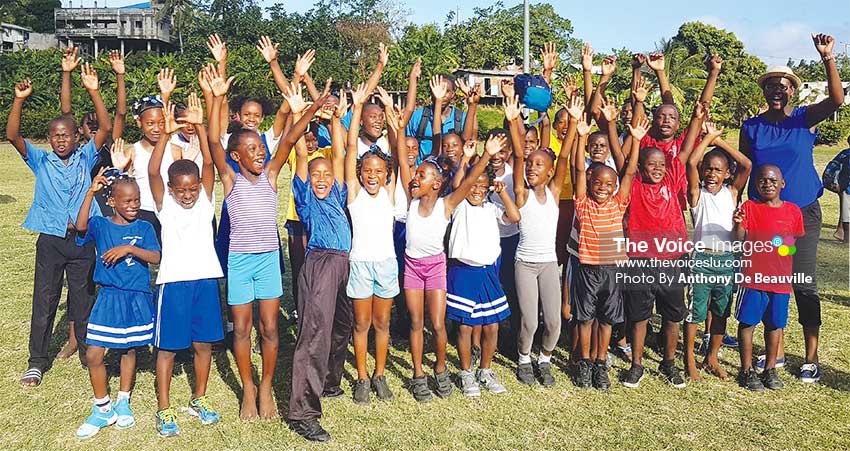 The day started with the March Past of the teams followed by prayers, the National Anthem and an address by Gabrielle St. Paul, District 5 Education Officer (DEO).
The participating schools were Aux Lyon Combined, Dennery Infant and Primary, Derniere Riviere, La Ressource Combined, Micoud Primary, Mon Repos Combined, Patience Combined, Richfond Combined and TiRocher Combined.
In welcoming the students/athletes the DEO emphasized the importance of sports in their everyday life. She said the Mission for the district is to develop the students holistically.
She expressed, "We do not only focus on education… we do sports, we do music and we think it is very important. Children of today need to have some passion – something they love, and something that they can follow."
St. Paul urged the athletes to put their best foot forward and to give their all to the competition. She also encouraged every student to be part of what was happening and for those who could not compete, "be good supporters". With the high rate of diabetes in Saint Lucia, the District felt it necessary to have their Keep Fit classes prior to the sports meet.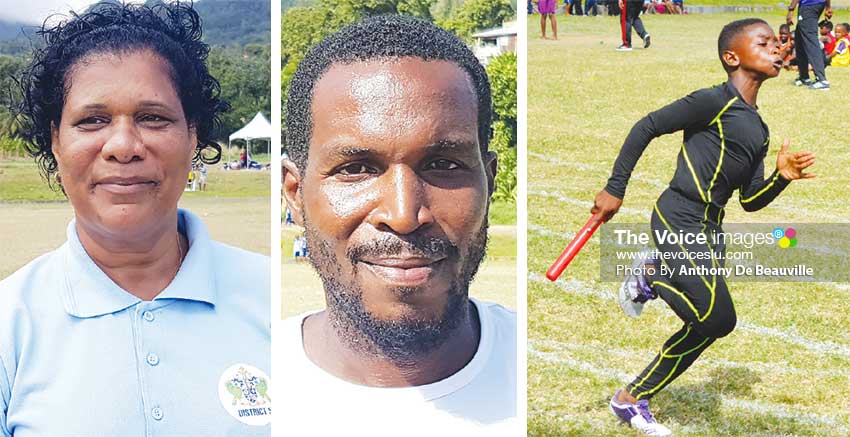 In terms of the actual performance on the track, the DEO said, "It was exceptional. We saw keen competition and the students were all enthusiastic. They were running with everything they had. District 5 is passionate about sports; sports are giving our students the opportunity to express themselves in a different way."
Sports Coordinator, Education District 5, Nerville Florence said, "The event was well organized, and based on the level of competition exhibited by the athletes and coming out of this championship, in the not to distance future District 5 will be producing some outstanding athletes on the national scene as we continue to grow from strength to strength."
Speaking of preparation for the Inter Primary School Finals at the Daren Sammy Cricket Ground, Florence left no stone unturned. "We have sufficient time to prepare. We're in second place chasing down District 6. They should expect District 5 to come out and put on a real challenge on the day," he noted.
Florence took time out to thank all the sports committee members, the physical education teachers in the District, including the DEO, Gabrielle St. Paul. "St. Paul has been supportive throughout ensuring everything went on smoothly. The parents must also be commended for their continued support for the event."
Meanwhile, here are some of the top performances/results on the track: Under 11 girls – 80 meters (tied for 1st place 12.03 seconds) Nyella (Richfond Combined), GmillieSeverin (La Ressource Comb). Boys U-11, 80 metres, 1st Mandason Alexander 10.29 seconds (Dennery). Girls U-13, 80 metres, 1st- Tyra Avril 10.87 seconds (Dennery Primary), Girls U-9, 60 metres 1st Elsa Sonson 9.78 seconds (DerniereRiviere Comb), Boys U- 9, 60 metres, 1st Jernal Moses 9.68 seconds (TiRocher Comb). Boys U-11, 60 meters, 1st – RellLeonce 11.34 seconds (TiRocher Comb).
Girls 300 metres Sherlain Matty, 1st 48.00 seconds (Ti Rocher Comb). Boys U-9, 150 metres, 1st Jernal Moses 22.65 seconds (Ti Rocher Comb), Girls U-9, 150 metres, Chloe Florence 24.81 seconds (Ti Rocher Comb), Boys U-13, 150 metres, Mandason 20.85 seconds (Dennery).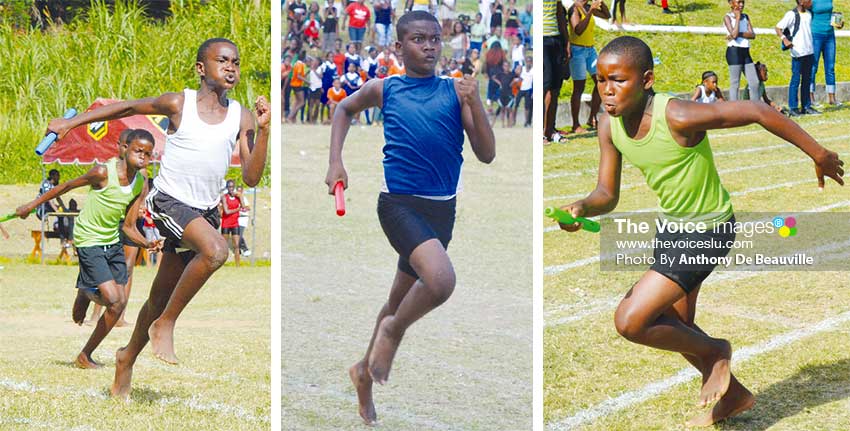 Girls U-11, 1000 metres, Tania 1st in a time of 2 minutes 13.56 seconds (Richfond Comb); Girls U-13, 600 metres, 1st Katelyn Dickson – 1 minute 58.17 seconds (Derniere Riviere Comb), Boys U-13, 600 metres, 1st Tashawn Walter – 1 minute 52.06 seconds (Mon Repos Comb).
It was a carnival atmosphere: students supporters and parents alike were seen running about alongside the track supporting their respective schools as the curtain came down on the most talked about relay races – Girls U-9, 4×100 metres 1st Dennery Infant in a time of 1 minute 08.97 seconds, Boys U-13, 4×100 metres Dennery Primary – 56.19 seconds, Boys U-9 4×100 metres, Patience Combined – 1 minute 04.37 seconds, Girls U-13 4×100 metres Micoud Primary – 57.53 seconds, Girls U-11, 4×100 1st TiRocher Combined – 1 minute 04.04 seconds and Boys U-11 4×100 TiRocher Combined – 59.75 seconds.