THE National Workers Union (NWU) is calling on Prime Minister Allen Chastanet to intercede in a matter at the Castries Constituencies Office that led to a wild cat strike last week.
The protest action that erupted at the CCC took some employees by surprise, even Mayor Peterson Francis who later said he was unaware of the reason for the protest.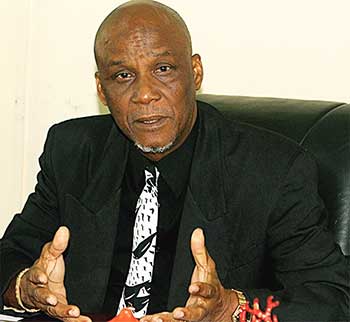 The employees downed their tools claiming they were unhappy with plans to implement a shift system and extend their working hours.
"Up to now I do not know the reason for workers not being at work this morning. I am still lost as to what has happened," Francis was quoted as saying last week.
A supervisor who spoke to this reporter on condition of anonymity said that even he, who should have been notified of the protest action, was not informed.
"I cannot support that action. That's not how to operate," he said.
However, despite his displeasure with the process which led to the strike action, the supervisor is not pleased with talk of a shift system and the possible removal of a condition that allows workers to earn extra money if they work on weekends.
Although workers returned to work shortly after downing their tools their anger has not abated as is evident in a letter to Prime Minister Chastanet by the union.
The Valentine's Day letter to the prime minister stated thus:
Dear Hon. Prime Minister:
First of all, let me take this opportunity on behalf of my Central Committee, Membership and Leadership of the National Workers Union (NWU) to wish you and your Cabinet of Ministers a rewarding 2019.
Prime Minister, as you are aware, the National Workers Union is the certified bargaining representative for all non-establishment and daily paid workers employed with the Castries Constituency Council (CCC). We have concluded negotiations with the Council and have in our possession a signed industrial agreement. The character and provisions of the industrial contract would reflect that negotiations were held at a time when the Council was experiencing financial constraints. Despite that workers continue to give their full cooperation and produce under trying and difficult circumstances.
When Mr. Wilfred Pierre was appointed Chief Executive Officer of the Council, we saw such a decision as helping the Council enrich its capacity to engage the NWU and assist in resolving industrial relations matters in keeping with his background and knowledge. It would appear that the gentleman is being stifled. Sir, to date, we are witnessing a constant and loud cry from workers who are firm in their belief that they are not being properly treated by Council. It is against this background that we are requesting a general meeting with the workers at which you as Prime Minister, Labour Minister Hon Stephenson King and Minister for Local Government Hon. Lennard Montoute would be present. The date, time and venue could be mutually arranged.
Thanks for your consideration of the above. We await your response.
Meanwhile, employees of the water and Sewerage Co (WASCO) have thrown their support behind those at the CCC. The water company's Senior Shop Steward Gregory Inglis wrote to Mayor Francis, also on valentine's Day, expressing the concerns of his members to the attitude of the Council in dealing with industrial relations matters with its workers, describing the attitude as "old time".
"We have been monitoring and investigating developments at the Council and have discovered that workers are continuing to discharge their responsibilities without their medical checks. Uniforms and protective necessities are not being issued in a timely manner. Cemetery attendants on many occasions have to leave the cemetery late, without the required facilities to clean up themselves. In fact, working conditions could be better if effective changes were being made," stated Inglis in his letter to Mayor Francis
"We are therefore calling on your Council to comply with the Occupational Safety and Health Legislation or face the wrath of the workers. WASCO employees' stand in full solidarity with the Council workers and will do all within our reach to reverse this dangerous development, in the interest of workers," Inglis concluded.