THE Castries Constituencies Council (CCC) is looking at restructuring the city's constabulary. The astonishing declaration came from Mayor Peterson Francis via the radio talk show 'Newsspin' on RCI Wednesday.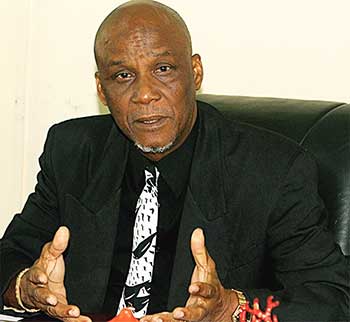 Francis told the talk show host that he was dissatisfied with the city's law enforcement body. He showed his dissatisfaction by stating that when people want a job, they will say anything, however when they get the job, they do nothing.
"We are now looking to restructure. We are restructuring and we will have new city police coming in very, very soon," said Francis.
Francis who has been getting some good reviews from the public for some of the things he has introduced to the City of Castries to improve citizen's security, their health and the city's ambience since assuming the mayoral position in August 2016, has been on a roll with programmes aimed either at improving conditions for vendors within the city and overall revamping the image of the city.
Shortly after his appointment in 2016 he vowed to revamp the City's Constabulary which had only 13 members then. His plan was to have more persons in uniform patrolling the commercial sector of Castries so as to lessen incidents of theft and create a heightened sense of safety for citizens and visitors.
Francis back then wanted to increase the constabulary to a working population of 50 officers. By the end of that year only 23 officers were sworn in. Since then there has been a constant effort on the part of the CCC to improve the constabulary which has been credited with improving the safety of persons working, living or visiting the city's commercial sector.
Therefore, it came as a surprise to hear him speak about an upcoming restructuring process at the constabulary that would see it infused with new blood.
Francis did not elaborate on what had happened within the constabulary to cause the CCC to consider restructuring, however he believes Saint Lucia should be a police state "in the sense that when you see something or hear a noise outside you want to pull the curtain…you call. Saint Lucia has to be a police state."
As it stands, Mayor Francis is not at all satisfied with the constabulary.