IT can best be described as a jamboree of joy for jubilant athletes representing St. Theresa House on Thursday afternoon, as they celebrated the coveted St. Joseph's Convent inter house athletics championships which took place at the Mindoo Phillip Park in East Castries.
Blessed with near perfect weather condition, St. Theresa amassed a total of 588 points, 38 points clear of second place and defending champions Maria Goretti (550 points), third was St. Anne on 500 points and Blessed Anne fourth with 363 points.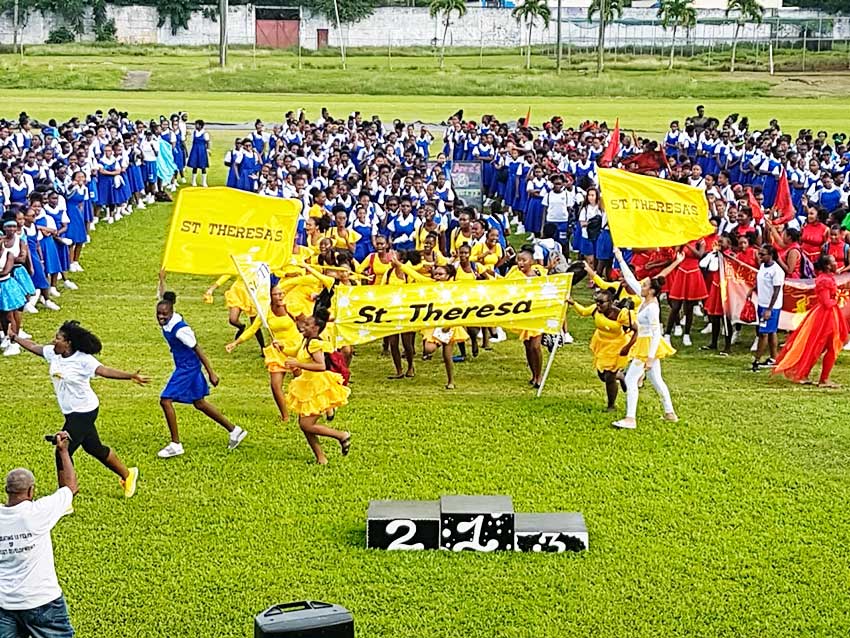 The last time St. Theresa won the championship was in 2013.
The day started with the March past of teams, opening prayer, welcome remarks by School Principal, Sister Rufina Donat.
In welcoming the students/ athletes Sister Donat said, "Today speaks of the commitment that all of us in the school hold for sports; today we will witness athletic performances of the highest quality as we wait with abated breath for the talented efforts of our newcomers Forms Ones and Twos. Do your best ladies and compete in the spirit of true Sportsmanship"
Sister Donat further went on to encourage the students to put their skills and talents against their opponents from the other houses. "I also urge you to also make the most of this opportunity to showcase your athletic talent and spirit of comradeship. There should be no animosity but shared love because you will meet again, this time when you face the track to compete at the inter-school championship in March."
There was a lot more on her mind to say, such as to the deplorable/ deteorating condition at the Mindoo Phillip Park but she decided not to, but referred the VOICE reporter to the Sports Coordinator, Michael Anius.

Anius said, "This year sports was very difficult, we had no help from the Ministry of Youth Development and Sports. Starting weeks aback with our field events, the grass was to high; on our own with the help of Cuthbert Modeste we came down to the Mindoo Phillip Park with workers from the school to cut the grass. We have been pleading with the Ministry for days; earlier this week (Monday to Wednesday) we had to pressure wash the stands, cut the grass beneath the stands, clean all the toilets. We had to do everything the Ministry was responsible for in order for us to have our sports meet."
SJC has actually kicked off the 2019 Inter house sports meets and with Inter – Secondary Schools sports meet (Northern qualifers slated for March 21st and 22nd) and the semifinals and finals on March 27th and 29th) where does that put SJC. "We have the advantage because we change our programme, making it compulsory; drilling it into the students that preparation brings results."
Here are some of the top performances/results on the track: Division 1-4, 100/200 metres, 1st Aaliyah Estephor 13.25 seconds and 26.61 seconds (St. Theresa). Div 2, 100/200 metres, 1st Aviona Edmund 13.82 seconds and 28.59 seconds (St. Theresa).Div 3, 100/200 metres, 1st Sage Charlery 13.63 seconds and 29.38 seconds (St. Theresa).Div 4, 100/200 metres, 1st Hanna Charles 13.50 seconds and 27.26 seconds (St. Anne).
Division 5, 80/150 metres, 1st Serena Mc Kenzie 11.56 seconds and 21.53 seconds (St. Anne).
In the 400 metres for Division 1-4, 1st Aaliyah Estephor 1.06.78 seconds (St. Theresa), Div 2, 1st Petal Brown 1.14.57 seconds (St. Anne), Div 3, 1st Naekeisha Louis 1.12.58 seconds (St. Theresa), Div 4,1st Sandrina Popo 1.13.63 seconds (Maria Goretti).
300 metres Division 5, 1st Ericka Gaspard 52.56 seconds (Maria Goretti).
In the 800 meters Division 1-4, Shaniah Emmanuel 1st 2.48.59 seconds (St. Anne), Div 2, 1st Petal Brown 3.08.52 seconds (St. Anne), Div 3, 1st Naekisha Louis 2.49.10 seconds (St. Theresa), Div 4, 1st KhaeliDoxerie 3.08.30 seconds (Blessed Ann).
Division 5, 600 metres, 1st Starlee Pelage2.10.77 seconds (St.Anne); Pelage also came back to win the 1000 metres for Division 4 and 5 in a time of 4.19.96 seconds ahead of her house mates Destiny Edward 4.30.64 seconds and Rhianna Dalsou 4.36.00 seconds.
The 1500 metres was a combined one for Division 1-3, 1st Shaniah Emmanuel in 6.63.01 seconds (St.Anne), 2nd MelikaDestang 6.36.53 seconds (St. Theresa) and 3rd Anya Lubin 6.36.65 seconds (Maria Goretti).
In the 10 relay races run on the afternoon, St. Theresa continued their dominance winning Division 1 and 3 in the 4×100 metres in 56.88 seconds and 59.25 seconds. They also captured the 4×400 metres Div 1 in 4.54.30 seconds and the 4×300 metres Div 5 in 3.39.94 seconds.
St.Anne was also in the hunt, winning Division 4 and 5, 4×100 metres in 59.38 seconds and 1.01.53 seconds, Maria Goretti in 4×400 meters Div 1 and 3 in 4.54.30 seconds and 5.16.80 seconds, while Blessed Ann took Div 2, 4×100 metres in 59.52.