THE Saint Lucia Olympic Committee Inc held its second press conference in as many days last week at its headquarters in La Clery, but this time around, in addressing members of the media, President Fortuna Belrose said the year 2018 under review was another successful one for her organization.
She said, "The SLOC built on the success that they enjoyed in 2017; In 2017 Saint Lucia won two gold medals at the Commonwealth Youth Games which were held in the Bahamas. The Beach Soccer team won the inaugural Beach Soccer and Julien Alfred captured the 100 meters."

"Last year Saint Lucia recorded yet another successful year. Levern Spencer and Julien Alfred gave us the results we were looking for. In the case of Levern she stamped her authority to win the gold medal at the Commonwealth Games, Gold Coast, in Australia in April. She also became a three time gold medalist at the CACSO Games. Establishing a record for the Games as the longest gold medal winning streak of any event. In Julien's case she won a silver medal at the most prestigious Sporting Event for juniors, the Youth Olympics, held in Argentina in October."
According to Belrose, These two young individuals were celebrated by our nation and we continue to laud them as they display great positive attitudes and values that our organization expose.
"Spencer and Alfred both relish success, demonstrate humility, they focus, they are disciplined and above all they continue to display a high level of commitment and passion. They are indeed the models for all of us. And we thank all those who worked with them to enable them to achieve the results they did. We thank the Saint Lucia Athletics Association for remaining vibrant so that our young people can continue to get these opportunities."
There are quite a number of young people who enthusiastically continue to pursue their passions through sport and the SLOC Inc will continue to work through the various National Sports Federations (NSFs) to support them.
The SLOC in 2018 were able to send delegations to the Commonwealth Games and the Central American and Caribbean Games and according to Belrose, "There is much work to be done."
In the area of supporting Saint Lucia Elite athlete "The SLOC have approved the Elite athlete support grants for Sandisha Antoine who is a (triple/ long jumper) and Stephanie Devaux – Lovell (sailor). In both cases the support is to enable these two athletes through to their preparation for the Pan Am Games in Lima, Peru in the hope too that they would qualify for Tokyo 2020. Stephanie has already qualified for Pan Am Games." she said.
The SLOC have also secured three Olympic Solidarity Scholarships for Luc Chevrier (Sailing); Levern Spencer and Janelle Scheper (high jump).
Julien Alfred has herself secured a scholarship and is presently attending University in Texas and according to Belrose the SLOC will continue to monitor her through the Saint Lucia Athletic Association.
The SLOC Inc, Boss said, "We remain committed to serving our athletes within the framework issued to us by the International Olympic Committee (IOC) and we are working assiduously with them (that is the athletes) to operationalizing their own Commission that would serve as a voice for them within and without. In fact Stephanie Devaux Lovell and Adrian Albert were beneficiaries of the Miami conference for athlete representatives."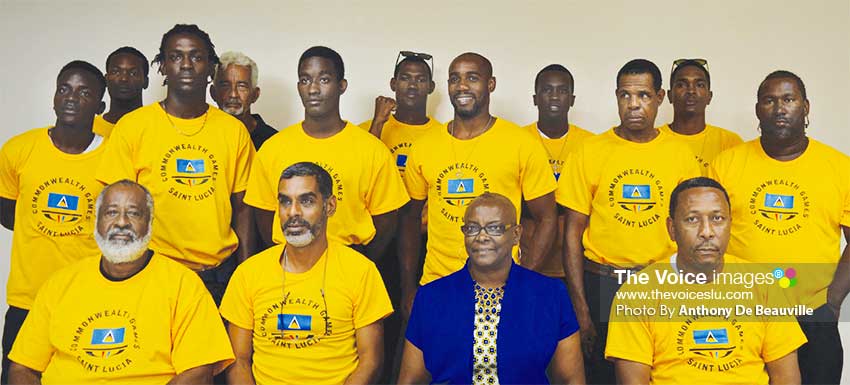 For those of you who didn't know, the SLOC Inc has a membership of 20 NSFs. She said, "Each of these are autonomous and they are affiliated to their respective NSFs. All personnel who make up these Federations are volunteers. And we thank those volunteers who remain faithful to the cause of sports. But as we continue to grow and move to a higher level in the sports many have to review their status and assess whether they are having the level of impact that they potentially can have. Because sports organization benefits society in a myriad of ways, particularly helping Saint Lucia understands the value and how to appreciate success, how to engage our youth and how to remain focus."
With the support of the Pan American Games Organization, the SLOC Inc have secured the services of the Project Development Officer who will work with the SLOC to strengthen its programming and also be available to offer technical services to its membership. Pan Am's contribution to this project is $267,000.00.
On Tuesday 15th January 2019 the SLOC introduced Andy Behl as Project Development Officer; Behl who worked in Saint Lucia previously as a Peace Corps volunteer. Behl understands our language. More importantly he is highly trained and has experience internationally. He has worked for the United States Olympic Committee (USOC) and the Singapore Government in sports development.
Pan Am also provided some additional resources for infrastructural projects and we are working with our affiliates to deliver the projects identified. We also provide funding to facilitate their programming and in the last year we expended over one million dollars on programmes for our membership. That includes training, travel, camps and the staging of events and tournaments.
Gene Morille of the Saint Lucia Volleyball Association completed the Executive Masters in Sport Organization and Management in Switzerland; while young Naima Hazel and Mikaili Charlemagne attended a continental swim camp in Miami. Two Netball Officials traveled to Barbados for further training and Neso Etienne attended a Taekwondo camp in the Dominican Republic.
Belrose said, The SLOC is financially supported by Pan Am, IOC, and the Commonwealth Games Federation. Our Audited statements will be made available to the media via our website once they become available.
In closing the SLOC remembered Jonathan Everett an Honorary member of the SLOC who passed last year, she said, "We are working on a project to memorialize him. Former National Table Tennis player Paul Christopher passed recently and we have offered our condolences.
Immediate Past President of the (SLOC Inc.) Richard Peterkin was awarded the Olympic Order.
Looking towards 2019 the SLOC chief said, "We plan the Development of Strategic Plan 2024; Support Building capacity initiatives for our membership; Pan American Games 2019; Tapping on the IOC programmes; Pan Am Projects execution.
Belrose took the time out to thank the Executive Board and in particular Secretary General, Alfred Emmanuel and Administrative Assistant, Greta Stedman for their efforts.
More on the Press Conference in the VOICE Saturday 26th January edition, this time the questions and answers segment, featuring the SLOC General Secretary, Alfred Emmanuel and President, Fortuna Belrose. Emmaunel, on how much the SLOC spent in 2018 and Belrose trying to defend her 20 member federation. At the end of it all, only track and field bringing back something of substance to Saint Lucia from the International stage.