THE local media got a first-hand look at the plans being laid out by Invest Saint Lucia (ISL) for 2019.
Speaking at a press briefing Monday, ISL's CEO Roderick Cherry, provided members of the media with the status of on-going projects; those pipeline projects that ISL continues to facilitate; as well as the initiatives that the agency will be undertaking over the next few months.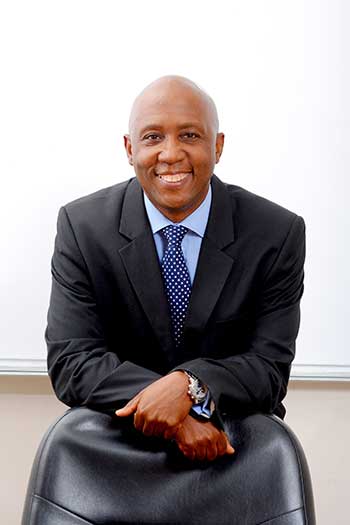 Chief among the on-going projects is the Pearl of the Caribbean, which is on track, and currently employs 8-10 local contractors comprising close to 100 Saint Lucians.
He also confirmed that, "The Fairmont Saint Lucia at Sunset Bay Resort at Sabwisha, has received approval in principle from the DCA. However, a completed EIA of the site highlighted some development issues that would impact the project and as such, the design and layout of the hotel had to be revised.
"This redesign required additional property located on parcel 72, which was then vested to ISL. The Agency has since transferred the property to the investor and we are working in conjunction with the affected residents with a view to relocating them."
Cherry went on to explain that a new hotel will be constructed on 41,979 square-feet of land to the north-west of the existing Duty-Free Shopping Complex at Pointe Seraphine.
"It will be a 9-storey tower and will include 140 rooms and suites, a swimming pool, a fitness centre, food and beverage outlets and rooftop terraces. The project has been granted approval in principle from the Development Control Authority and, as is customary, ISL is assisting with obtaining the full approvals from the DCA."
The CEO also noted that ISL is facilitating approvals from the Department of Physical Planning as it relates to the proposed hotel development at Choc Bay and the CIP approved Canelles Resort.
ISL's initiatives for 2019 were also presented at Monday's media briefing. The CEO cited plans to invest in ISL's own headquarters, as well as in the development of at least four properties comprising 150 lots in the coming months.
He mentioned the on-going land rationalisation project, assuring those present of more details when this exercise which, once completed, will create at least 600 new land owners in Vieux Fort North and Dennery.
The CEO said he's excited about plans to develop and execute an Invest Saint Lucia Angel Fund to support local entrepreneurs and business in general.
"The Angel Investor Fund as well as the Incubator and Accelerator Programmes are just the start of many initiatives that ISL will be developing in tandem with other agencies such as the Small Business Development Centre and Export Saint Lucia to assist young, budding entrepreneurs realise their business potential."
In his closing remarks to the press, Cherry indicated that ISL will be undertaking a master plan development for the Anse de Sable area in Vieux Fort, details for which will be provided at a subsequent press conference slated for January 29th. (ISL)