THE Police Welfare Association (PWA) is gearing-up for a major round of negotiations with government following its recent withdrawal from the umbrella Trade Union Federation (TUF) and its rejection of two proposals from government.
Stating that police officers "do not receive the recognition, reward and remuneration they deserve for the dangerous, stressful and life-changing job they do," PWA President Travis Chiquot, during a news conference yesterday, said the PWA is "ready to negotiate with government".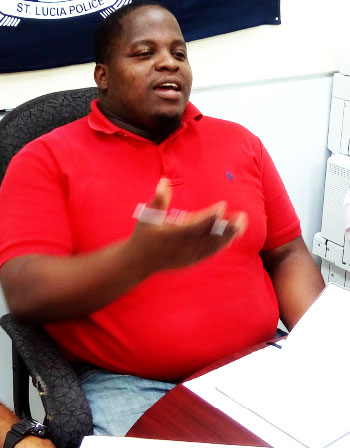 But is the PWA, which over the past 12 years (or so) had been negotiating agreements for its members as part of a larger body of trade unions, able to really stand on its own and be effective in its negotiations with government?
This question is relevant considering that the PWA, as a member of the TUF, accepted a zero, zero and zero percent wage increase for the triennium 2016 – 2019.
Chiquot believes the PWA, on its own, has whatever it needs to do an even better job than the TUF can do for it. He said his organization is ready to proceed with negotiations is not weakened now that it has to fight its own battles.
To prove his point, he told reporters he is looking forward to salary negotiations concluding before March 2019 for the soon-to-be-expired 2016-2019 collective agreement.
"The PWA will continue to negotiate on behalf of our members for our fringe benefits and continue, from time to time, to meet with the employer and the Government Negotiating Team (GNT) to discuss the collective agreement already submitted for the triennium 2016-2019," Chiquot said.
To ensure that police officers receive all the fringe benefits as outline in the agreement, Chiquot said the PWA will be pressing forward to attain just that.
"We are looking at insurances, we are looking to get our proficiency and vocational on the book.
"We are looking for everything we can get from this country in equity, because we continue to serve and invest in this country as police officers. We believe that if cash cannot be given, something else can be given so that we can bring ease to our police officers at this point in time," Chiquot said.
But what really caused the PWA to sever ties with the TUF? What straw broke the camel's back?
Chiquot was not too forthcoming with a specific response noting, however, that the TUF should have been more forceful on certain issues.
However, he admitted that the PWA, at some point, benefitted from being a member of the TUF.
" It was never a lost situation for us, but we believe we stand a better chance at achieving greater benefits on our own," he said, noting that the membership voted on whether to sever ties with the TUF and that the majority voted for it.
"We do not want to sit by and allow opportunities to pass and our members do not get the opportunities. We believe in adding value to our members and we believe 2019 would be the year of adding extra value to our members," he said.
Chiquot believes that the PWA, negotiating on its own with government, will be a responsible organization.