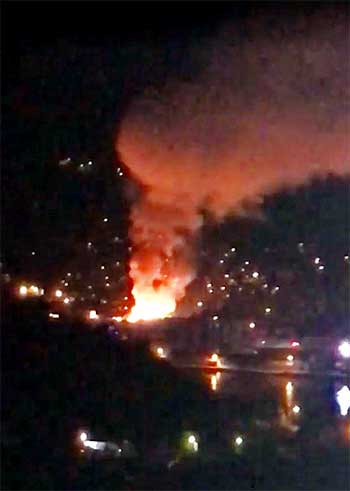 THERE'S still no official conclusion as to the real cause of the serious Castries fire on Tuesday evening that burnt several buildings on Broglie Street.
Several structures burned, particularly the historic Glasgow building at the corner of Mary Ann and Broglie Streets, as well as the Medar & Co car parts outlet.
The fires blazed for hours into the evening as fire officers fought the blazes, but the affected buildings were effectively burnt to the ground. But by the next morning there was another fire alarm – this time in broad daylight at around 10:30 — at the Blue Coral Mall on Bridge Street.
Security personnel ushered patrons out of the building after a fire alarm sounded, but they were soon back inside minutes later after a search revealed it was a false alarm.
The fire officers concluded the alarm might have been accidentally triggered.
Authorities at the mall were reported by Saint Lucia Times Online to have indicated they "will take immediate steps to review its emergency response as some deficiencies were discovered and had to be addressed."