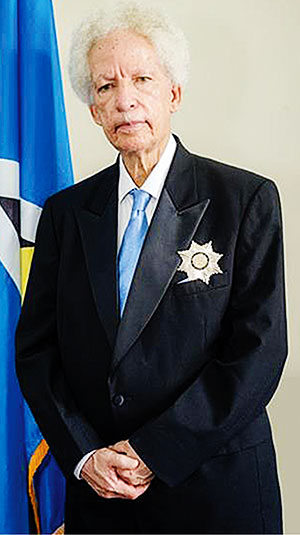 THE St. Lucia Ex Service Legion has commenced preparations for Remembrance Day – on Sunday, November 11, 2018 — and is pleased to welcome a new Patron, His Excellency Sir Emmanuel Neville Cenac, GCSL, GCMG, earlier in October, 2018.
Sir Neville Cenac succeeds former Governor General Dame Pearlette Louisy.
The protocol for the succession stems from the fact that Her Majesty Queen Ellizabeth II who is the Head of the Commonwealth is the Patron for the Ex Service Legion worldwide; therefore any officer who assumes the position of Governor General as the Head of a country, and represents the Queen, automatically assumes the position of Patron of the Legion.
The Ex Service Legion in their "THANK YOU" letter to the former Patron expressed their gratitude to Dame Pearlette for executing her duties with distinction over the past 20 years, during her tenure as Governor General; one of the things which resonated with the Legion was that Dame Pearlette never missed one activity on the Remembrance Day Parades during the 20 years; including the Remembrance Day activities which were held in Vieux Fort in honour of the Ex-servicemen from the south of the island.
During those sessions, Dame Pearlette took the opportunity to interact with all the Ex Service Men and Women, together with all the local and overseas guests.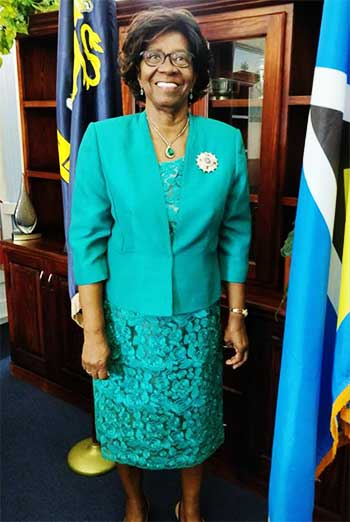 This is commendable and showed the seriousness with which Dame Pearlette undertook her duties. She will always be remembered for her commitment in the midst of the Legion.
Sir Neville Cenac has graciously accepted the position and enthusiastically looks forward to working with the members of the Legion.
Sir Neville Cenac will undertake his first tour of duty on Remembrance Day which is scheduled to take place on Sunday, November 11 2018 at which time wreaths will be laid at the Cenotaph at the Derek Walcott Square in remembrance of the Ex-sevicemen who sacrified their young lives during the two world wars.
Upon the retirement of Mrs. Adelina Auguste who was the Chairperson of the Poppy Appeal Committee for many years, Ms. Mary Bruce has assumed the position of Chairperson, Poppy Appeal Committee.
Mrs. Auguste, who was a former Mayor of Castries, was instrumental in providing a burial site for the Ex-Service Men and Women at the Choc cemetery. He had a long standing relationship with the Legion during the period when Mrs. Dorothy Pilgrim (deceased) was the Secretary of the Legion.
In paying tribute to Mrs. Auguste who has passed on the torch, Miss Bruce indicated that she would have some "big shoes" to fill, but she has committed herself to undertake her duties as best as she can.
Miss Bruce would like to take this opportunity to express sincere gratitude to Hon. Dr. Kenny Anthony, former Prime Minister, and Dame Pearlette
Louisy, former Governor General, for the confidence placed in her when she was recommended and endorsed for the position of the Chairperson of the Poppy Appeal Committee. (St. Lucia ex Service Legion)