CLOSE to 190 swimmers representing five local swim clubs will converge on the Rodney Heights Aquatic Centre this weekend as the Sea Jays Swim Club, in collaboration with Tropical Rhythms as its Official Sponsor, hosts the 2018 Organization of Eastern Caribbean States (OECS) Swim Trials.
According to reports coming from the Seajays Swim Club, they are elated that Tropical Rhythms has come on board to support them in hosting this extremely important Short Course National Championships which start today from 9.15 a.m. and end on Sunday afternoon.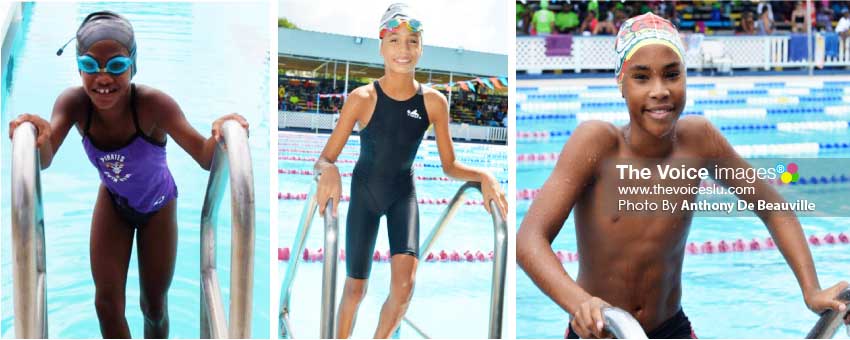 The Short Course National Championships act as a time trial for the final selection of the Saint Lucia National Organization of Eastern Caribbean States (O ECS) Swim team.
Masters swimmers are welcomed to participate in the 9 and over and 11 and over open events as listed in the Order of Events.
Medals will be awarded to the top three places in each event with trophies and /or medals being awarded to the top three point winners in each age group, male and female.
Afer all the points are tabulated, a championship trophy will be awarded to the team with the most points.
The two day meet is sanctioned by the Saint Lucia Amateur Swimming Association where all events will be entered as timed finals and seeded according to entry time.
Seajays President, Heidi Emmanuel is thrilled this year as the interest in participation from swimmers is high and support from sponsors is forthcoming. She noted at the Cheque Presentation on Wednesday 3rd October with Tropical Rhythms, her gratitude in the brand assisting the club in hosting this important swim meet.
Tropical Rhythms, Brand Manager, Sylvia Auberto noted her willingness to support and looks forward to being part of the presentation of the final selection of the OECS Swim Team emerging from this meet.

The Club is also grateful to all its sponsors including, The Harbor Club, SSDF, Subway, LUCELEC, BOSL andEcowaves.
Some of the events slated are the 50 metre back, 100 metre free open 9 and over and 8 and under, 200 metres free open 9 and over, 50 metre fly open 9 and over, 25 metre back 8 and under, 100 metre back open 9 and over 50 metre breast open 9 and over, 50 metre free 8 and under, 100 metre free open 9 and over, 4×50 metre medley relay 10 and under, 11 -14 and 15 and over. Just some of the events the swimmers will compete in.
For the many sports enthusiasts coming to take in the two days of action they will see the likes of – Zoe Bernard, Maya Brathwaite, Mikaela-Shae Casimir, Karic Charles, Eden Crick, Antoine Destang, Tristan Dorville, Isabelle Esper, Ethan Hazell, Anya -Marie Hilaire, Maya – Jean Hilaire, Fayth Jeffery, Shalini Joseph, Sunshine Mauricette, Courtney Paul, Tammy Pultie, Ziv Reynolds, Jasmine Stiede, Jeannot- Mitchel Walters.
Also in action this weekend will be – Naima Hazell, D' Andre Blanchard, Devin Boodha, Allandre Cross, Naekeisha Louis, Jamaar Archibald, MikailiCharlemange, Jasmine Steide and Veronica Brown, just to name a few.