UNITED NATIONS, Sept 29– St. Lucia Prime Minister Allen Chastanet Friday lamented the lack of financial and other support for Small Island Developing States (SIDS) saying that global policies, programmes and strategies remain "unfairly unaccommodating" to the "very real and true challenges" facing SIDS.
"That SIDS are more vulnerable to natural hazards than other countries, has become accepted. That the resulting damage from natural disasters has a greater overall impact on our economies by virtue of our small size has also become widely accepted," said Chastanet told the 73rd Session of the United Nations General Assembly (UNGA).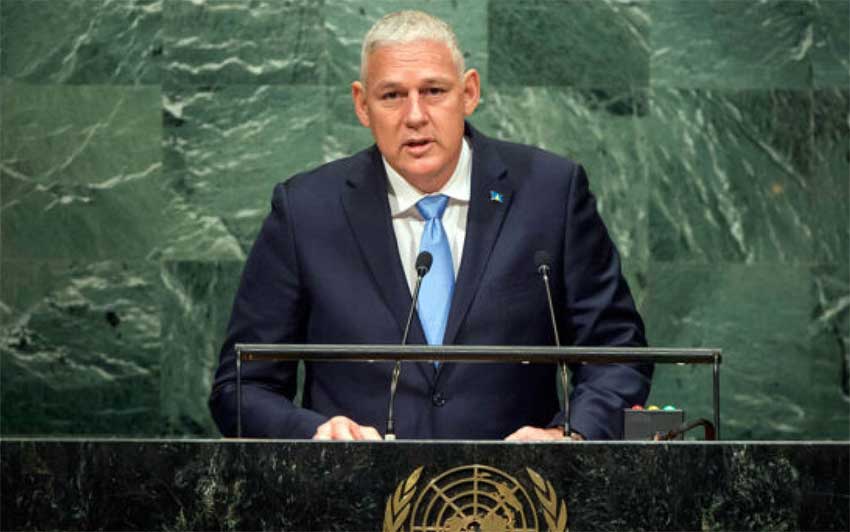 He said SIDS, classified as middle income countries (MIC), face additional challenges because of the assumptions regarding the capabilities of countries carrying that designation has been acknowledged.
"We all know these truths – they are self-evident. These halls echo with the words of SIDS and MIC leaders year after year making plain and clear the challenges we face. The world acknowledges our 'acronyms', but little or nothing changes."
The St. Lucian leader said his country remains economically vulnerable to de-risking and the loss of correspondent banking relations, stating that regional countries remain out of reach of any access to concessionary finance, and that their reputations are "unfairly tarnished by tax labels.
"We continue to struggle under the weight of international frameworks that do not provide an enabling environment for my country to chart an effective sustainable development path, or even to be able to take control of our own destiny.
"Despite the fact that the odds remain stacked against us, St. Lucia must still persist," Chastanet said, adding that he has an obligation to his people.
"And so, I must find new and innovative ways to keep my economy growing and ensure and enhance environmental and social protections," he said.
Chastanet said he does not have the luxury to wait for the international system to adjust to the special needs of countries like his own, while natural disasters continue to threaten and erode the gains made.
He told the international community in preparation for this hurricane season St. Lucia has had to spend three times the amount of money over the last season, pointing out that, in order to meet those costs, his government was forced to impose new taxes to facilitate this preparedness.
He said St. Lucia has seen the disastrous impact of natural disasters brought on by the changes in climate.
As he spoke, he said his country was "suffering from the ravages of (Tropical Storm) Kirk, which was on a projected course north of St. Lucia but changed direction overnight and moved directly over our island."
Chastanet also said that in addition, St. Lucia suffered from an earthquake, pointing to reports of damage to utilities and extensive damage to the agricultural sector.
"But be assured, regardless of the difficulties, we will provide the necessary support to help them recover as quickly as possible," he said, adding that his thoughts and prayers are with government and people of Barbados who have also been impacted, and St. Vincent and the Grenadines, which now lies in the path of the storm.
He applauded Japan, India and the numerous states within the United States of America who have the capacity to effectively respond to natural disasters.
"I envy that they have the necessary fiscal and policy space to enable them to recover and rebuild effectively; but we, as SIDS, are continually denied this ability," Chastanet said.
"We are aware that Dominica, the British Virgin Islands and Puerto Rico among others are still recovering one year on. Yet, little has changed."
He said the Caribbean Community (CARICOM)-United Nations High Level pledging conference to support reconstruction efforts in the region, following hurricanes Irma and Maria, received pledges of over US$1.3 billion, "but there remains a significant gap between the pledges made and the actual amounts that have been disbursed.
"While well intended, we have been let down again," Chastanet said, welcoming, however, the initiative to convene a High Level meeting on the challenges of MIC during this session of the UNGA.
He said St. Lucia continues to place its concerns about debt sustainability on the global agenda and has joined the call for the creation of a Highly Indebted Middle Income Country (HIMIC) initiative, based not only on the urgent need for debt relief but also on the need to acknowledge and highlight the negative implications of the challenges that Middle Income Countries face in accessing concessionary financing "so vital to building resilience in our countries."
"We fear a business as usual approach to this meeting, but remain hopeful that it produces substantive outputs with actionable solutions," Chastanet said.