MATCHES continued in the Desruisseaux Football League Knockout Cup on Sunday 30th September 2018 with a double header at the Desruisseaux playing field. There were wins for DX United and TFC United.
In Game 1, DX United defeated La CourVille FC 4-3 in a penalty shootout as the match ended 1-1 after regulation time.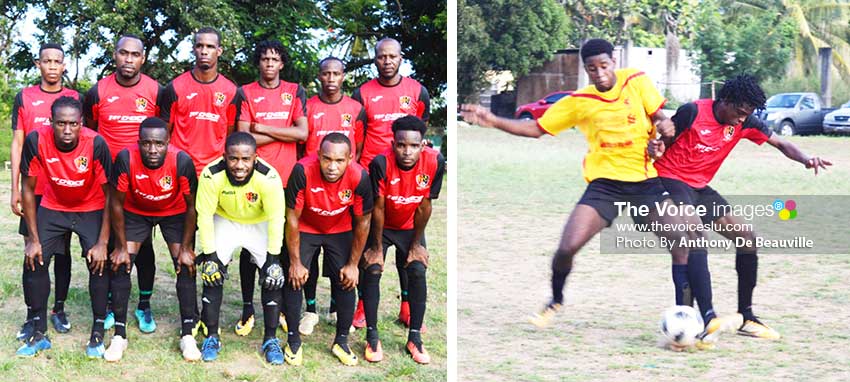 On the pitch, after a poor showing from both teams in the first half which ended 0-0; the second half saw both teams coming out firing at each other, only to see DX United nose ahead in the 72nd minute when a La CourVille player committed a foul on Darwin Bideau in the penalty area. Brad Bideau calmly converted which led to a celebration on and off the field by the DX United players and supporters.
That celebration was quickly shattered two minutes later (74th) as La CourVille FC came up with a stunning equaliser by Dave Houry making it 1-1. The final whistle was blown shortly after which led to the penalty spot to settle matters.
DX United came out on top winning 4-3.
In the second encounter, first division team TiRocher Football Club (TFC) went head to head with Green Monsters. The latter won a penalty in the 23rd minute which was successfully converted by Eldon Wilson giving GMFC a 1-0 advantage.
TFC came back in the game shortly afterwards when Rai Gaspard scored a beauty from a free kick in the 26th minute making 1-1. It was game on from here as both teams looked to press on for a victory within regulation time, but that was not to be as the final whistle ended the score at (1-1).
For the second time in the day, a match had to be settled via the dreaded penalty shootout. TFC winning 5-3 in fading light.
Today, in the final preliminary match, El Nino FC will come up against Blanchard United FC from 4.00 p.m.
In semifinal action slated for Sunday 7th October at the Desruisseaux playing field, from 4.00 p.m. Dx United takes on Lion Heart and TFC awaits the winner of the El Nino/ Blanchard United encounter scheduled for today.