THE two have gone unbeaten throughout the tournament and now stand on the verge of creating history either way in the 2018 Blackheart Knockout finals which is sanctioned by the Saint Lucia Football Association.
The main showpiece with a tag prize of $30,000 for the winner is expected to kick off from 8.30 p.m. and by all indications a massive crowd is expected to converge on the Phillip Marcellin Grounds as defending champions Vieux Fort South takes on first time finalist Laborie in what has been dubbed "An All-Southern Derby".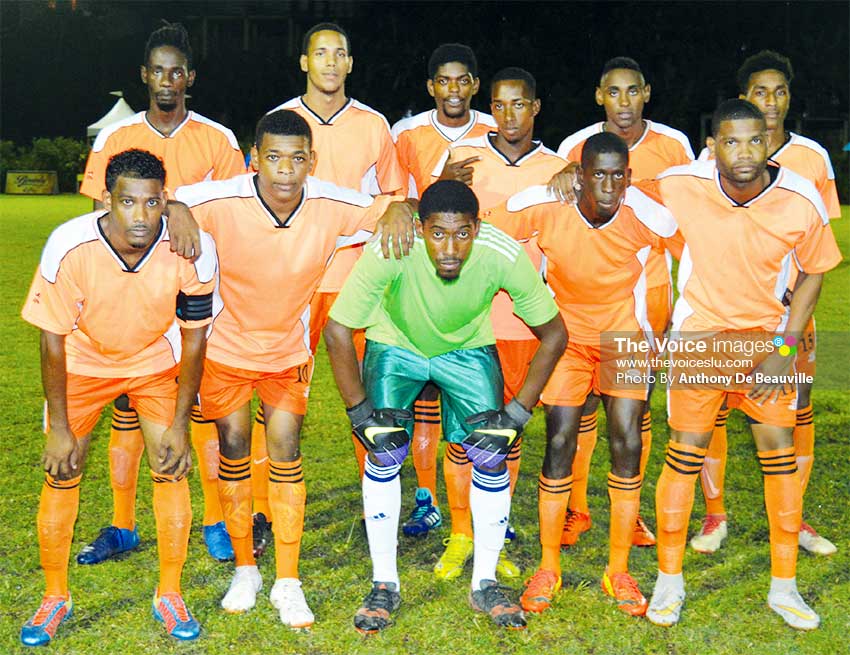 It will be anyone's guess as to which team will emerge champion when the final whistle is blown, providing the deal is not settled via the dreaded penalty shootout.
For VFS, they won in 2016 and 2017; if they win this evening it's going to be the first time in the history of the tournament of a team winning three consecutive championships. For Laborie it's their first time in the finals, in fact before then, they had never made it past the quarterfinal stage. A win this evening will see their name written alongside VFS, Anse la Raye, Canaries, Gros Islet, Dennery, Micoud and Mabouya Valley.
The defending champions despite playing in front of their home crowd cannot take Laborie for granted, because on their way to the finals, Laborie defeated Canaries 1-0; against Marchand the scores were level 1-1 after regulation time, but they went on to win 5-4 in a penalty shootout and in the semifinal they came from behind to defeat Dennery 3-2 in extra time after being 2-0 down at the halftime whistle.
Head coach for the Laborie team, Daniel Cassius spoke to the VOICE just before press time. "It's amazing; the players are still in a hype from winning the semifinal coming back from being 2-0 down. The entire community is behind us. We know it's going to be tough battle ahead playing against the defending champions in front of their home crowd".
He continued, "For the community, we are going all out for it. At a team meeting last evening, we echoed the sentiments that we have reached that far so all what's left to do is to win it".
The VOICE: Two nil down at the halftime whistle, two all midway into the second half, as coach what was going through your mind at the time?
Cassius: "When we conceded the two goals, I mentioned to the players on the bench that we haven't played our type of football and we haven't executed the plan we came with. The only way to defeat Dennery is to get to the spaces behind them because they are playing with three players at the back and that's the space available, so we pull the defenders out and it worked".
The VOICE: In terms of crowd support, your word of advice to all Laborians?
"Without them we wouldn't be in the finals, we actually need them to come out in their numbers and support the team against the powerhouse VFS and let's have a great finals".
Head coach for VFS EmmaunelBellase also spoke to the VOICE and this is what he had to say.
"VFS is very focus, we are ready for the finals, we are not going to underestimate Laborie because we know football is played on the day and on the pitch, I think the players are confident, not complacent and I believe they are going to take it home".
"Whereas a number of individuals believe the finals is going to be a push over, we are cognisant of the fact that to get to the finals Laborie defeated three of the top teams; we are fully aware of that and we are not going to underestimate them. We are going to make sure we leave no stone unturned in terms of bringing that victory home. That was our aim from the beginning of our preparation for the tournament and we are still focused on that; our objective is to ensure we do a three peat".
VFS will select their first X1 from – Leon Alexander, Kimani John, Bernard Edward, SarnSavery, Alex Lionel, Shervin George, Dwayne Charles, Duncan Gopal, Antonius Myers, Gregson President, Jevic Mc Farlane, Kurt Joseph, Paulsen Joseph, Delon Neptune, Jamil Joseph, Dylan Henry, Jamil Joseph, Antonio Joseph and Moses Henry.
Laborie will select their first X1 from – VenceAgdomar, Kendal Yarde, Francis Joyeux, Jeremy Edward, MahvyResmay, Lester Sonson, Jannsan Herbert, Dornan Edward, Jason Edwin, Lee Arvil, Darrel Francis, Mikel Emmanuel, Andreus Jn Pierre, Lorenzo Augustine, Jharvon Charles, Joven Steven, Shakan Raymond and Shayan Eugene.
For the third place silverware scheduled for 6.30 p.m. former three times champion Dennery takes on former finalist Castries Central.
In semifinal action last weekend at the PMG, Central Castries went down to VFS 2-1 and Dennery lost to Laborie 3-2.