Hundreds of Futsal fans are expected to converge at the Beausejour Indoor Practice Facility this evening to take in the excitement on centre court and the side attraction by local artiste Ezra D' Fun Machine. This is the fourth edition of the Corporate Warfare Futsal Tournament and it is organized by Timeout Entertainment (Saint Lucia).
Three games are on the card for this evening; from 6.30 p.m. Bel Jou will take on Bankers Association; Royalton will fancy their chances when they clash with BuiltecInc at 7.30 p.m. and WASCO will want to start their campaign with a win when they play the Saint Lucia Teachers Credit Corporative Union at 8.30 p.m.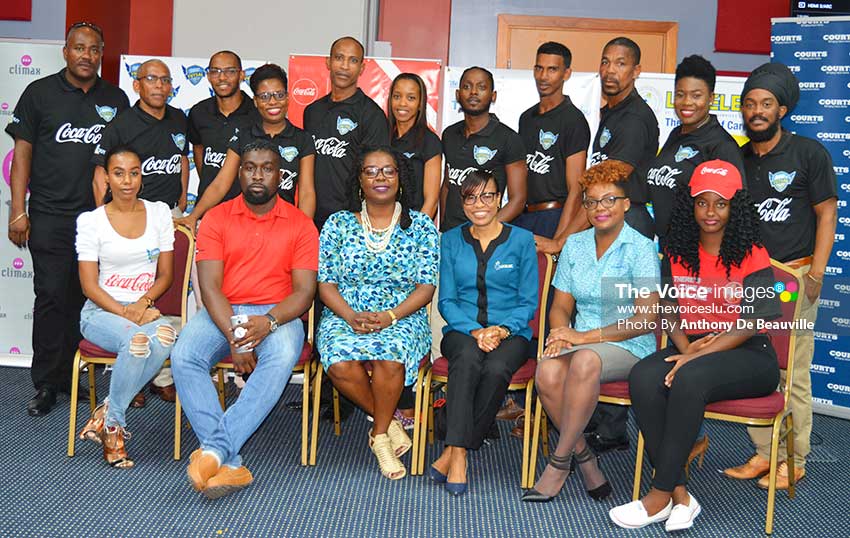 Meanwhile, representatives from the twenty eight participating teams were present at the official launch held at the Financial Centre, Pointe Seraphine and by all indications, the hype created at the launch by the various sponsors of teams taking part was nothing short of friendly rivalry and camaraderie. One thing for certain, this year, the BIPF will be ablaze with excitement, horns blowing and heavy goal scoring.
Shermalyn Sidonie -John managed the proceedings and facilitated the live draw which determined the teams in the CWF Knockout draw (1st round). The remaining matches – On Friday 14th, the Royal Saint Lucia Police Force versus Top Ranking Electricals Inc, FLOW versus Beachcomber Limited, Saint Lucia Teachers Union versus Unicomer (Saint Lucia) Limited,
Saturday 15th, CPJ versus Small Business Owners, Sandals Grande versus Saint Lucia Civil Service Credit Union, Windjammer Landing versus DBC, 1-888 Go Answer versus Ministry of Infrastructure,
On Friday 21th, LUCELEC versus KM2 Solutions, Peter and Company Distribution versus Saint Lucia Fire Service, Sandals La Toc versus Public Service and Digicel versus Sandals Halycon.
TimeOut Entertainment co-founder Lionel John, said, "The main idea behind the Futsal Corporate Warfare, was to not only develop the concept of football in companies which due to their mere size and skill level, wouldn't be eligible for other competitions but develop the concept of futsal which has taken the island by storm".
John also presented a four minute video which described the Futsal concept. In essence, Futsal matches are shorter and require less players for a quicker turn-around time.
To date the organisers have marveled at the success of the competition which has been growing from strength to strength, with sponsors like – Guinness, Unicomer (Courts), Climax, Digicel, Coca Cola, LUCELEC,KFC, ExelSign Limited, Choice, Crystal Clear, The Concept Factory. The fourth edition of the Corporate Warfare 2018 tournament has to be a talk around the city centre.