HIS STORY, OUR VOICE!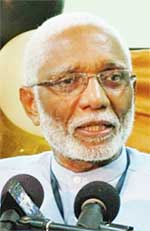 When David Samuels was awarded the Saint Lucia Medal of Merit (Silver) in 2017, I wondered why he had not been considered for and granted, the Gold. I commented somewhere that the Gold, Silver and Bronze categories of these awards should be abolished and one award should be given, one SLMM — and that with a gold medal. That approach would help to eliminate the real challenges of fair evaluation of lifetime achievements of our citizens.
David Samuels has been one of our leading radio broadcasters and through the now defunct Radio St. Lucia, gave voice to some of our best public service broadcasting programmes.
He certainly came from the old schools of radio where training, elocution, well-researched production, knowledge of and respect for the listening, community audience were paramount.
When he returned to RSL in 2002, he found that "excellence, professionalism and production standards had diminished."
In a searing indictment, he writes, "The new millennium had begun to unleash a proliferation of radio stations across Saint Lucia. The broadcasting technology had changed and it was now easy for any one-man outfit to broadcast; radio, as we knew it in the past four decades, had died. But with the change came a corresponding drop in quality and standards. Saint Lucians were now being fed almost anything in the name of radio and the new generation that had never known better was accepting it."
In his newly-published autobiography My story, your voice (AuthorHouse, 2018), we are reminded of his not-insignificant achievements in broadcasting, as a vocalist, in the tourism industry and in the pioneering video-production sector.
Apart from the work of our poets, fiction writers and dramatists, we have not had many non-fiction memoirs of life in St. Lucia and Castries our capital. Cletus Springer with his Memorabilia (2010) and Grass Street (2006,) and the published journalism of Rick Wayne are among the few autobiographical and contemporary accounts of our social lives. So Samuels' book is a welcome addition to that genre of local literature.
He writes very frankly about his early family life, his loneliness as a young boy, especially after his mother had left her seven-year-old son to follow an Antiguan husband and Dave's father to England to try to save what Samuels describes as a "sham marriage."
In later chapters, he describes the last years of his mother and grandmother and meeting his brothers and sisters from his father's other liaisons. He captures well the nostalgia of the memory of the Castries of the late fifties and early sixties with his accounts of the CDC neighborhoods, the St. Aloysius R.C. Boys School, the much anticipated First Communion days and its accompanying Catholicism.
Not being able to enter St. Mary's College, whose entrance exams he had passed, he entered the "Senior School" (housed in the old Castries Parish Centre), where he benefited from a "transformational" curricula.
My first memory of Dave is seeing and hearing him sing at a show at the Castries Parish Centre when I was a teenager in the sixties. I remember him singing songs by Cliff Richard with his high tenor voice. I had not realized he had also become the main vocalist of the Tru-Tones Orchestra in their early years. The Tru-Tones, led by a young Boo Hinkson, was, of course, the best band of our shared teenage years.
I had worked as a full-time radio announcer with Radio St. Lucia in the mid-seventies, starting at the Government Buildings studio and then moving to the new Morne Studios. I had forgotten, but was pleased to be reminded again of the old, cramped Government Buildings studios, the reel-to-reel ferrograph tape recorders, personalities like Winston Hinkson our manager, Margaret Roberts-Steele and Lucella Blanchard. Other prominent radio personalities of the time would have included Jeff Fedée, Vaughan Noel, Winston Springer, Jerry George, Barbara Jacobs and Gandolph St. Clair, among others.
Those interested in the early years of tourism and hotel development in St. Lucia will find David's involvement and experiences with various hotels and hoteliers a revealing, historical record of that time.
With the growth of music entertainment, singers and bands, increase of recordings, the cultural renaissance that took place in the late sixties into the seventies, the arrival of more radio stations and the first TV station, with the demand for electronic media advertising, came the need for audio-recording and video-production companies.
Dave Samuels proved himself a pioneer with the establishment of his David Samuels Promotions and Video Productions Limited (DSP). His company produced commercials, feature programmes on tourism and recorded folk music icons like Rameau Poleon. Rameau's long-play record, CD and cassette, Sweet Sounds of Saint Lucia (1988) remains one of the most popular recordings still heard on radio or at cultural shows. DSP, as "Saint Lucia's first record production company" was to produce several more music albums and moved into show productions featuring major artistes like Kassav, Jimmy Cliff and The Mighty Sparrow. He also produced tourism TV programmes.
Dave Samuel's interest in local politics and the Catholic faith is well known at home and is dealt with in his debut book. He bravely records his "occult" experiences and how they were resolved with the help of his priest friends Fathers St. Rose and Goodman.
After DSP folded, he returned to RSL in 2002 to begin a new phase of his broadcasting career. For him "RSL had by then deteriorated." He began a popular early morning interview show that brought together his interest in tourism, local culture, entertainment, community and politics titled "Coffee break at Sandals."
His guests were a Who's Who of St. Lucian Personalities and Dignitaries. He found a changed atmosphere at RSL and the general media landscape: "… what I experienced at RSL from 2003-2008, a far cry from the incredibly wonderful salad days of the 1970's… there's a general tendency in today's media and just about every watering hole, to "put people down" "hurl insults, criticize, peddle rumour, make up stories… it seems almost an excuse to avoid serious discourse on the many social and economic challenges that confront us."
But he got involved with the RSL life again, hosting popular programmes, staging shows like the "Sparrow Gold Show" in December 2005 at Pigeon Island, and co-anchoring major events like the State Funeral of Prime Minster Sir John Compton in September 2007 (which I also helped to broadcast).
His last major and again very popular interview/call-in programme on RSL (closed in 2017) was The Agenda which he hosted as The Chairman. In Samuel's view, "The Agenda raked in an average of $25K monthly and contrary to the skepticism expressed, became a household name… and earned its place on the talk show landscape as being balanced, unbiased and apolitical."
Unfortunately, The Agenda was taken off the air with a new Government — and so ended Samuel's radio career. As The Chairman, he was to metamorphose into a TV talk show host with Calabash TV.
David reveals his admiration for the late George Odlum and the influence on him of the exciting days of the late sixties and early seventies when Odlum and Peter Josie and many of the personalities of the St. Lucia Forum led us who were the young men and women of the time to a new political and cultural consciousness. He would probably point to his later seeming closeness to the United Workers Party as the reason for his dismissal from RSL and for the criticism that his talk shows have received.
David dedicates a chapter titled "Dear Calypso" to write of his love for local Kaiso and admiration and friendship with leading calypsonians like Pelay, De Invader, Herb Black, Pep and Minelle. The chapter carries lyrics from several of the very popular award-winning calypsos.
The last third of this very readable autobiography is given over to transcripts of interviews Samuels had conducted both on radio and TV with then Governor General Dame PearletteLouisy, Sir John Compton, Dr. Kenny Anthony, George Odlum and Prime Minister Allen Chastenet.
From an editor's point of view, I would have recommended placing these interviews in an appendix. As it is, his autobiographical reminiscences merge, literally, into the interviews and we miss the opportunity for the author to give us, as it were, a fairly conclusive summing up and assessment of his life, work, experiences and achievements.
So, I recommend this autobiography of David Samuels, My story, your voice, to all, but especially to us of his generation who shared his history, the social, cultural and political changes; to those of us who have seen with a certain sadness, the disappearance of moral and ethical values and standards with which we grew up; and to those of us who admired and enjoyed the unmistakable voice of David Samuels, perhaps the premier radio broadcaster of our time.
————————————–
John Robert Lee is a Saint Lucian writer. His Collected Poems 1975-2015 is published by Peepal Tree (UK). He has presented radio and television programmes in Saint Lucia for many years. His reviews and other forms of literary journalism have appeared in local, regional and international newspapers and journals.