THE journey to greatness for six students entering secondary schools for the first time began Wednesday at the premises of Flow in Corinth, when they were handed their scholarship cheques for the new academic year beginning next month.
The six will join 18 other students presently enjoying scholarships from the company for the duration of their years at school.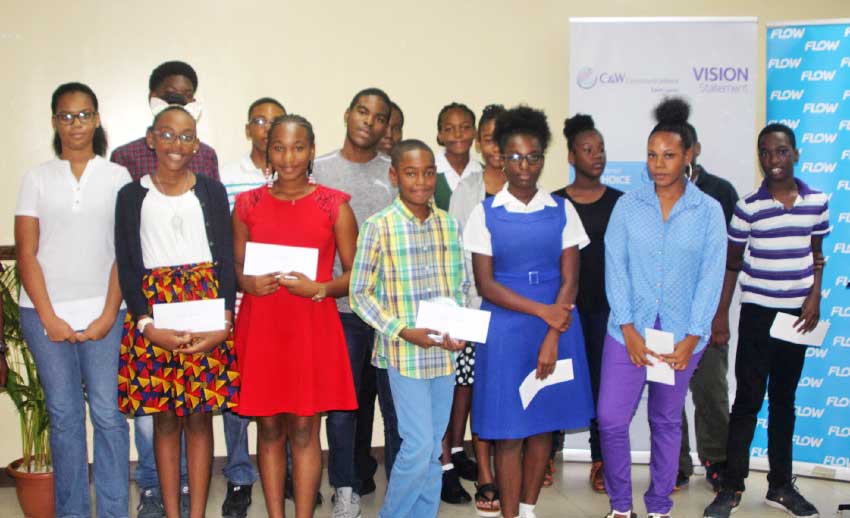 The students, off-springs of staff members of the company, acquired the necessary qualifications by attaining certain scores in the Common Entrance Examinations that qualify them for the scholarships they received.
According to the company awarding the scholarships the goodwill on its part is a testimony of its commitment to recognizing the successes of children of its employees.
Country Manager Chris Williams noted that the scholarship programme started in 1995 with over 70 children of employees having benefited from the programme.
"We also have a tertiary programme as well. Every year 11 children of our colleagues benefit from that programme. Prior to 1995 the company, Cable & Wireless at the time, gave scholarships to financially needed parents. This programme has a criterion the children have to meet," he said.
He called on students to maintain a certain overall grade in order to keep their scholarships. But he was not the only one calling on students to stay focus on their studies if they wanted to achieve greatness in their lives.
Augusta Ifill former Chief Education Officer called on students to always seek new knowledge in their journey of life.
"You must read, read and read without stopping," Ifill told the students. She called on them to be numerate. Education, she said, is not only about academic performances, however it is an all embracing term and should be
"You need to have a hunger for knowledge. You must read widely and develop that reasoning and critical skills that are required. Be aggressive in your studies" Ifill said.