THE Saint Lucia Football Association in collaboration with CONCACAF is at it again with another D License Coaching Course for local coaches, which started on Friday 24th August and ends on Monday 27thAugust. The focus of this course is to improve the knowledge of coaches to positively influence players and teams. The course consist of a series of lectures and field sessions and full attendance is mandatory.
CONCACAF instructor Lenny Lake who is no stranger to events like these in Saint Lucia around will his time be assisted by facilitators Emmanuel Bellas and Solomon Alexander, both from Saint Lucia.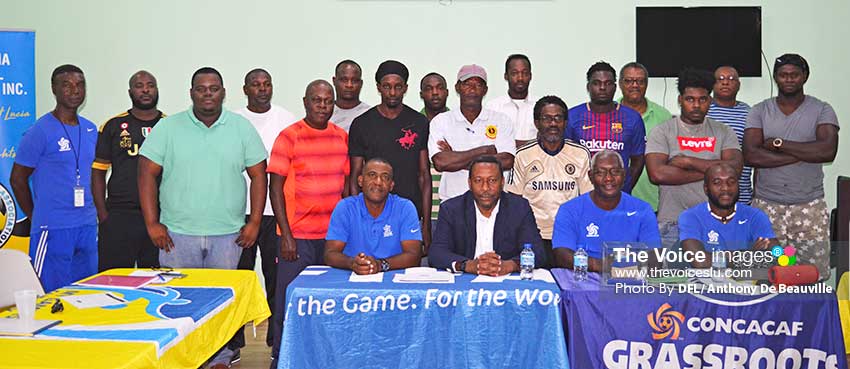 At a brief opening ceremony held at the SLFA Headquarters in La Clery, SLFA President Lyndon Cooper sent a stern warning to the participants, as he left no stone unturned, when he said, "What we are doing is beginning to pay dividends because of the investment we are putting in the development of football in Saint Lucia, but what we have noticed in attempting to compile the list of participants there was a demand for persons to be certified in terms of the D License".
The SLFA in the last four years have certified over 120 coaches and if in 2018 we have 115 clubs, each club by now should have trained personnel. What we have also discovered, individuals doing the certification course were not remaining around their respective clubs/leagues.
He continued, "The SLFA cannot continue to invest and not seeing the reward of the investment. The SLFA is not about training persons for training sake; we think if the training is necessary the SLFA should be able to see the outcome over an established period of time. I want to leave no doubt in any body's mind, moving forward it's not going to be a simple certification. Your district is the one that sends you; you are part of a club because the club believes in you and within a short period of time you have decided to end that relationship, it means the SLFA have to get somebody else to train".
The SLFA Boss said, "Our policy now, all our district/club must be in possession of a D License coach and the failure to certify means that your district/ club will be playing without any technical staff on the bench. The SLFA has begun enforcing those policies. In the next few weeks it will announced that it would be mandatory for the coaches we have certified, moving forward, to express a commitment to the institution that has invested in you, your failure to do that within a period of time, means that you will be expected to remain exactly where you are for a much longer period, and that includes your certification".
CONCACAF Instructor Lenny Lake, said, "I am very happy because that is the first time I have heard the President speaking that way and it means the President would have learnt over the years that football is serious business and development is critical to the growth of the game, the words maybe harsh but they are real. Ten years from now we will be in the same place and all our efforts and time into the game would have been lost, you are here to make a change".
"There are some major concerns we have in the region whether we inherited them or not or we have created bad habits, we believe, because we have played the game at some level that will license us to be great coaches, we are fooling ourselves. Coaching is a total discipline from playing the game, Coach / player that leaves the field he or she has to go back to school to learn to coach, not to play".
Lake said, "Too many coaches believe when I am at the senior level I am the senior coach but haven't gone through any coaching session. This is wrong; the coach has to learn how to coach".
Over the next 72 hours the coaches will be engaged in theoretical/ practical sessions that includes – Course philosophy/objectives/role of coach educator/age appropriate training/principal of coaching/goalkeeping/attacking/ defending/physical training/small sided games/health and safety/community club development and group discussion just to name of few.