PRESS RELEASE – TRANSFORMATION works have commenced at the Sandals Cap Estate Golf & Country Club which will see it become a world class 18-hold international championship course. It is the fulfillment of a promise made by Sandals when Deputy Chairman Adam Stewart hosted world-renowned Hall of Famer turned golf course designer, Greg Norman and his team five months ago.
The works, which commenced in mid-July, will be executed in two phases covering nine holes in each. This means the golf club will not be closed to Sandals guests, club members and other golfing enthusiasts.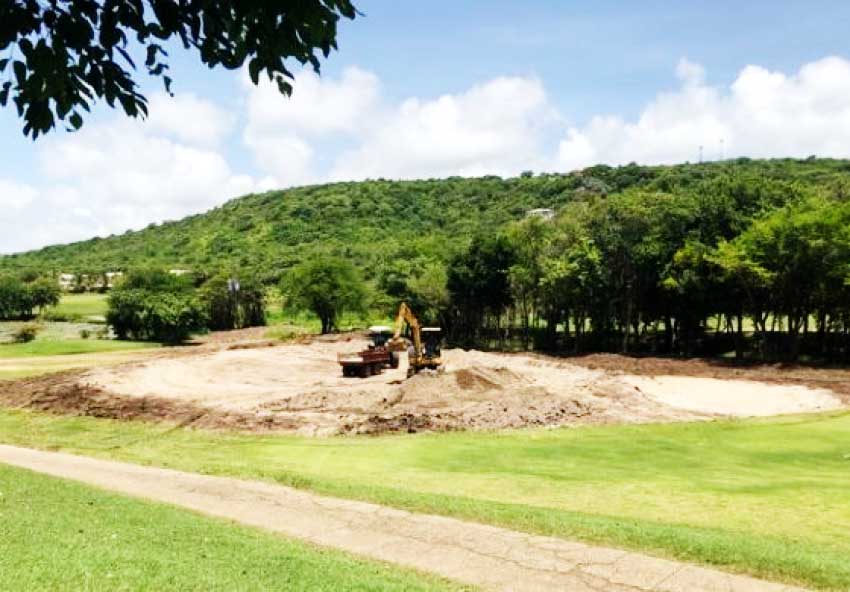 General Manager Simone Skinner explained that both phases will be further dissected with works taking place incrementally on three holes and three tee boxes and associated irrigation in each. Roads, bridges and golf paths are also being redeveloped.
"What we are trying to do is to ensure our guests and golf club members always have access to the facility. So, while they will not always be able to play all 18-holes, they will always be able to play and access the facilities for the variety of other reasons that they do," she said.
Skinner also cited recently developed programs being offered at the Cap Estate facility to further enhance and promote the sport in Saint Lucia.
Sandals Resorts International acquired the Golf & Country Club in 2017 and has since integrated it into its long list of Luxury Included® offerings in Saint Lucia, further expanding on golfing options that began with Sandals Regency LaToc in 1992.
The first phase of the upgrade process will run through to January 2019.
Senior Project Manager at Sandals Resorts International Mark Harding, said the bulk of the works are being overseen by expert golf course developers from the Greg Norman Golf Course Design (GNGCD) team.
He also pointed out that all equipment being used for the project are being sourced and rented locally for the duration of the transformation. Unskilled labour has also been locally contracted, creating employment, skill development and revenue earning opportunities for Saint Lucian contractors.
"In the long run we hope that the local team working along with those from the GNGCD would be able to capitalize on the opportunities to learn and maybe even develop themselves in the field and possibly venture into it as a livelihood for themselves."
"This would allow for a local access pool for these skills and further assist with diversifying not only the island's tourism product but the skills needed to maintain that diversity," Harding said.
At a news conference in February Minister of Tourism Hon. Dominic Fedee said the "resuscitation of the golf course will add significant value to the product offering of all the hotels in Rodney Bay and in the north of the island."
Greg Norman has worked with Sandals Resorts on two other golf courses in the Bahamas and Jamaica, both of which have hosted major tournaments. (SRI)