THE excitement and surprises continue in the 2018 FIFA World Cup, as the Round of 16 kicks off today with a double-header — but this time without the defending champions Germany.
France will open their campaign against Argentina at the Kazan Arena and Uruguay play Portugal at the First Olympic Stadium.
On Sunday, Spain will challenge host Russia at the Luzhniki Stadium, while Croatia come up against Denmark at the Strelka Stadium.
On Monday, the Group E winner will go up versus Mexico at the Cosmos Arena and the Group G winner will play Group H Runners Up at the Levberdon Arena
On Tuesday, Sweden plays the Group E Runners-up at the Zenit Arena, while Group H winners will go up versus Group G Runners-up at the Spartak Stadium.
Today, in the final set of matches in the first round, Senegal will challenge Columbia, Japan will play Poland, England will battle Belgium and Panama will chllenge Tunisia.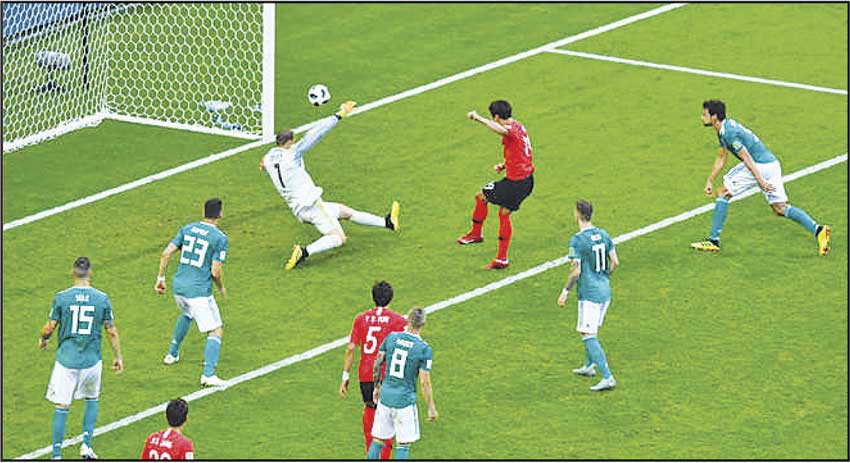 Meanwhile, for the third consecutive men's World Cup, the defending champions have been eliminated after three games.
In 2010 it was Italy, and four years ago Spain.
On Wednesday, it was Germany's turn, in shockingly punch-less fashion. The reigning kings crashed-out with a 2-0 loss to South Korea, which was on two goals in stoppage time as the Germans pushed for a necessary winner.
At one point in the first half, South Korea had just 47 passes to Germany's 200-something, but had three shots to Germany's two. The Germans, as they had in their first two games, bossed possession, but struggled to create chances in front of goal.
In what is easily the biggest upset of the World Cup so far, South Korea prevented the defending champions from advancing to the knockout stage.
Young-Gwon Kim found the net off a corner kick that was deflected off a German defender. Then, with keeper Manuel Neuer playing up on offense, South Korea scored on an empty net off a long ball to put the game away.
The late Korean goals sent beverages flying in celebration at the simultaneous match between Mexico and Sweden.
Germany's loss sent Mexico through, despite a 3-0 loss to the Swedes.
Just before going to press yesterday, other matches scheduled to decide Group E are: Switzerland vs Costa Rica, while Serbia will take on tournament favourites, Brazil. Costa Rica is definitely on the next plane home, but the rest of the group can still qualify.
Brazil and Switzerland each only need one point to qualify, whereas Serbia will need to better one of their rivals' results if they are to stay in the competition.