VENEZUELA'S ambassador to St. Lucia, Leiff Escalona, has said that countries in the region that speak out against the Venezuelan Government do so as a result of pressure piled on them by Washington.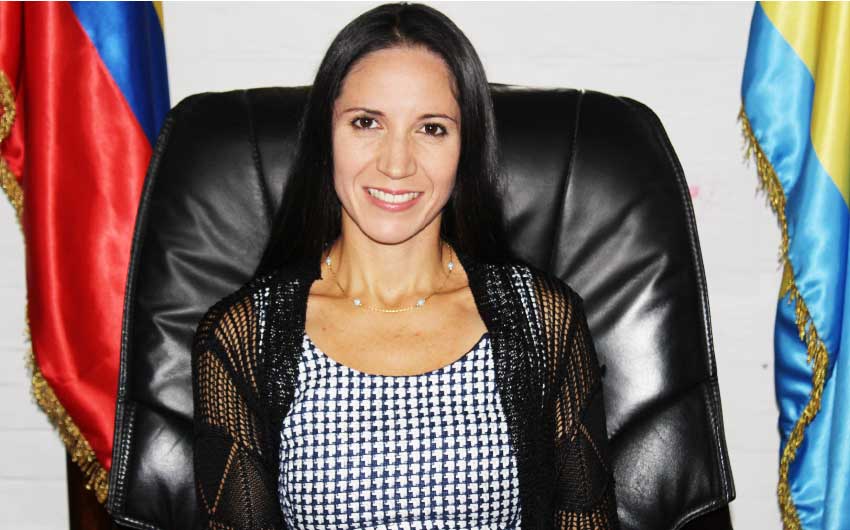 She therefore calls on America to respect Venezuela, its Constitution and the fact that the Venezuelan people had chosen their President and for Washington not to interfere in Venezuela's internal affairs.
In an exclusive with The VOICE following last May 20's Presidential Election in which the incumbent Nicolas Maduro won 68 percent of the votes cast, Ambassador Escalona explained that not all countries condemned the elections.
"While many countries in Latin America and elsewhere have recognized the Venezuelan elections and congratulated President Nicolas Maduro — such as Cuba, Bolivia, El Salvador, Nicaragua, Iran, Russia and China — right-wing governments have dismissed the vote as illegitimate, echoing sentiments by the United States, Canada and other Western countries who had dismissed the electoral process and the results even before it took place," the ambassador said.
She said that intellectuals and lawmakers of Latin America and the European Parliament had not only expressed their support for the election, but demanded that the international community respect the right of the people of Venezuela to decide their own government.
"All comments that we received from the international observers who were present for the elections were positive. It is not possible to manipulate our (elections) results in Venezuela," the ambassador said.
To strengthen her point, the ambassador quoted the President of the Council of Electoral Experts of Latin America (CEELA), NicanorMoscoo, who claimed that CEELA did not observe any element that could have disqualified the electoral process of last month.
Yet, despite the ambassador's upbeat comments on the recent elections, President Nicolás Maduro faced a barrage of international criticisms – and the threat of fresh and potentially destabilizing economic sanctions from the United States, which has always been a logtime critic of Madura and before him, Hugo Chavez.
Maduro, last month secured a second six-year term in power. He received just over six million votes while his closest rival, former governor Henri Falcon, obtained just about two million (1,917,036).
Maduro first won the presidency in 2013 with about 5.8 million votes.
"The people believe in our democracy," Escalona said, underscoring Maduro's comments during a victory address that claimed that peace and democracy had prevailed as a result of the process that saw him emerge as the victor.
But despite Maduro's brave showing soon after the elections, he still has the wrath of the United States to deal with, severe economic problems at home that have led to untold numbers of his countrymen fleeing to other countries to escape what several western news organizations have described as "a worsening economic crisis."
Ambassador Escolona was quick to point out that the situation in Venezuela "is not as bad as western governments and the media are claiming it to be."
She pointed to "a safer Venezuela today" compared to last year when the country was embroiled in political violence that saw about 200 people killed and several more wounded.
"This year, after the elections, President Maduro decided to release approximately 80 people convicted of political crimes perpetrated between 2014 and 2018, as part of a growing process of dialogue and reconciliation," she added.
She said that recent sanctions imposed by the United States, Canada and the European Union have hindered Venezuela's ability to pay for vital imports of food, medicine and other basic goods.
Such sanctions, the ambassador noted, have also caused millions of Venezuelan dollars to be tied-up in the international financial system.
"The sanctions have not only affected Venezuela's high-profile politicians, but also common people, business persons and US companies working with Venezuela," the ambassador said.
However, Venezuela's good relations with countries like Russia, China, India and the Pan American Health Organization (PAHO) — with which it recently established agreements — has enabled it to get the much-needed food and medicine into the country, two commodities severely affected by the US led sanctions.
Ambassador Escolona said countries willing to support Venezuela with medicine can do so through PAHO because of the agreements that exist between them.