PRESS RELEASE – THE three Sandals Resorts in Saint Lucia were represented at the recently concluded Ultimate Team Member Awards held in Jamaica.
Dwight Goodman representing Sandals Regency La Toc Golf Resort & Spa, Khadijah Preville representing Sandals Halcyon Beach Resort and Marvin Alfred representing Sandals Grande Saint Lucian Spa and Beach Resort, all Diamond Team Members at the local level, were among over two dozen of the most outstanding team members in the Caribbean at the recently staged 10th annual Sandals Ultimate Award Ceremony and Dinner in Whitehouse Jamaica on Thursday June 7th 2018.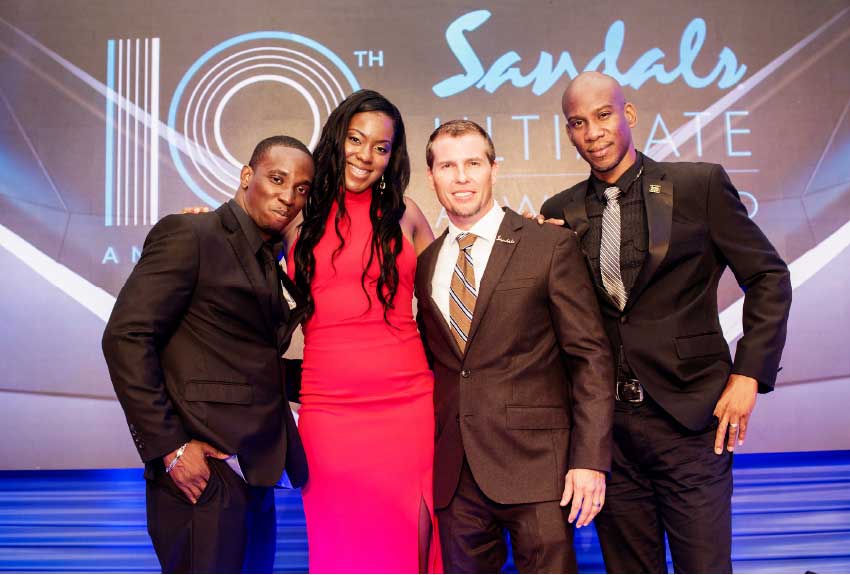 The Saint Lucian team members joined their colleagues in the company's history books for all having been a part of the group's milestone tenth year of exceptional recognition of its team members. They and all other Ultimate nominees were treated to gifts of engraved sterling silver bracelets and a week of activities including tours to the Group's various head offices in Kingston, a day of adventure at Jamwest Adventure Park and outreach in the Whitehouse community in partnership with the Sandals Foundation.
But although the Ultimate award winner was Jardine Vassell, a Supervisor from Beaches Ocho Rios' Photoshop, the Saint Lucian contingent gave unforgettable performances and meshed seamlessly with their colleagues, stealing hearts and building long-lasting camaraderie that will undoubtedly add to their personal and professional growth.
The winner of the 2018 Ultimate Award walked away with an enviable volley of prizes including a cash award of US$20,000, a monumental and symbolic increase over the cash prize of previous years. She also earned a luxury-included, all-expenses-paid trip for two to an overseas Sandals or Beaches property with an exclusive private jet round-trip transfer to the destination of choice, champagne service, luxury ground transfers, a host of VIP resort experiences and the coveted Ultimate Team Member trophy.
In a spectacular show held at the beautiful Sandals South Coast and hosted by Marsha-Ann Donaldson-Brown, Sandals' director of weddings and romance and Weston Haughton, veteran compere and former Sandals creative director, the 26 nominees representing Sandals, Beaches and Grand Pineapple Resorts across the region, as well as ATL Automotive Limited, ATL Automotive Car Rental, Appliance Traders Limited, the Jamaica Observer and Island Routes Caribbean Adventures, were treated to a night of fine food and entertainment, culminating in a surprise performance from reggae star Romain Virgo.
The expertly produced show, which was streamed live to all resorts and companies in the group, tantalised the audience with a series of mysterious videos seamlessly weaved into the production chronicling the 'kidnapping' of the trophy by a troublesome masked character dubbed 'Mischief' who demanded to be named the winner. Like an award-winning Hollywood film, the mystery deepened and grew more menacing as the night progressed but in the end, the trophy was reclaimed and much to the delight and shock of the audience, 'Mischief' was revealed to be none other than Donaldson-Brown who for many years has famously bemoaned the fact that she too wants to win these amazing prizes.
In a captivating speech, Deputy Chairman of the Sandals/ATL Group Adam Stewart encouraged the nominees to find their passion and to make the best of every chance they receive. He also urged those with the wherewithal, to take chances on young talent, reminding the room that the company's success was largely due to the fact that many people gave his father and the company's Chairman, the Honourable Gordon 'Butch' Stewart chances.
He said, "Success has to be about teamwork and giving people chances. Every one of us in this room is unique and everyone watching across the region is unique, we all have something inside of us that is magic. All it takes for that magic to manifest is a chance. Tonight is about recognising a group of winners, a group of people that are finding their passion and making the most of the opportunities and chances they receive. We treasure you, we appreciate you and we will continue to go above and beyond to provide you with the chances you need to become your best selves."
To identify the ultimate winner, nominees were assessed by various criteria, including team spirit, training hours, attendance record, ambassadorial qualities, and community and environmental stewardship. After weeks of examining the nominees' profiles, the selection panel was confident to announce Vassell as the Ultimate Team Member – the best of the company's 14,000-strong team.
Saint Lucia has a rich history of creating ultimate winners.
In 2011, Roger Pierre Louis represented Sandals Regency La Toc Golf Resort and Spa and came home with the Grand Prize – Winner, Ultimate Team Member. In 2016, Neil "Captain Neil" Jammer Georges, who represented Sandals Grande Saint Lucian Spa and Beach Resort, brought home the Grand Prize – Winner, Ultimate Team Member. No doubt team members look forward to copping the Grand Prize over the coming years, for Sandals Halcyon Beach Resort.