THE Sandals Grande Saint Lucian Spa and Beach Resort was a hive of cricketing activity — not on the pitch though, but at the Bamboo Restaurant, as West Indies newest sponsor, Sandals, welcomed officials accompanying the West Indies Team to Saint Lucia for the 2nd Test match versus Sri Lanka.
The evening was a meet-and-greet session with Sandals Managing Director Winston Anderson, Regional Public Relations Manager Sunil Ramdeen, General Manger Sandals Halycon Beach Resort Christopher Elliot, CWI Team Coach Stuart Law, CWI Team Manager Rawl Lewis, CWI Media Officer Windies Team -Naasira Mohammed, CWI Media Events Management Executive Jonee Charles, CWI Media's Randy Brooks and renowned West Indian cricket commentator Joseph 'Reds' Pereira.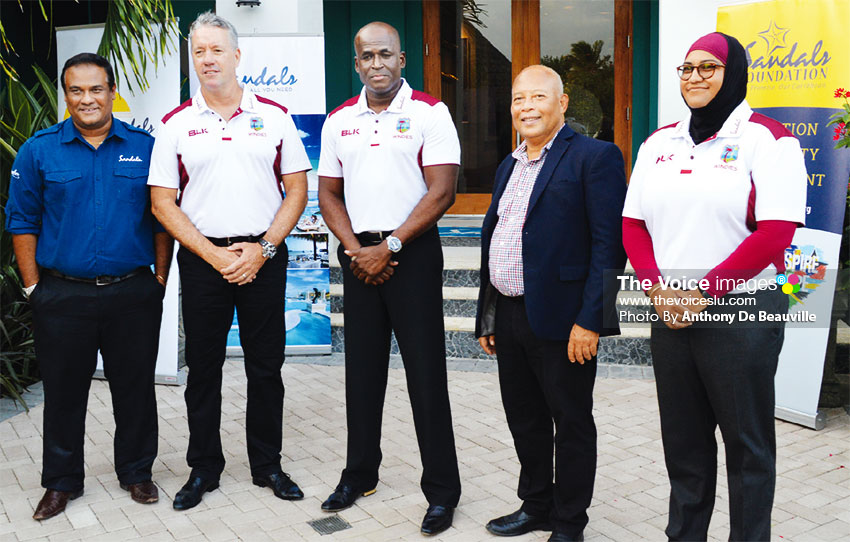 Addressing the gathering, Anderson welcomed all, including the regional, international and local media.
He said, "Afer the match winning performance in Trinidad and Tobago last week, the line on everyone lips was 'Maybe love was all the Windies really needed'.
"As you know that is our tag line at Sandals, where 'Love is all you need' — and I think you saw the power of the bond between two strong and well-known Caribbean brands really shining and delivering. It really demonstrates the power of unity and the importance of being a good corporate citizen."
Anderson took time out, on behalf of Sandals Chairman Gordon 'Butch' Stewart and Deputy Chairman Adam Stewart, saying how proud they were for the Windies recent achievements.
He also mentioned Director of Industrial Relations David Roper, who worked hard alongside CWI officials (CWI President Dave Cameron and CEO Johnny Grave) to ensure that this sponsorship happened.
Stuart Law, Team Coach, thanked Sandals for being involved in West Indies cricket. He said, "It does mean a lot to us. We will endeavour to get West Indies cricket back to the top; we have had some rocky periods over the past years. Nothing comes easy in this day and age; we will continue to work hard."
Rawl Lewis, Team Manager said, "When I was a player, Sandals was sponsoring West Indies cricket, and honestly I am very happy you are back on board, everyone in the West Indies is very happy. From the players and the team we love this partnership. We started with a win in Trinidad and Tobago and hopefully this can continue onwards for the balance of this tour and also with the Bangladesh series and onwards."
He continued, "When we conclude that victory in Saint Lucia, we will be back here at the Sandals Grande Saint Lucian Spa and beach Resort to celebrate with you. The fans from the Caribbean they are calling, they are excited. We declared twice in Trinidad. This match is very important to us, and that is why Coach Stuart asked the players to stay at home to rest (The Bay Gardens Resort), but rest assured when we complete the victory, we will come back to celebrate with you".