'JUSTIFY' became the 13th horse in history to capture the prestigious Triple Crown of American Horse racing last Saturday — and Prime Minister Allen Chastanet has predicted that the historic win will be a "great boost" to Desert Star Holdings' own Pearl of the Caribbean horse-racing track in St. Lucia.
The prime minister took time off his official and homely duties last weekend to fly to New York to witness the race in Long Island and was present every step of the way, as shown in numerous photos making the social media circuit.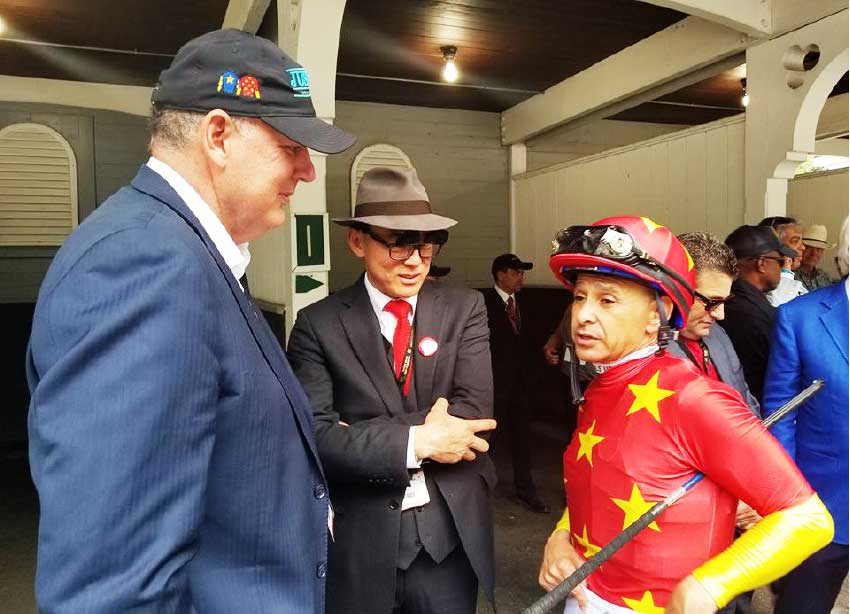 Tourism Minister Dominic Fedee also made the trip and starred in the posted photos and videos.
In a Facebook post, dated July 9th, Chastanet wrote: "'Justify' has made history tonight by being the thirteenth horse to win the Triple Crown at the Belmont Stakes in Long Island, New York."
He went on to write that the famous horse's historic Triple Crown victory "is a great boost for our own DSH racetrack, as the international press and the horse racing world will be watching Teo ah-King and this project. Game on!!"
The hitherto undefeated horse became "the first since 1882 to win a Kentucky Derby without having raced as a 2-year-old", according to a New York Times article entitled Simply Perfect.
In the same article, winning jockey Mike Smith said: "This horse ran a tremendous race. He's so gifted. He was sent from Heaven. I can't even begin to describe my emotions right now."
Interestingly, Bob Baffert, Justify's trainer, also trained the previous Triple Crown winner, American Pharaoh. And though he had high praise for Justify, he let it be known that American Pharaoh will always be his first love.
"American Pharaoh, he'll always be my first love. But man, for this horse to do it…" Baffert said.
Teo ah-King's China Horse Club is one of the owners of Justify, along with WinStar Farm and SF Racing and the Prime Minister is clearly hopeful that the success the China Horse Club has enjoyed with Justify will be transferred over to DSH.
However, this is not the first time that Chastanet has expressed hope that Teo ah-King and China Horse Club's success in horse racing's most prestigious competition will translate over to St. Lucia.
After Justify's historic Kentucky Derby win last month, the Prime Minister wrote this in a Facebook post: "Since the appearance of China Horse Club on the racing scene, they have registered success after success. I am excited at the possibilities for St. Lucia, as we anticipate the first race in February next year."
Justify on Saturday won the Belmont Stakes just days after it was revealed billionaire international financier George Soros is a 15 per cent stakeholder in the winner.