DEFENDING national road race cycling champion Andrew Norbert of Mon Repos has successfully retained his title, finishing ahead of 16 other competitors in a time of 2 hours 59 minutes and 36.53 seconds at the Saint Lucia National Cycling Association 103.2-kilometre national road race championship took on Sunday (24th June).
The event, which started under overcast skies, saw a brave move by Romeuos Noel of Mon Repos in the first two laps of the 12-lap event, but his tactics did not last too long as he encountered a mechanical problem outside Sandals Halycon while the pack stayed together.
Like previous events of that nature, there were several surges; Norbert took charge resulting in a break with Chester Forde and Quami Robinson, while the experienced Winston Williams was able to ride his way to join the lead trio as they appeared disorganized in maintaining the lead.
With about 60 km into the race, Robinson too encountered a mechanical problem (puncture), but had some difficulty with his replacement wheel and in the process had to abandon the event.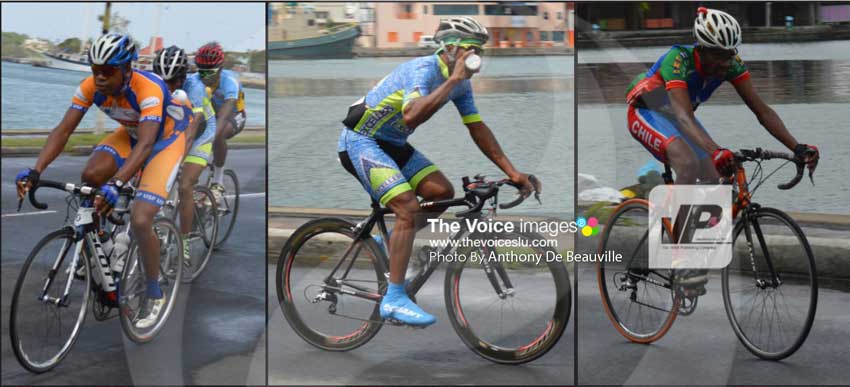 Norbert, for the second time, went on the attack — this time alone — while Forde and Williams worked together and the two were eventually able to catch-up with Norbert inside the 88th km and with 15 km remaining.
The next man out of contention for the national title was Chester Forde, when he abandoned the event leaving Williams and Norbert to do battle for the championships.
The weather had cleared up sufficiently at that point as Mother Nature was at her best, with the showpiece of either side of the Castries-Gros Islet Highway, motorists and passers-by had a chance to take in some of the action.
A small crowd was on hand at the finish, just outside Bank of Saint Lucia on the Waterfront, as Norbert was first across the line in 2 hours 59 minutes 36.53 seconds, followed by Williams in 2 hours 59 minutes 43 seconds.
Fidel Esnard, who had suffered a mechanical problem as well, was still able to finish 3rd in 3 hours 06 minutes 25 seconds, with Alvinus Mondesir in 4th place and the 1st junior across the line in 3 hours 06 minutes, 5th was Donald Joseph in 3 hours 12 mins 57.25 secs and 6th was Richard Shingleton-Smith in 3 hours 18 minutes 17.25 seconds.
Seventy-year-old Nigel Meghay — a man with courage, perseverance and determination and affectionately known as 'Never Win' on the cycling circuit for well over four decades, covered a distance of 86 km in 3 hours 35 minutes 46.97 seconds — certainly an inspiration to the younger riders.